Beginning in 2000, several states made it possible for same-sex couples to enter into legal relationships known as civil unions or domestic partnerships. These arrangements extended many of the same protections enjoyed by heterosexual married couples to same-sex couples. LGBT activists, however, continued to fight for the right to marry. Same-sex marriages would allow partners to enjoy exactly the same rights as married heterosexual couples and accord their relationships the same dignity and importance. In 2004, Massachusetts became the first state to grant legal status to same-sex marriage. Other states quickly followed. This development prompted a backlash among many religious conservatives, who considered homosexuality a sin and argued that allowing same-sex couples to marry would lessen the value and sanctity of heterosexual marriage. Many states passed laws banning same-sex marriage, and many gay and lesbian couples challenged these laws, successfully, in the courts. Finally, in Obergefell v. Hodges , the Supreme Court overturned state bans and made same-sex marriage legal throughout the United States on June 26, 2015 ( [link] ).
Obergefell v. Hodges , 576 U.S. _ (2015).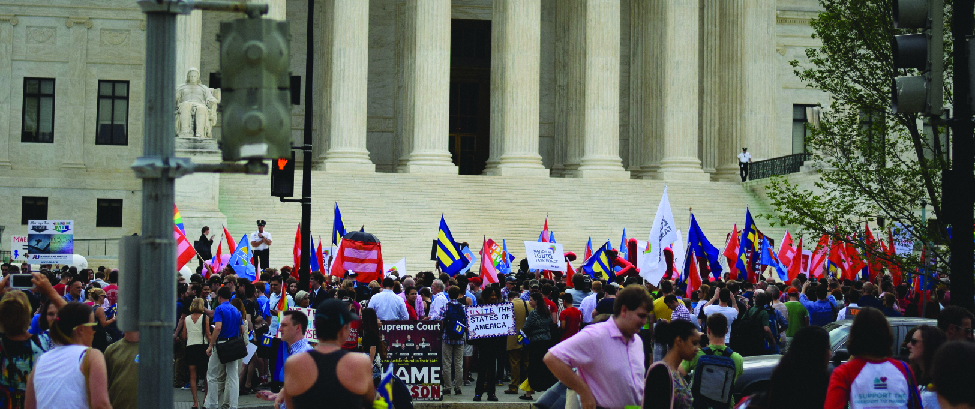 The legalization of same-sex marriage throughout the United States led some people to feel their religious beliefs were under attack, and many religiously conservative business owners have refused to acknowledge LBGT rights or the legitimacy of same-sex marriages. Following swiftly upon the heels of the Obergefell ruling, the Indiana legislature passed a Religious Freedom Restoration Act (RFRA). Congress had already passed such a law in 1993; it was intended to extend protection to minority religions, such as by allowing rituals of the Native American Church. However, the Supreme Court in City of Boerne v. Flores (1997) ruled that the 1993 law applied only to the federal government and not to state governments.

City of Boerne v. Flores , 521 U.S. 507 (1997).

Thus several state legislatures later passed their own Religious Freedom Restoration Acts. These laws state that the government cannot "substantially burden an individual's exercise of religion" unless it would serve a "compelling governmental interest" to do so. They allow individuals, which also include businesses and other organizations, to discriminate against others, primarily same-sex couples and LGBT people, if the individual's religious beliefs are opposed to homosexuality.

LGBT Americans still encounter difficulties in other areas as well. Discrimination continues in housing and employment, although federal courts are increasingly treating employment discrimination against transgender people as a form of sex discrimination prohibited by the Civil Rights Act of 1964. The federal Department of Housing and Urban Development has also indicated that refusing to rent or sell homes to transgendered people may be considered sex discrimination.

"Know Your Rights: Transgender People and the Law," https://www.aclu.org/know-your-rights/transgender-people-and-law (April 10, 2016).

Violence against members of the LGBT community remains a serious problem; this violence occurs on the streets and in their homes.

Lila Shapiro. 2 Apr. 2015. "Record Number of Reported LGBT Homicides in 2015," http://www.huffingtonpost.com/2015/04/02/lgbt-homicides_n_6993484.html.

The enactment of the Matthew Shepard and James Byrd Jr. Hate Crimes Prevention Act, also known as the Matthew Shepard Act , in 2009 made it a federal hate crime to attack someone based on his or her gender, gender identity, sexual orientation, or disability and made it easier for federal, state, and local authorities to investigate hate crimes, but it has not necessarily made the world safer for LGBT Americans.