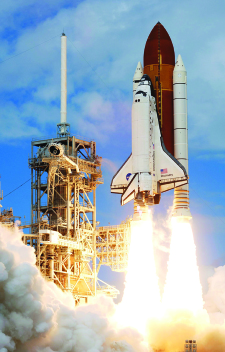 The problem of trying to direct and fund the education of a modern U.S. workforce is familiar to many students of American government. Historically, education has largely been the job of the states. While they have provided a very robust K–12 public education system, the national government has never moved to create an equivalent system of national higher education academies or universities as many other countries have done. As the need to keep the nation competitive with others became more pressing, however, the U.S. government did step in to direct its education dollars toward creating greater equity and ease of access to the existing public and private systems.
The overwhelming portion of the government's education money is spent on student loans, grants, and work-study programs. Resources are set aside to cover job-retraining programs for individuals who lack private-sector skills or who need to be retrained to meet changes in the economy's demands for the labor force. National policy toward elementary and secondary education programs has typically focused on increasing resources available to school districts for nontraditional programs (such as preschool and special needs), or helping poorer schools stay competitive with wealthier institutions.
Business stimulus and regulation
A final key aspect of domestic policy is the growth and regulation of business. The size and strength of the economy is very important to politicians whose jobs depend on citizens' believing in their own future prosperity. At the same time, people in the United States want to live in a world where they feel safe from unfair or environmentally damaging business practices. These desires have forced the government to perform a delicate balancing act between programs that help grow the economy by providing benefits to the business sector and those that protect consumers, often by curtailing or regulating the business sector.
Two of the largest recipients of government aid to business are agriculture and energy. Both are multi-billion dollar industries concentrated in rural and/or electorally influential states. Because voters are affected by the health of these sectors every time they pay their grocery or utility bill, the U.S. government has chosen to provide significant agriculture and energy subsidies to cover the risks inherent in the unpredictability of the weather and oil exploration. Government subsidies also protect these industries' profitability. These two purposes have even overlapped in the government's controversial decision to subsidize the production of ethanol, a fuel source similar to gasoline but generated from corn.
When it comes to regulation, the federal government has created several agencies responsible for providing for everything from worker safety (OSHA, the Occupational Safety and Health Administration), to food safety (FDA), to consumer protection, where the recently created Bureau of Consumer Protection ensures that businesses do not mislead consumers with deceptive or manipulative practices. Another prominent federal agency, the EPA, is charged with ensuring that businesses do not excessively pollute the nation's air or waterways. A complex array of additional regulatory agencies governs specific industries such as banking and finance, which are detailed later in this chapter.
The policy areas we've described so far fall far short of forming an exhaustive list. This site contains the major topic categories of substantive policy in U.S. government, according to the Policy Agendas Project. View subcategories by clicking on the major topic categories.
Summary
The three major domestic policy areas are social welfare; science, technology, and education; and business stimulus and regulation. Social welfare programs like Social Security, Medicaid, and Medicare form a safety net for vulnerable populations. Science, technology, and education policies have the goal of securing the United States' competitive advantages. Business stimulus and regulation policies have to balance business' needs for an economic edge with consumers' need for protection from unfair or unsafe practices. The United States spends billions of dollars on these programs.