The composition of state legislatures
In most states, the legislative function is divided between two bodies: a state house and a state senate. The only exception is Nebraska, which has a unicameral state senate of forty-nine members. State legislatures vary a great deal in terms of the number of legislators in the house and senate, the range of diversity across the membership, the partisan composition of the chamber relative to the governor's affiliation, and the degree of legislative professionalism. This variation can lead to differences in the type of policies passed and the amount of power legislatures wield relative to that of the governor.
According to the National Conference of State Legislatures , at forty members, Alaska's is the smallest state (or lower) house, while New Hampshire's is the largest at four hundred. State senates range in size from twenty members in Alaska to sixty-seven members in Minnesota. The size of the institution can have consequences for the number of citizens each member represents; larger bodies have a smaller legislator-to-constituent ratio (assuming even populations). Larger institutions can also complicate legislative business because reaching consensus is more difficult with more participants.
National Conference of State Legislatures. 11 March 2013. "Number of Legislators and Length of Terms in Years," http://www.ncsl.org/research/about-state-legislatures/number-of-legislators-and-length-of-terms.aspx.
The term length in the state house is frequently two years, while in the state senate it is more commonly four years. These differences have consequences, too, because representatives in the state house, with the next election always right around the corner, will need to focus on their reelection campaigns more frequently than senators. On the other hand, state senators may have more time to focus on public policy and become policy generalists because they each must serve on multiple committees due to their smaller numbers.
In 2015, according to the National Conference of State Legislatures, women made up 24.3 percent of the nation's state legislators. However, the number varies a great deal across states ( [link] ). For instance, in Colorado and Vermont, women account for just over 40 percent of the state legislative membership. However, they make up less than 15 percent of the legislatures in Alabama, Louisiana, Oklahoma, South Carolina, West Virginia, and Wyoming.
National Conference of State Legislatures. 4 September 2015. "Women in State Legislatures for 2015," http://www.ncsl.org/legislators-staff/legislators/womens-legislative-network/women-in-state-legislatures-for-2015.aspx.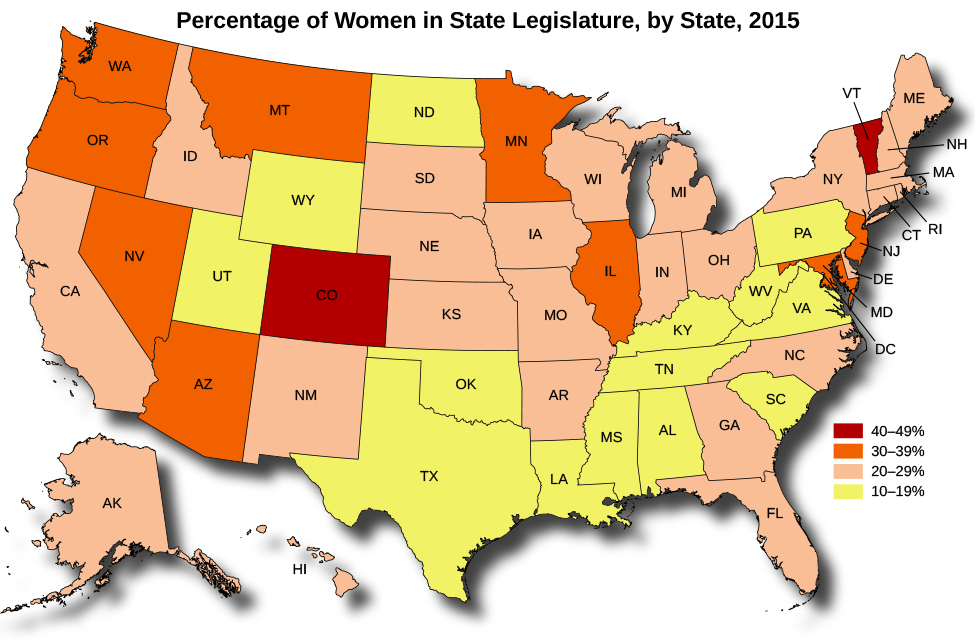 Data on minority representatives is more difficult to obtain, but 2009 estimates from the National Conference of State Legislatures paired with census estimates from 2010 show that African Americans and Latinos are both underrepresented in state government relative to their percentage of the population. In 2009, African Americans made up approximately 9 percent of state legislators, compared to the 13 percent of the population they constitute nationwide. On the other hand, Latino representatives made up approximately 3 percent of state legislators relative to their 14 percent of the total population in the United States.

National Conference of State Legislatures. 10 January 2008. "African-American Legislators 2009," http://www.ncsl.org/research/about-state-legislatures/african-american-legislators-in-2009.aspx; "2009 Latino Legislators." http://www.ncsl.org/research/about-state-legislatures/latino-legislators-overview.aspx (March 14, 2016).

The proportion of Latinos in the legislature is highest in Arizona, California, New Mexico, and Texas, while the proportion of African Americans is highest in Alabama, Georgia, and Mississippi.