Three of the governor's chief functions are to influence the legislative process through an executive budget proposal, a policy agenda, and vetoes. Just as the president gives a State of the Union address once a year, so too do governors give an annual State of the State address before the state legislature ( [link] ). In this speech, they discuss economic and political achievements, cite data that supports their accomplishments, and overview the major items on their legislative agenda. This speech signals to members of the state legislature what priorities are high on the governor's list. Those who share the governor's party affiliation will work with him or her to see these goals achieved. Given that governors need the cooperation of state legislators to get their bills introduced and steered through the lawmaking process, they make developing good relationships with lawmakers a priority. This can entail helping lawmakers address the concerns of their constituents, inviting legislators to social events and meals, and scheduling weekly meetings with legislative leaders and committee chairs to discuss policy.
Alan Rosenthal. 2013. The Best Job in Politics; Exploring How Governors Succeed as Policy Leaders . Thousand Oaks, CA: CQ Press.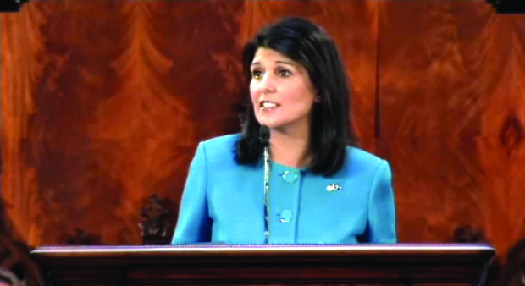 In addition to providing a basic list of policy priorities, governors also initiate a budget proposal in most states. Here they indicate funding priorities and spell out the amounts that will be appropriated to various state agencies under their discretion. When the economy is strong, governors may find themselves in the enviable position of having a surplus of tax revenue. That allows them some flexibility to decide whether they want to reduce taxes, direct funds toward a new initiative or program, allocate more funds to current programs, restore funds that were cut during times of fiscal distress, or save surplus revenue in a rainy-day account.

Elaine S. Povich, "Many State Governors Have Budget Problems with Their Own Parties," Governing , 4 February 2013. http://www.governing.com/news/headlines/many-state-governors-have-budget-problems-with-their-own-parties.html.

Moreover, when cuts must be made, especially when the legislature is not in session, it is typically the governor or his or her finance director who makes the call on what gets cut.

Having introduced his or her priorities, the governor will work on the sidelines to steer favored bills through the legislative process. This may entail holding meetings with committee chairs or other influential lawmakers concerning their legislative priorities, working with the media to try to get favorable coverage of legislative priorities, targeting advocacy organizations to maintain pressure on resistant lawmakers, or testifying in legislative hearings about the possible impacts of the legislation.

"Governors' Powers and Authority," http://www.nga.org/cms/home/management-resources/governors-powers-and-authority.html (March 14, 2016).