These questions overlap with those concerning political time and circumstance. While domestic policymaking requires far more give-and-take and a fair share of cajoling and collaboration, national emergencies and war offer presidents far more opportunity to act vigorously and at times independently. This phenomenon often produces the rally around the flag effect , in which presidential popularity spikes during international crises. A president must always be aware that politics, according to Otto von Bismarck, is the art of the possible, even as it is his or her duty to increase what might be possible by persuading both members of Congress and the general public of what needs to be done.
Finally, presidents often leave a legacy that lasts far beyond their time in office ( [link] ). Sometimes, this is due to the long-term implications of policy decisions. Critical to the notion of legacy is the shaping of the Supreme Court as well as other federal judges. Long after John Adams left the White House in 1801, his appointment of John Marshall as chief justice shaped American jurisprudence for over three decades. No wonder confirmation hearings have grown more contentious in the cases of highly visible nominees. Other legacies are more difficult to define, although they suggest that, at times, presidents cast a long shadow over their successors. It was a tough act to follow George Washington, and in death, Abraham Lincoln's presidential stature grew to extreme heights. Theodore and Franklin D. Roosevelt offered models of vigorous executive leadership, while the image and style of John F. Kennedy and Ronald Reagan influenced and at times haunted or frustrated successors. Nor is this impact limited to chief executives deemed successful: Lyndon Johnson's Vietnam and Richard Nixon's Watergate offered cautionary tales of presidential power gone wrong, leaving behind legacies that include terms like Vietnam syndrome and the tendency to add the suffix "-gate" to scandals and controversies.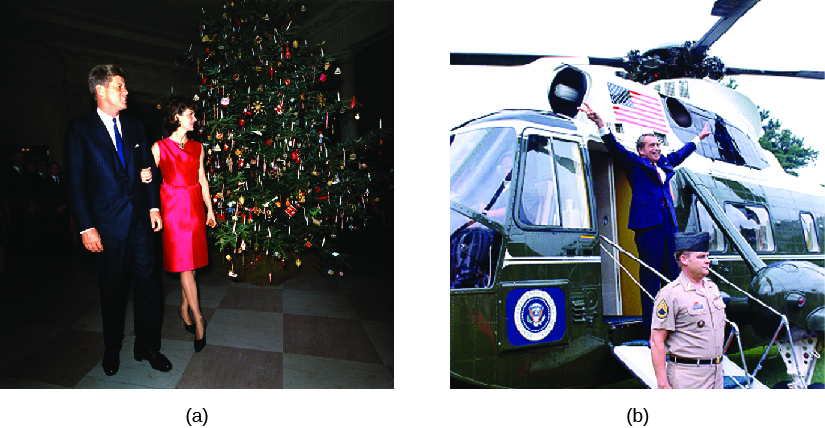 Summary
While the power of the presidency is typically checked by the other two branches of government, presidents have the unencumbered power to pardon those convicted of federal crimes and to issue executive orders, which don't require congressional approval but lack the permanence of laws passed by Congress. In matters concerning foreign policy, presidents have at their disposal the executive agreement, which is a much-easier way for two countries to come to terms than a treaty that requires Senate ratification but is also much narrower in scope.
Presidents use various means to attempt to drive public opinion and effect political change. But history has shown that they are limited in their ability to drive public opinion. Favorable conditions can help a president move policies forward. These conditions include party control of Congress and the arrival of crises such as war or economic decline. But as some presidencies have shown, even the most favorable conditions don't guarantee success.
Edwards, George C. 2016. Predicting the Presidency: The Potential of Persuasive Leadership . Princeton: Princeton University Press.
Edwards, George C. and Stephen J. Wayne. 2003. Presidential Leadership: Politics and Policy Making . Belmont, CA: Wadsworth/Thomson Learning.
Erickson, Robert S. and Christopher Wlezien. 2012. The Timeline of Presidential Elections: How Campaigns Do (and Do Not) Matter . Chicago: Chicago University Press.
Greenstein, Fred I. 1982. The Hidden-Hand Presidency: Eisenhower as Leader . New York: Basic Books.
Kernell, Samuel. 1986. Going Public: New Strategies of Presidential Leadership . Washington, DC: CQ Press.
McGinnis, Joe. 1988. The Selling of the President . New York: Penguin Books.
Nelson, Michael. 1984. The Presidency and the Political System . Washington, DC: CQ Press.
Neustadt, Richard E. 1990. Presidential Power and the Modern Presidents: The Politics of Leadership from Roosevelt to Reagan . New York: Free Press.
Pfiffner, James P. 1994. The Modern Presidency . New York: St. Martin's Press.
Pika, Joseph August, John Anthony Maltese, Norman C. Thomas, and Norman C. Thomas. 2002. The Politics of the Presidency . Washington, DC: CQ Press.
Porter, Roger B. 1980. Presidential Decision Making: The Economic Policy Board . Cambridge: Cambridge University Press.
Skowronek, Stephen. 2011. Presidential Leadership in Political Time: Reprise and Reappraisal . Lawrence, KS: University Press of Kansas.