Collective action problems and free riding occur in many other situations as well. If union membership is optional and all workers will receive a salary increase regardless of whether they make the time and money commitment to join, some workers may free ride. The benefits sought by unions, such as higher wages, collective bargaining rights, and safer working conditions, are often enjoyed by all workers regardless of whether they are members. Therefore, free riders can receive the benefit of the pay increase without helping defray the cost by paying dues, attending meetings or rallies, or joining protests, like that shown in [link] .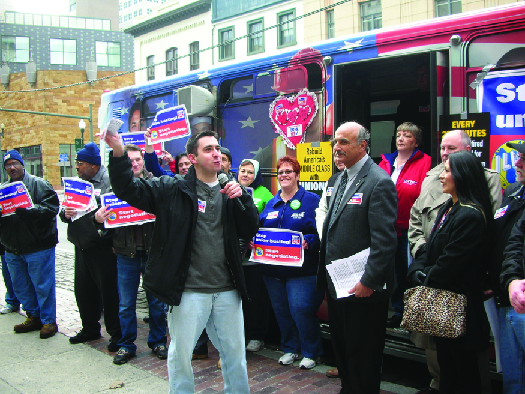 If free riding is so prevalent, why are there so many interest groups and why is interest group membership so high in the United States? One reason is that free riding can be overcome in a variety of ways. Olson argued, for instance, that some groups are better able than others to surmount collective action problems.

Olson, Jr., The Logic of Collective Action .

They can sometimes maintain themselves by obtaining financial support from patrons outside the group.

Jack Walker, "The Origin and Maintenance of Interest Groups in America," American Political Science Review 77 (1983): 390–406.

Groups with financial resources have an advantage in mobilizing in that they can offer incentives or hire a lobbyist. Smaller, well-organized groups also have an advantage. For one thing, opinions within smaller groups may be more similar, making it easier to reach consensus. It is also more difficult for members to free ride in a smaller group. In comparison, larger groups have a greater number of individuals and therefore more viewpoints to consider, making consensus more difficult. It may also be easier to free ride because it is less obvious in a large group when any single person does not contribute. However, if people do not lobby for their own interests, they may find that they are ignored, especially if smaller but more active groups with interests opposed to theirs lobby on behalf of themselves. Even though the United States is a democracy, policy is often made to suit the interests of the few instead of the needs of the many.

Group leaders also play an important role in overcoming collective action problems. For instance, political scientist Robert Salisbury suggests that group leaders will offer incentives to induce activity among individuals.

Robert Salisbury, "An Exchange Theory of Interest Groups," Midwest Journal of Political Science 13 (1969): 1–32; Peter B. Clark and James Q. Wilson, "Incentive Systems: A Theory of Organizations," Administration Science Quarterly 6 (1961): 129–166.

Some offer material incentives , which are tangible benefits of joining a group. AARP, for example, offers discounts on hotel accommodations and insurance rates for its members, while dues are very low, so they can actually save money by joining. Group leaders may also offer solidary incentives , which provide the benefit of joining with others who have the same concerns or are similar in other ways. Some scholars suggest that people are naturally drawn to others with similar concerns. The NAACP is a civil rights groups concerned with promoting equality and eliminating discrimination based on race, and members may join to associate with others who have dealt with issues of inequality.

https://www.naacp.org/ (March 1, 2016).