Representative democracy cannot work effectively without the participation of informed citizens, however. Engaged citizens familiarize themselves with the most important issues confronting the country and with the plans different candidates have for dealing with those issues. Then they vote for the candidates they believe will be best suited to the job, and they may join others to raise funds or campaign for those they support. They inform their representatives how they feel about important issues. Through these efforts and others, engaged citizens let their representatives know what they want and thus influence policy. Only then can government actions accurately reflect the interests and concerns of the majority. Even people who believe the elite rule government should recognize that it is easier for them to do so if ordinary people make no effort to participate in public life.
Pathways to engagement
People can become civically engaged in many ways, either as individuals or as members of groups. Some forms of individual engagement require very little effort. One of the simplest ways is to stay informed about debates and events in the community, in the state, and in the nation. Awareness is the first step toward engagement. News is available from a variety of reputable sources, such as newspapers like the New York Times ; national news shows, including those offered by the Public Broadcasting Service and National Public Radio; and reputable internet sites.
Visit Avaaz and Change.org for more information on current political issues.
Another form of individual engagement is to write or email political representatives. Filing a complaint with the city council is another avenue of engagement. City officials cannot fix problems if they do not know anything is wrong to begin with. Responding to public opinion polls, actively contributing to a political blog, or starting a new blog are all examples of different ways to be involved.
One of the most basic ways to engage with government as an individual is to vote ( [link] ). Individual votes do matter. City council members, mayors, state legislators, governors, and members of Congress are all chosen by popular vote. Although the president of the United States is not chosen directly by popular vote but by a group called the Electoral College, the votes of individuals in their home states determine how the Electoral College ultimately votes. Registering to vote beforehand is necessary in most states, but it is usually a simple process, and many states allow registration online. (We discuss voter registration and voter turnout in more depth in a later chapter.)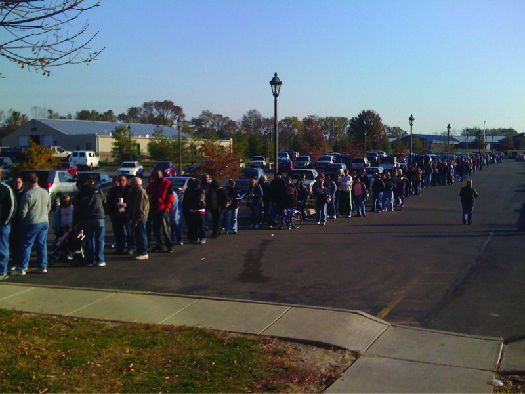 Voting, however, is not the only form of political engagement in which people may participate. Individuals can engage by attending political rallies, donating money to campaigns, and signing petitions. Starting a petition of one's own is relatively easy, and some websites that encourage people to become involved in political activism provide petitions that can be circulated through email. Taking part in a poll or survey is another simple way to make your voice heard.