Pollution as a negative externality
Pollution is a negative externality. Economists illustrate the social costs of production with a demand and supply diagram. The social costs include the private costs of production incurred by the company and the external costs of pollution that are passed on to society. [link] shows the demand and supply for manufacturing refrigerators. The demand curve (D) shows the quantity demanded at each price. The supply curve (S private ) shows the quantity of refrigerators supplied by all the firms at each price if they are taking only their private costs into account and they are allowed to emit pollution at zero cost. The market equilibrium (E 0 ), where quantity supplied and quantity demanded are equal, is at a price of $650 and a quantity of 45,000. This information is also reflected in the first three columns of [link] .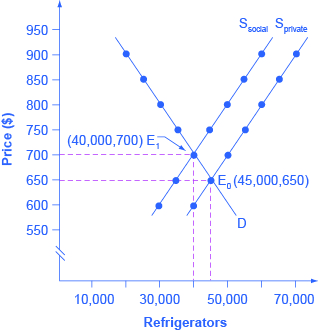 A supply shift caused by pollution costs

| Price | Quantity Demanded | Quantity Supplied before Considering Pollution Cost | Quantity Supplied after Considering Pollution Cost |
| --- | --- | --- | --- |
| $600 | 50,000 | 40,000 | 30,000 |
| $650 | 45,000 | 45,000 | 35,000 |
| $700 | 40,000 | 50,000 | 40,000 |
| $750 | 35,000 | 55,000 | 45,000 |
| $800 | 30,000 | 60,000 | 50,000 |
| $850 | 25,000 | 65,000 | 55,000 |
| $900 | 20,000 | 70,000 | 60,000 |
However, as a by-product of the metals, plastics, chemicals and energy that are used in manufacturing refrigerators, some pollution is created. Let's say that, if these pollutants were emitted into the air and water, they would create costs of $100 per refrigerator produced. These costs might occur because of injuries to human health, property values, wildlife habitat, reduction of recreation possibilities, or because of other negative impacts. In a market with no anti-pollution restrictions, firms can dispose of certain wastes absolutely free. Now imagine that firms which produce refrigerators must factor in these external costs of pollution—that is, the firms have to consider not only the costs of labor and materials needed to make a refrigerator, but also the broader costs to society of injuries to health and other values caused by pollution. If the firm is required to pay $100 for the additional external costs of pollution each time it produces a refrigerator, production becomes more costly and the entire supply curve shifts up by $100.
As illustrated in the fourth column of [link] and in [link] , the firm will need to receive a price of $700 per refrigerator and produce a quantity of 40,000—and the firm's new supply curve will be S social . The new equilibrium will occur at E 1 , taking the additional external costs of pollution into account results in a higher price, a lower quantity of production, and a lower quantity of pollution. The following Work It Out feature will walk you through an example, this time with musical accompaniment.