The UCC has decreased in importance as most countries are now party to the Berne Convention or are members of the WTO (or both). The copyright obligations of members of the WTO are governed by the Agreement on Trade-Related Aspects of Intellectual Property Rights (TRIPS), discussed below.
You may check if your country is a member of the UCC by reviewing this list . For more information about the UCC you may read its text or consult the Examination of the UCC .
Rome convention (1961)
By 1961, technology had progressed significantly since the Berne Convention was signed. Some inventions, such as tape recorders, had made it easier to copy recorded works. The Berne Convention only applied to printed works and thus did not help copyright holders defend against the new technologies. To address the perceived need for strong legislative protection for recorded works, the Rome Convention for the Protection of Performers, Producers of Phonograms and Broadcasting Organizations was concluded by members of WIPO on October 26, 1961. It extended copyright protection from the author of a work to the creators and producers of particular, physical embodiments of the work. These "fixations" include media such as audiocassettes, CDs, and DVDs.
The Rome Convention requires member countries to grant protection to the works of performers, producers of phonographs, and broadcasting organizations. However, it also permits member countries to create exceptions to that protection -- for example, to permit unauthorized uses of a recording for the purpose of teaching or scientific research.
88 countries have signed the Rome Convention . Below is a map of the member states: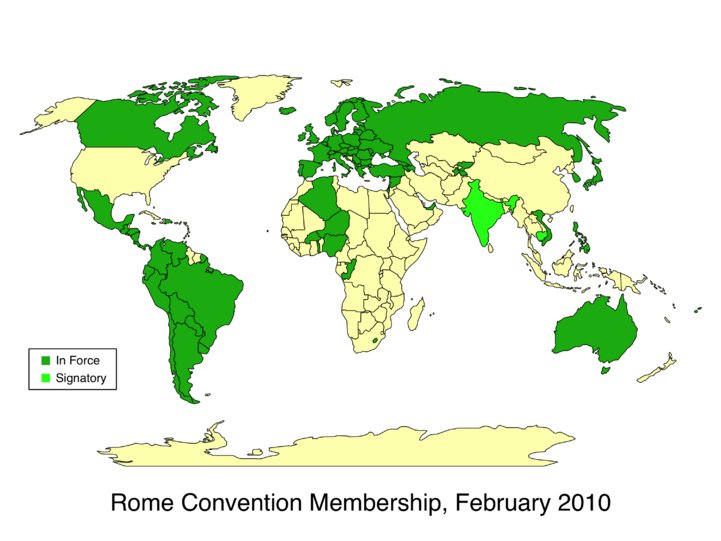 Membership in the Rome Convention is open only to countries that are already parties to the Berne Convention or to the Universal Copyright Convention. Like many international treaties, joining the Rome Convention has an uncertain effect on domestic law. Countries that join the convention may "reserve" their rights with regards to certain provisions of the treaty. In practice, this has enabled countries to avoid the application of rules that would require important changes to their national laws.
For more information on the Rome Convention you may read its text or read more about the Rome Convention provisions .
Wipo copyright treaty (wct)
The way that copyright owners reproduce, distribute, and market their works has changed in the digital age. Sound recordings, articles, photographs, and books are commonly stored in electronic formats, circulated via the Internet, and compiled in databases. Unfortunately, the same technologies that enable more efficient storage and distribution have also facilitated widespread copying of copyrighted works. Concerned about the effects of these new technologies, the governments of developed countries advocated for and ultimately secured two treaties: the WIPO Copyright Treaty and the WIPO Performance and Phonograms Treaty.
The WIPO Copyright Treaty (WCT) is a special agreement under the Berne Convention that entered into force on March 6, 2002. It is the first international treaty that requires countries to provide copyright protection to computer programs and to databases (compilations of data or other material).