Lewensvaardighede
Graad 3
Wie is ek ?
Module 1
Leef gesond!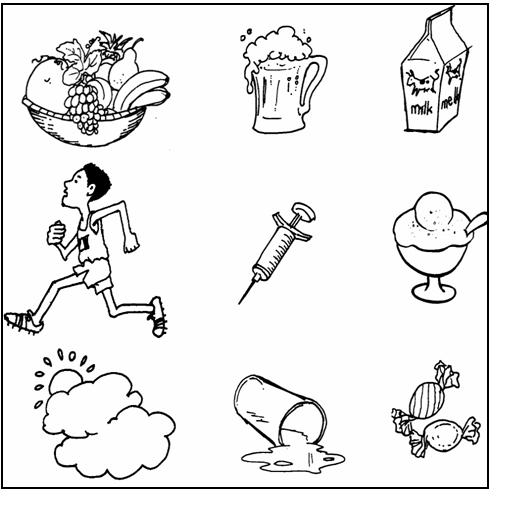 Kleur al die prente wat jou liggaam gesond hou, in: (Kyk mooi, want daar kruip 'n paar "skelms" weg!)
Waarom word ons siek?
Siektes word deur virusse en bakterieë versprei. Dikwels versprei dit deur 'n bepaalde gebied of soms deur die hele land. Die siektes word op verskillende maniere oorgedra.
Kom ons kyk wat maak ons so siek.
Virusse
Virusse leef in lewende selle in jou liggaam en vermeerder vinnig. Daar tree hulle soos parasiete op en breek die weefsel af. Virusse is baie kleiner as bakterieë.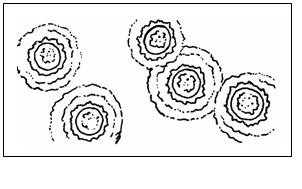 Wat is bakterieë?
Bakterieë is lewende, eensellige organismes wat deur seldeling vermeerder. Bakterieë is vir die mens ook belangrik, veral vir jou spysvertering. Sommige bakterieë veroorsaak siektes omdat hulle weefsels afbreek of giftige stowwe veroorsaak. Gelukkig is daar baie middels teen bakterieë.
Kies die regte woord tussen hakies en voltooi die sinne:
(hardloop; bene en tande; ingeënt; soetigheid; rus)
Toe ek 'n baba was, is ek i om te voorkom dat ek sekere siektes kry.
My liggaam het baie r nodig.
Ek h elke dag om fiks te bly.
Melk maak my b en t sterk.
Te veel s is nie goed vir my liggaam nie.
Vul die volgende woorde in die regte kolom in:
Kleiner; giftige stowwe; spysvertering; parasiete; eensellige; vinnig
Wat het jou liggaam alles nodig om gesond te bly?
Groepwerk:
Maak 'n plakkaat met prente oor gesonde kosse.
Maak 'n plakkaat met ongesonde kosse.
Bespreek in die klas die voor- en nadele van sekere kossoorte.
Bespreek die volgende prente in groepe.
Verduidelik hoekom jy jou liggaam moet versorg.
Kleur die prente in.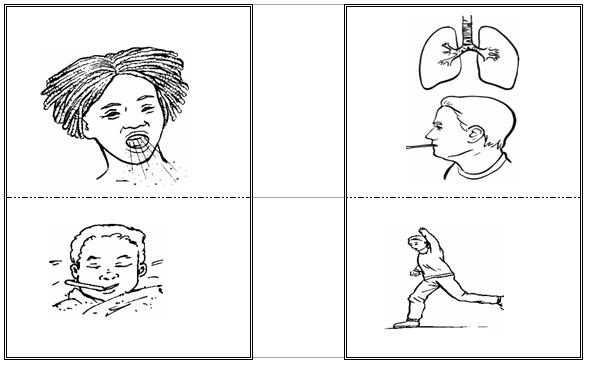 Wat is vigs (verworwe immuniteitsgebreksindroom)?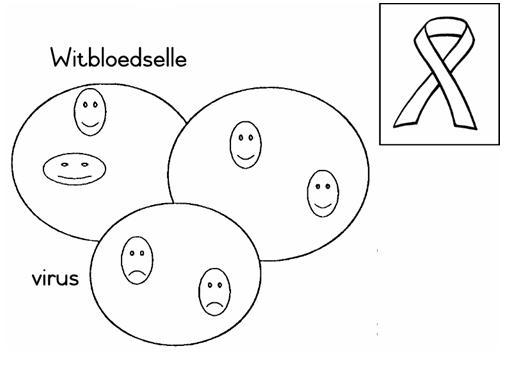 Virus wat die witbloedselle vernietig.
Jou liggaam word beskerm deur 'n immuniteitstelsel wat uit witbloedselle bestaan. Die virus vernietig die witbloedselle. Dan is daar niks wat jou teen siektes beskerm nie.
Die virus kan op verskillende maniere in mense se bloed kom. Hier is drie voorbeelde:
'n Ma wat die virus het, kan dit aan haar ongebore baba oordra.
Deur bloedoortapping (as die bloed reeds besmet is).
Deur besmette naalde.
Assessering
ASSESSERINGSTANDAARDE(LU's)
LEWENSORIËNTERING LU 1
GESONDHEIDS-BEVORDERING Die leerder is in staat om ingeligte besluite oor persoonlike, gemeenskaps- en omgewingsgesondheid te neem.
Assesseringstandaarde(ASe)
Dit is duidelik wanneer die leerder:
gesonde en swak eetgewoontes vergelyk en die uitwerking van sodanige gewoontes op persoonlike gesondheid beskryf;
1.3 onwaarhede oor aansteeklike siektes bespreek, asook die oorsake en voorkoming van aansteeklike siektes, o.a. MIV/VIGS.
LU 3
PERSOONLIKE ONTWIKKELING :Die leerder is in staat om verworwe lewensvaardighede te gebruik om persoonlike potensiaal te verwesenlik en uit te brei ten einde doeltreffend op uitdagings in sy of haar wêreld te reageer.
Assesseringstandaarde(ASe)
Dit is duidelik wanneer die leerder:
eie vermoëns, belangstellings en sterk punte beskryf;
verduidelik waarom eie liggaam gerespekteer moet word;
groepwerkvaardighede identifiseer en dit konsekwent toepas.
LU 4
LIGGAAMLIKE ONTWIKKELING EN BEWEGING Die leerder is in staat om begrip te toon vir en deel te neem aan aktiwiteite wat beweging en liggaamlike ontwikkeling bevorder.
Assesseringstandaarde(ASe)
Dit is duidelik wanneer die leerder:
4.2 basiese bewegings in volgorde en met herhaling uitvoer, met en sonder apparaat;4.4 deelneem aan spel en die uitwerking daarvan op die liggaam beskryf.
KUNS EN KULTUURLU 1
SKEPPING, INTERPRETASIE EN AANBIEDING Die leerder is in staat om werk in elk van die kunsvorme te skep, te interpreteer en aan te bied.
Assesseringstandaarde(ASe)
Dit is duidelik wanneer die leerder:
1.8 gepaste en bekombare materiaal gebruik om kunswerke te skep waarin eie idees, gevoelens en persepsies in twee- en drie-dimensionele werk oorgedra word en waarin die fokus val op die vermenging van primêre en sekondêre kleure.
LU 4
UITDRUKKING EN KOMMUNIKASIE Die leerder is in staat om veelvuldige vorme van kommunikasie en uitdrukking in kuns en kultuur te ontleed en te gebruik.
4.3 ( drama ) – die stem, gebare en liggaamsvorms gebruik om gevoelens en gedagtes uit te druk.
NATUURWETENSKAPLU 1
WETENSKAPLIKE ONDERSOEK Die leerder is in staat om met selfvertroue op weetgierigheid oor natuurlike verskynsels te reageer, en om binne die konteks van wetenskap, tegnologie en die omgewing verbande te ondersoek en probleme op te los.
Assesseringstandaarde(ASe)
Dit is duidelik wanneer die leerder:
1.2 ( doen ) – konstruktief aan die aktiwiteite deelneem en die doel daarvan verstaan:
1.2.2 die volgende vrae beantwoord: "Hoekom doen jy dit?" en "Hoe gaan jy dit uitvind?" en " Werk jou plan?"
Memorandum
Klasbespreking oor wat my liggaam alles nodig het om gesond te bly.
Waarom word ek siek? – Verduidelik die 2 begrippe "virusse" en "bakterieë" vooraf.
Bespreek kindersiektes in die algemeen met die klas.
Wat is VIGS?
Spyskaart.
Ontwerp 'n word-gou-gesond kaartjie op karton.
Buitespelkompetisie: resies.
Ontwerp van 'n leuse vir die Gr. 3's. Loof pryse uit vir die plakkaat, bv. vir oorspronklikheid.