The production possibilities frontier can illustrate two kinds of efficiency: productive efficiency and allocative efficiency. [link] illustrates these ideas using a production possibilities frontier between healthcare and education.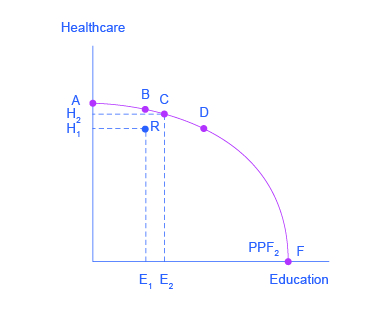 Productive efficiency means that, given the available inputs and technology, it is impossible to produce more of one good without decreasing the quantity that is produced of another good. All choices on the PPF in [link] , including A, B, C, D, and F, display productive efficiency. As a firm moves from any one of these choices to any other, either healthcare increases and education decreases or vice versa. However, any choice inside the production possibilities frontier is productively inefficient and wasteful because it is possible to produce more of one good, the other good, or some combination of both goods.
For example, point R is productively inefficient because it is possible at choice C to have more of both goods: education on the horizontal axis is higher at point C than point R (E 2 is greater than E 1 ), and healthcare on the vertical axis is also higher at point C than point R (H 2 is great than H 1 ).
The particular mix of goods and services being produced—that is, the specific combination of healthcare and education chosen along the production possibilities frontier—can be shown as a ray (line) from the origin to a specific point on the PPF. Output mixes that had more healthcare (and less education) would have a steeper ray, while those with more education (and less healthcare) would have a flatter ray.
Allocative efficiency means that the particular mix of goods a society produces represents the combination that society most desires. How to determine what a society desires can be a controversial question, and is usually discussed in political science, sociology, and philosophy classes as well as in economics. At its most basic, allocative efficiency means producers supply the quantity of each product that consumers demand. Only one of the productively efficient choices will be the allocatively efficient choice for society as a whole.
Why society must choose
Every economy faces two situations in which it may be able to expand consumption of all goods. In the first case, a society may discover that it has been using its resources inefficiently, in which case by improving efficiency and producing on the production possibilities frontier, it can have more of all goods (or at least more of some and less of none). In the second case, as resources grow over a period of years (e.g., more labor and more capital), the economy grows. As it does, the production possibilities frontier for a society will tend to shift outward and society will be able to afford more of all goods.