When a Brazilian or Chinese SOE in banking or finance lends to a SOE in other fields, what happens when the borrowing SOE runs into trouble and cannot repay the loans?
The borrowing bank says to its owner, the state as shareholder, we cannot pay. The state stockholder, the government, instructs the SOE s who lent to the troubled firm, "Let it Ride."
When this happens, problem also multiplies for the SOE s in banking, who have to carry heavy loads of non-performing loans, endangering the health of the entire financial system. This happened in India 1970-80. It was happening in China and Brazil in 2014.
Notwithstanding the long-standing problems of SOE s , many of the lessons learned about the performance of state capitalism in the earlier period (1945-85) have been forgotten. Even the Economist of London can go overboard on the issue of state capitalism. A quote from an issue in 2008:
State capitalism looks like the coming trend.
Perhaps one reason for such statements has been the emergence of the so called Chinese model of STATE capitalism.
One very salient point - SOE s now heavily dominate the world's holdings of reserves of oil and gas. These are called NOIs (National Oil Companies). This group includes NIOC (Iran) Aramco (Saudi), Gazprom (Russia), CNPC (China), Pertamina (Indonesia), Pemex (Mexico), Petronas (Malaysia). By 2012 NOIs held almost 90% of oil reserves. However, if in the coming year Whatever might be the future of SOE the U.S. fully taps its now huge reserves of oil shale reserves in Texas, North Dakota, Pennsylvania and Ohio, the dominance of the NOIs will diminish, at least for a time.
In critiquing the performances of SOE s , it is important to recognize that many, management is quite competent, and equal to the best anywhere, except when they are subjected to political pressure from the government-as- owner .
Indeed, there are several examples of reasonably well managed SOE s in oil and gas sectors across the world.
| | |
| --- | --- |
| Statoil | Norway (oil) |
| Aramco | Saudi - especially proficient in IT and in promoting health and safety in operations. |
| Petronas | Malaysia (oil) |
| Ecopetrol | Columbia (oil) |
Until recently, PETROBRAS of Brazil would have to be included in this list. In any case the movement for privatization of SOEs in energy nations had largely passed by the year 2000.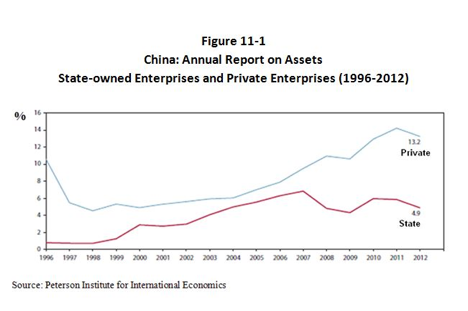 Why many soe s Are unprofitable
Profitability in SOE s tends to be low because the government-as-owner often utilizes them to typically pursue other aims of the state, including:
Employment, sometimes leading to excessive payrolls.
Political rewards to government officials.
Military needs (there military-owned SOE s in Iran, Pakistan, etc.)
And often SOE s pursue social aims unrelated to their businesses.
In China large private firms in 2012 had an average return on equity of 13%. The reported return in SOE s was 8.2%, and even that may have been inflated.
What can be said about recent profitability in SOE s ? What can be said about efficiency in SOE s , in big countries such as Brazil, China and India?
Over the period 1996-2012, the average return on assets for Chinese SOE s was less than 5% from 1996-2010, and barely above 5% thereafter. By 2010, returns to private firms were 3 times higher (see Table 11-1).