Introduction
And God said, Let there be light: and there was light.
The Book of Genesis 1:3

It is interesting that light is one of the first things mentioned in the Bible, since light indeed has to be present before any of the other creatures, plant or animal, become possible. The light from the sun powers every cell on the planet, allowing plants to make food that the rest of us can also partake of. How can light be used to make food? When a person turns on a lamp, electrical energy becomes light energy. Like all other forms of kinetic energy, light can travel, change form, and be harnessed to do work. In the case of photosynthesis, light energy is converted into chemical energy, which photoautotrophs use to build carbohydrate molecules ( [link] ). However, autotrophs only use a few specific components of sunlight.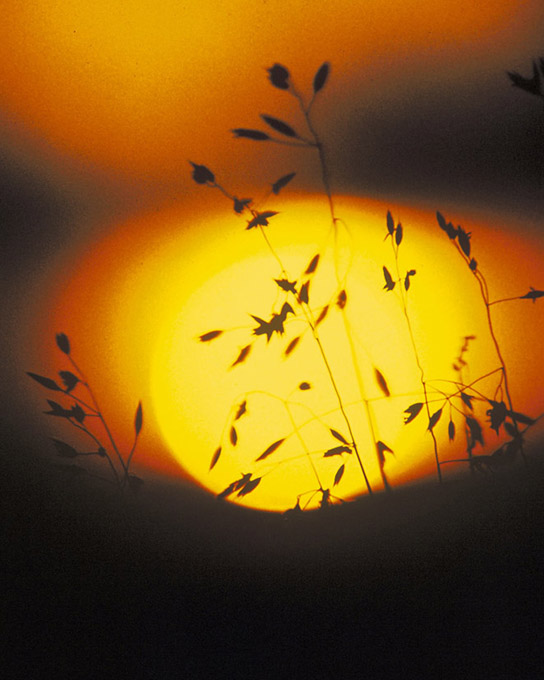 What is light energy?
The sun emits an enormous amount of electromagnetic radiation (solar energy). Humans can see only a fraction of this energy, which portion is therefore referred to as "visible light." The manner in which solar energy travels is described as waves. Scientists can determine the amount of energy of a wave by measuring its wavelength , the distance between consecutive points of a wave. A single wave is measured from two consecutive points, such as from crest to crest or from trough to trough ( [link] ).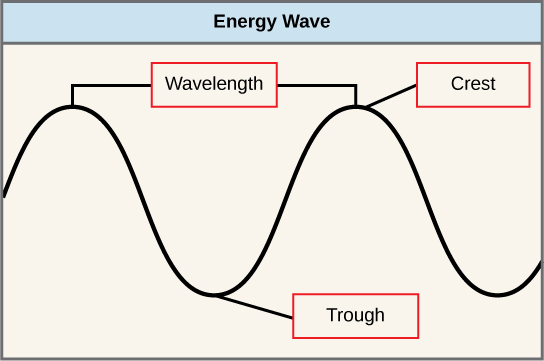 Visible light constitutes only one of many types of electromagnetic radiation emitted from the sun and other stars. Scientists differentiate the various types of radiant energy from the sun within the electromagnetic spectrum. The electromagnetic spectrum is the range of all possible frequencies of radiation ( [link] ). The difference between wavelengths relates to the amount of energy carried by them.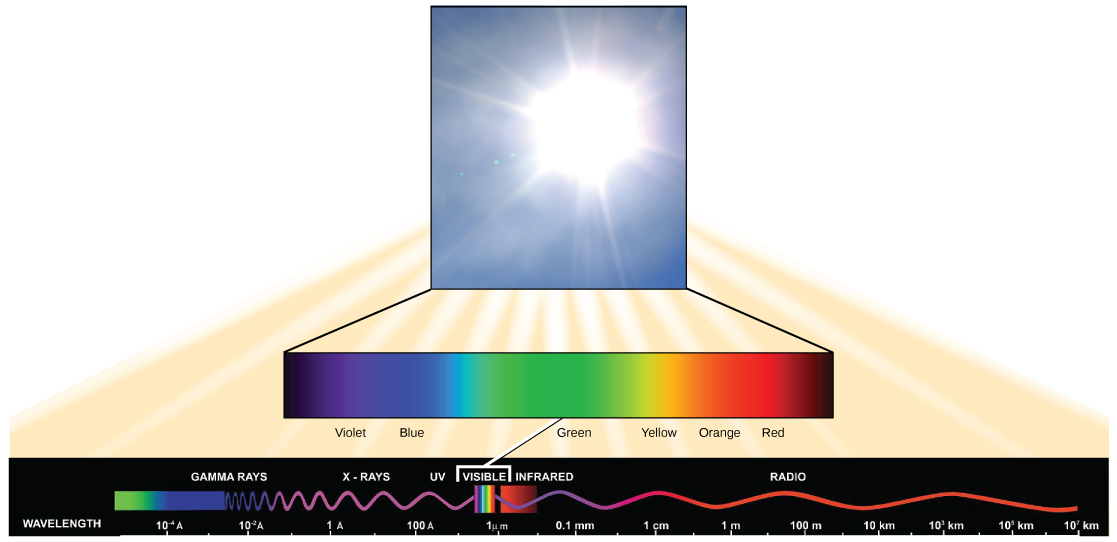 Each type of electromagnetic radiation travels at a particular wavelength. The longer the wavelength (or the more stretched out it appears in the diagram), the less energy is carried. Short, tight waves carry the most energy. This may seem illogical, but think of it in terms of a piece of moving a heavy rope. It takes little effort by a person to move a rope in long, wide waves. To make a rope move in short, tight waves, a person would need to apply significantly more energy.
The electromagnetic spectrum ( [link] ) shows several types of electromagnetic radiation originating from the sun, including X-rays and ultraviolet (UV) rays. The higher-energy waves can penetrate tissues and damage cells and DNA, explaining why both X-rays and UV rays can be harmful to living organisms.