Learning objects
Learning objects are a new way of thinking about learning content. Traditionally, content comes in a several hour chunk. Learning objects are much smaller units of learning, typically ranging from 2 minutes to 15 minutes.
Are self-contained – each learning object can be taken independently
Are reusable – a single learning object may be used in multiple contexts for multiple purposes
Can be aggregated – learning objects can be grouped into larger collections of content, including traditional course structures
Are tagged with metadata – every learning object has descriptive information allowing it to be easily found by a search
What is a module?
A module is the basic building block of a Connexions course, textbook, or other type of collection. You can think of it as a small knowledge chunk that addresses a single topic or a specific aspect of a topic. Every author determines the size of their module, ranging from a few paragraphs to an entire textbook chapter. To a student or reader viewing a course or collection, a module is simply a web page in the collection. Modules allow readers to follow the information path arranged by the author or instructor or to branch off and discover their own path. To an instructor putting a collection together, having topics in different modules allows easy selection and arrangement of the information. An instructor can include existing modules from other courses or other academic disciplines that are important to the presentation of the course subject.
Content preparation before the workshop
Module content
You need to prepare some subject matter content before you try to create a Connexions module. We suggest that you create two or three small knowledge chunks where each one addresses a single topic. Don't worry about how they will be transformed into Connexions modules. There are two word processing don'ts:
Do not use cntl_Enter as a break. They don't import into Connexions.
Do not use tabs. They also do not import into Connexions.
Additionally, for each knowledge chunk that will become a module create:
a title line
a one or two sentence summary
I find it easiest to use an Excel spreadsheet for keeping track of modules that I am creating. It allows me to prepare the titles for the modules and their summary information as I prepare the knowledge chunks. The titles and summaries can then be easily copied and pasted as needed when building the modules within Connexions.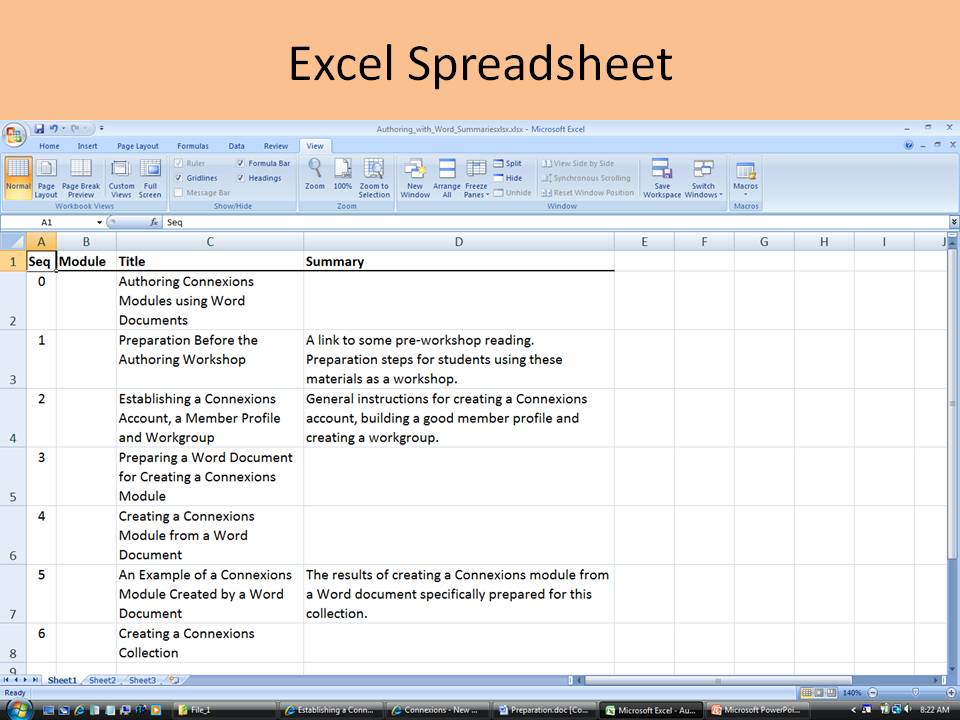 It is important that you do this before any in-person workshop. During a workshop you will not have time to create or organize your content into knowledge chunks.
Picture
Using your picture processing skills; modify a picture of yourself cropping it square. It should be no greater than 150 by 150 pixels on each side. Usually this file is stored in a .jpg format.
The Connexions web site will shrink your picture to fit its allocated space; thus, to avoid distortion, you should make sure to crop the picture square.
Short biographical sketch
Prepare a short biography about yourself. Information should include your current job, past employment, educational and professional attainments, etc.
Example
A link is provided (in the box at the upper right corner of this module's page) to my "Member Profile" (for Kenneth Leroy Busbee) at Connexions. You will be using your picture and biography to create your "Member Profile" when you create your Connexions account. Again, during an in-person workshop you will not have time to prepare these materials, thus: please do them ahead of time.
Remember to bring these electronic files with you (usually on a flash drive) to any in-person workshop.