Christine geith

Dr. Christine Geith is an assistant provost and executive director of Michigan State University's MSUglobal , the university's entrepreneurial business unit that works with academic partners across the campus and worldwide to develop online institutes, programs and services. She is responsible for developing strategic frameworks and business models and leading all activities that impact revenue growth.
Amee godwin

Amee Godwin serves as Program Director, OER Commons , Institute for the Study of Knowledge Management in Education (ISKME). Amee Godwin has over a decade of experience in applied research and development of community applications. Her work focuses on connecting technology, education, and collaboration. At ISKME, she guides the development of content, interactivity, and partnerships for OER Commons, a teaching and learning network for open educational resources.
Mara hancock
Mara Hancock serves as Associate Director for Educational Technology Services at UC Berkeley, and oversees the Learning Systems Group(LSG). She manages an extremely talented team of educational technologists, software programmers and architects, User Experience Designers, and training and support folks. We work with UC Berkeley faculty, students, and staff, as well as other educational technology professionals around the world to develop, adopt, and support collaboration and learning systems to enhance the teaching and learning experience.
Derek keats

Professor Derek W. Keats is Executive Director (similar to CIO in the US ) of Information&Communication Services (ICS) at the University of the Western Cape (UWC), where he is discovering Enterprise 2.0. ICS has a mandate to use information and communications technologies to strengthen UWC as a national institution of higher education in a global context.
Derek is a marine biologist with strong interests in using technology to improve teaching-and-learning, to enable higher education to create Education 3.0, and to promote sustainable development.
Andy lane

Professor Andy Lane has a BSc in Plant Sciences and a PhD in Pest Management from the University of London . He has been at The Open University since 1983 and held various offices in the former Technology Faculty (now Faculty of Maths, Computing and Technology) including being Head of the Systems Department and Dean of the Technology Faculty.
Promoted to Professor of Environmental Systems in 2005, he was appointed as Director of The Open University's OpenLearn Initiative in 2006. He has authored or co-authored many teaching texts and research papers dealing with systems thinking and environmental management, the use of diagramming to aid systems thinking and study, and more recently the development and use of Open Educational Resources.
Wayne mackintosh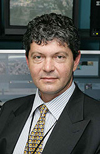 Wayne Mackintosh contributed to the series in mid-April and talked about WikiEducator , the freedom culture, and education.
In addition to Wayne's work on WikiEducator, he was the founding project leader of New Zealand's eLearning XHTML editor (eXe) project. Wayne is a committed advocate and user of free software for education. He currently serves the Commonwealth of Learning (COL) as Education Specialist, eLearning and ICT Policy and is the founding director of the Centre for Flexible and Distance Learning (CFDL) at the University of Auckland, New Zealand. Wayne has extensive experience in the theory and practice of open and distance learning (ODL). Prior to moving to New Zealand he spent eleven years working at the University of South Africa (UNISA), a distance learning institution and one of the world's mega-universities.