Dramatiseer nou die storie. Dramatiseer dit saam as 'n groep. Julle moet dus die dialoog vir die karakters skryf. Die karakters is as volg:
Verteller
Pa
Vrolike, ou man
Kinders
Julle hoef nie die hele storie oor te skryf nie. Nadat die groep besluit het wie watter karakter gaan wees, kan elke groeplid net sy eie dialoog neerskryf. Die verteller kan die storie lees.
Die slot moet natuurlik deel van die storie wees!
Hierdie is 'n groepaktiwiteit.
Selfassessering:
Hoe goed het ons groep gevaar?
Namevan groeplede:
Hierdie aktiwiteit het gehandel oor:
Hoe goed het ons die opdrag gedeel?
Hoe goed het ons mekaar gehelp?
Hoe goed was ons eindresultaat?
Elke groep gaan nou hulle storie kom opvoer. Julle mag definitief hulpmiddels gebruik en ook aantrek soos die karakters as julle wil en as die tyd dit toelaat. Dalk kan die klas die beste storie vir die ander Gr. 5-klasse of selfs die skool opvoer!
[LU 2.4.2]
Ontkenning (vervolg)
Kyk na die vraag en antwoord: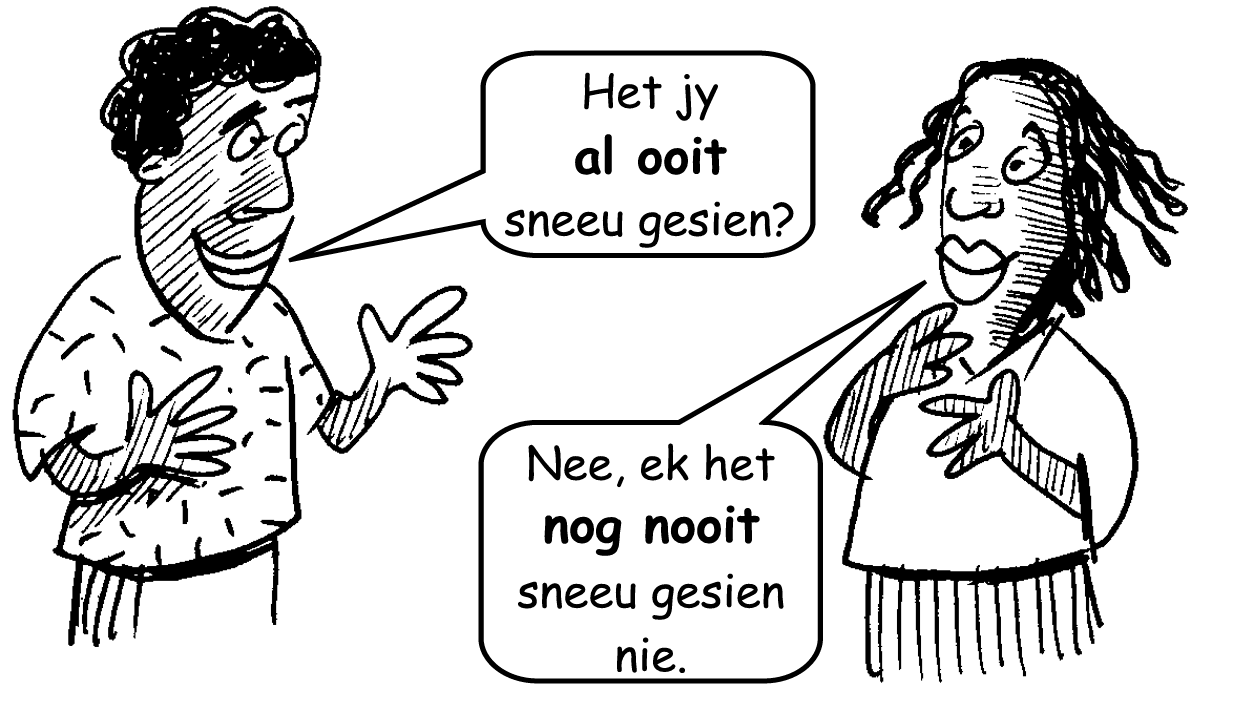 Verdeel in pare en voer dieselfde gesprek.
Vra jou maat:
of hy al ooit in Duitsland was;
of hy al ooit in 'n vliegtuig gery het;
of hy al ooit in 'n woud gestap het;
of hy al ooit honger was.
Doen dieselfde met die volgende: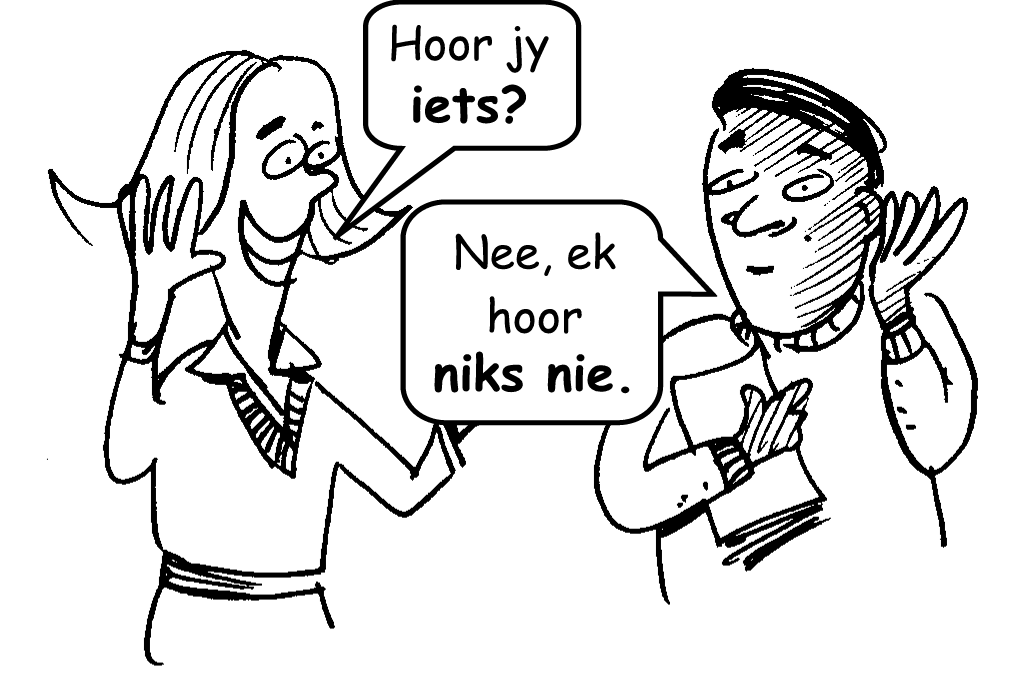 Vra jou maat:
of hy iets sien;
of hy iets ruik;
of hy iets drink;
of hy iets eet.
Doen dieselfde met: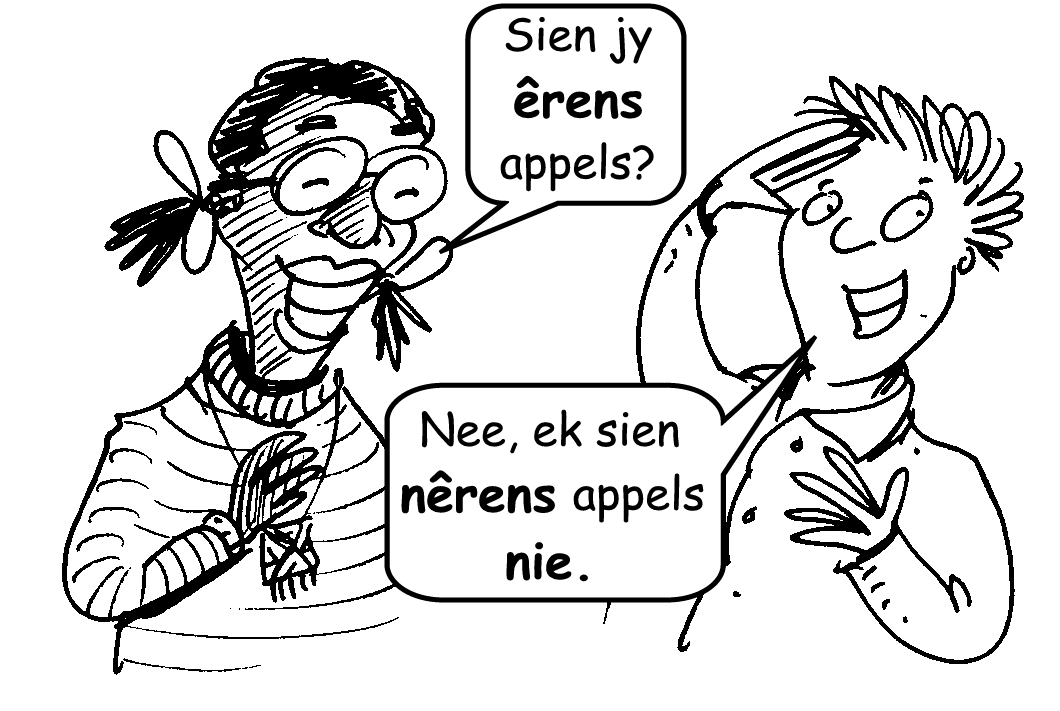 Vra vir 'n maat:
of hy êrens sneeu sien;
of hy êrens 'n Kersboom sien;
of hy êrens 'n ou man sien;
of hy êrens bessies sien.
[LU 6.2.5]
Vergelykings
Ons het in die storie gelees dat die man maer was en baie koud gekry het.
Ons kan ook sê: Hy is so maer soos 'n kraai.
Dit is so koud soos ys.
Leer ook:
So vinnig soos blits .
So glad soos seep .
So siek soos 'n hond .
So blind soos 'n mol .
So giftig soos 'n slang .
So oud soos die berge .
So lig soos 'n veer .
So regop soos 'n kers .
So stil soos 'n muis .
So bleek soos 'n laken .
Watter present vir wie?
Alex wil vir 'n klomp mense presente gee vir Kersfees. Dit is wat hy van elke persoon weet:
Tannie Katy hou van soetgoed.
Oom Albert hou van tuinwerk.
Ouma Susan hou van koekbak.
Oupa Henry nies baie.
Brenda hou van klere.
David hou van lees.
Mamma hou van seep.
Andy hou van sokker.
Kyk nou na die volgende prent en besluit wat hy vir wie gaan gee.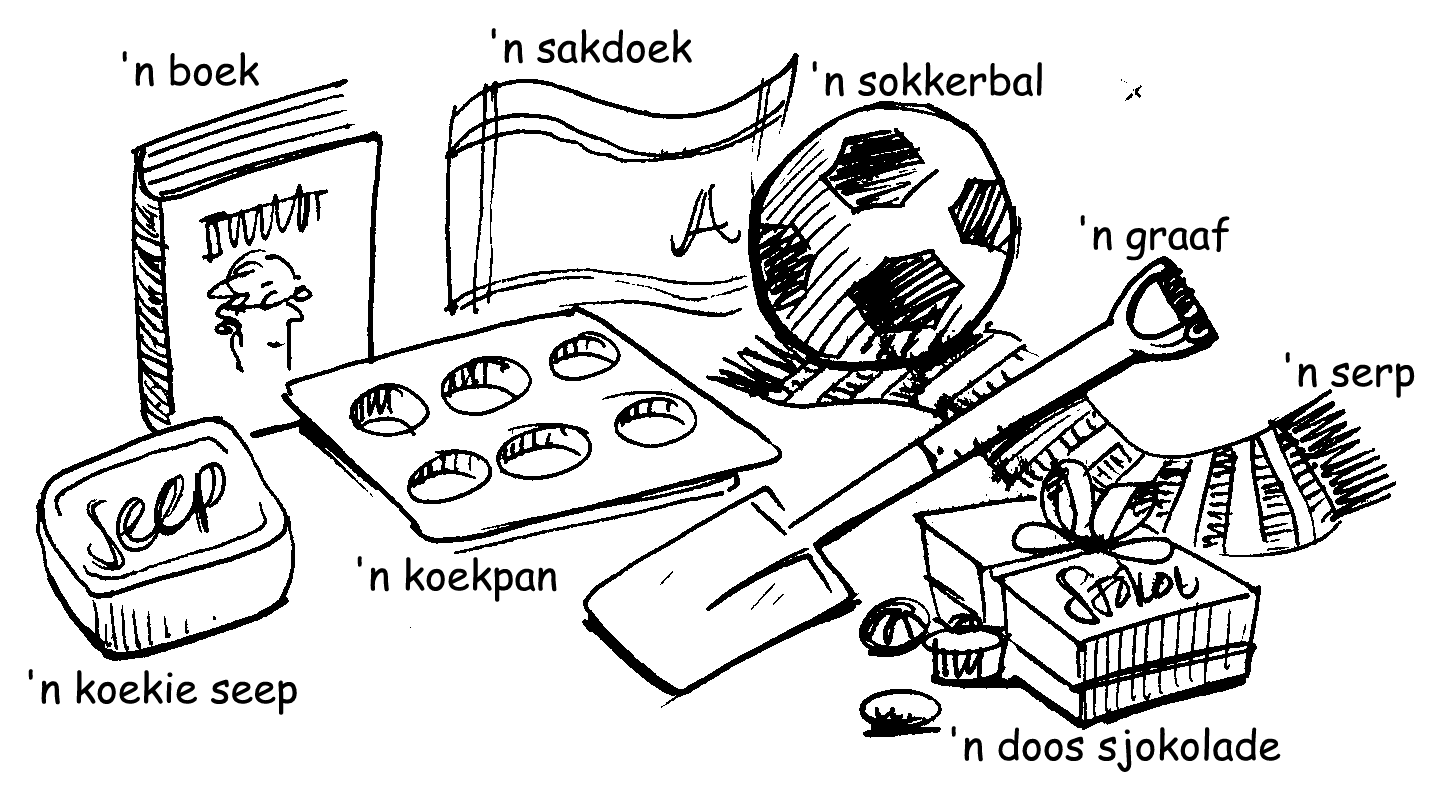 Voltooi nou die sinne en skryf oor.
Hy gee vir tannie Katy 'n _
Hy gee vir oom Albert 'n _
Hy gee vir Ouma Susan 'n _
Hy gee vir Oupa Henry 'n _
Hy gee vir Brenda 'n _
Hy gee vir David 'n _
Hy gee vir Mamma 'n _
Hy self wil graag 'n _ hê.
[LU 3.6.4]
Iets om te maak
Adventkalenders
Advent is die laaste 24 dae voor Kersfees. Dit is die tyd wat 'n mens solank voorberei vir Kersfees. In sommige lande is dit die gebruik om 'n kalender te maak. Hierdie kalender het 24 of 25 venstertjies. Elke dag word daar 'n venstertjie oopgemaak en dan sien 'n mens 'n prentjie. Hierdie prentjie moet betrekking hê op Kersfees.
Jy kan natuurlik so kreatief wees soos wat jy wil, maar hier is 'n paar riglyne:
Plaas 2 velle harde papier opmekaar.
Sny die fatsoen uit wat jy verkies, bv. 'n reghoek, ovaal, ens.
Gebruik 'n skerp potlood om 24 of 25 venstertjies te teken op die boonste vel papier.
Verwyder die boonste vel papier en maak seker dat die 24 venstertjies se buitelyne op die onderste vel papier is.