Suggested Time: 60 minutes. Science TEKS: 5.1, 5.2, 5.3, 5.6, 5.5. Math TEKS: 5.5, 5.11, 5.13, 5.14, 5.15, 5.16
Objective
Students have now finished taking the last of their GLOBE measurements. In today's lesson, students will compile and analyze their data. The goal of today's lesson is for students to explore relationships between ozone and the other factors that they measured. Students will analyze the data from the six GLOBE measurements – ozone, cloud cover, humidity, air temperature, surface temperature, and wind direction. They will do this by using simple calculations and by creating charts, graphs, and pictures to represent their data. These calculations and graphs will allow students to see trends in their data. For example, students may find that temperature is positively correlated to the amount of low-level ozone present (as they discovered is true in Smog City 2 in Lesson 5). However, if the data shows no clear trends or atypical correlations (e.g., ozone highest on cool, cloudy days), students must not be discouraged. Instead, explain possible reasons for anomalous results: 1) five days may be too little data for students to find typical relationships between factors, and 2) factors that cannot be measured at one school (e.g., daily fluctuations in emissions; complex wind flow patterns) also affect the creation of low-level ozone. Students should understand that this is also part of experimental design, and that they would probably be able to come up with more accurate conclusions if they took the GLOBE measurements for a much a longer period of time.
After students have reached their conclusions, they will be able to compare them to their original hypotheses. Students will also be given a chance to compare and communicate their findings with other students.
Students will most likely find the following correlations in their data. However, actual results may vary due to the small number of data points collected and factors beyond the scope of these measurements that affect ozone: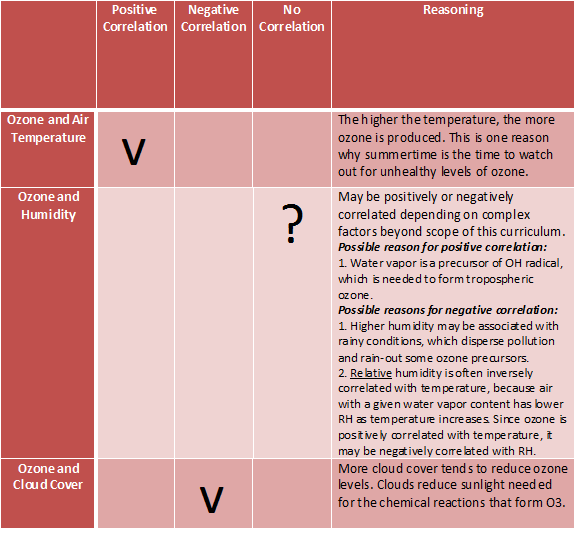 Background information
There is no new background information for this lesson.
Vocabulary
There is no new vocabulary for this lesson.
Materials needed (for a class of 25)
GLOBE Measurement Data Sheets (1 per student)
Calculator (If needed)
Crayons
Markers
Pencils
Butcher Paper
Ruler
Construction Paper
Any other art supplies (If needed to make graphs, charts, tables, pictures)
Step-by-step suggested lesson plan
| | |
| --- | --- |
| Instructor Activity | Student Activity |
| Tell students that today is the last lesson of the curriculum. Today students will be guided into analyzing their GLOBE data for trends. Tell students they will be able to use the knowledge they have learned in order to see the how the GLOBE measurements they have taken are related. | Students listen |
| Students will analyze their data. Guide students into calculations and graphing related to the data, following the instructions on the worksheets. You may choose to have some of the work, like the calculations of daily average temperature, to be done as a class. | Students analyze their measurement data to create graphs and answer journal questions: (p.3-6) |
| Have students share their graphs and conclusions with the class. Suggestion: Create a poster recapping the students' final conclusions and what they have learned over the course of the lessons. | Students share graphs and findings |
| As a final discussion for students, ask students to tell each other about something that they learned about that they found interesting. | Students complete final reflection journal page: (p. 7) |
Expected outcomes
Students will explore how cloud cover, air temperature, and humidity relate to ozone levels on a given day.
Students will build experience graphing data in charts.