Determine the journal's actual financial performance;
Evaluate the financial implications of various member publication benefit options; and
Allocate resources rationally across all society programs.
Allocating member dues to a journal's income statement based on the variable cost of goods sold (COGS)—that is, the marginalcost of delivering each incremental member print subscription—will provide many societies with the most meaningful basis for making business decisions (see"Variable Costs of Goods Sold," below).
Determining the COGS serves several purposes. First, it provides a society with the accurate marginal cost of providing the memberpublication benefit. Second, segregating the marginal cost of providing the print edition will allow the society to compare the financial effects of variousprint and online distribution scenarios, and will inform its pricing of an online edition of its journal (see "Member Publication Benefits" and"Institutional Subscription Pricing," in Chapter Five).
Variable costs
A thorough understanding of its publication program costs will allow a society to make well-considered decisions about the print andonline editions of a journal, and will also inform decisions about resource allocations across other society activities. Therefore, we have described below some of the basic cost elements relevant to managing a society journal.
As we have noted previously, publishing costs fall into two broad categories: variable costs and fixed costs. Variable costs arevolume-driven and fluctuate depending on the number of subscriptions. Variable costs for a print edition of a journal include:
Printing and Manufacturing , including paper, printing, binding, and typesetting-composition.
Print Distribution and Fulfillment , including postage, handling, and fulfillment charges for print subscriptions.
Identifying variable costs allows the society to determine its print cost of goods sold, as well as the revenue contribution forvarious journal format options.
Variable cost of goods sold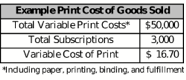 The table provides an example of per-unit variable "cost of goods sold" (COGS) for ajournal. The variable cost of goods sold is the cost that a society incurs for printing, manufacturing, and delivering each incremental subscription. For theprint edition, it is determined by dividing total print and fulfillment expenses by the total number of subscribers (both individual members and institutionalsubscribers). A society should calculate a journal's COGS for the three most recent years, to minimize the effect of year-to-year cost fluctuations.
Revenue contribution
Revenue contribution provides a metric that can help a society compare potential member publication benefit options (forexample, journal media options at various dues levels) and establish institutional prices for the journal.