Reference Manual for the MathML Editor
Math editor features
This module explains how to open the Math Editor, create math, edit existing math, and keyboard shortcuts. There is also a separate tutorial page with examples showcasing the features.
At the end of this module are nuances and limitations of the editor. Please, let us know which ones you'd really like to see incorporated!
Opening the editor
When editing a Module using using Mozilla's Firefox browser, click on a part of the module to open a blue editing box . On the top-right hand side of the box is a "MathML Editor" link which will open up the editor .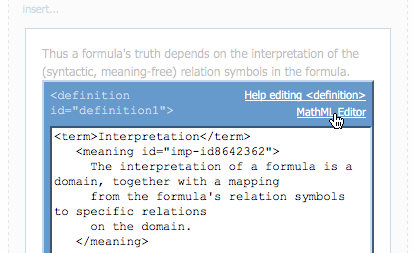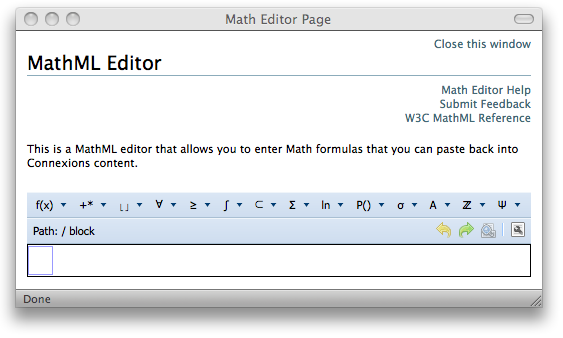 User interface
The Editor has 4 main sections, detailed below. The toolbar provides a way to insert new operations, a navigation tree to show where the cursor is located, and standard buttons for undo, preview, and source editing.

The main editing area is located below the toolbar and contains the math that is being edited.

The toolbar contains a row of buttons representing categories of different mathematical operations. These are enabled when something is selected in the editing area . Note: The editor does not infer multiplication and addition. See Nuances for how to insert next to existing math by wrapping existing math. Explain the different sections, when it's enabled, how things get inserted, and Keyboard Entry for things.

Clicking a category in the top row of the toolbar will open a menu of mathematical operations to insert. To the right of each operation is a name that can be entered from the keyboard at the cursor position in the main editing area . For example, instead of using the toolbar to enter the symbol for pi, the user could enter " pi " or " <pi/> " (the MathML version of pi) in the cursor and press the Enter key.
Path
Shows the path to the cursor location. Math is organized in a tree-like hierarchy (see Navigating Math ) and the path represents where in the tree the cursor currently is. The path (and context ) are important because they define what can be inserted and where it will go.
Undo/redo
These buttons allow the user to undo an operation such as deletion or insertion. See Keyboard Shortcuts for details on using these features from just the keyboard.
Preview
Shows what math will look like when module is published. To resume editing, one must click the Preview button a second time.
View source
Math in Connexions is represented in an XML format known as MathML. Clicking the View Source button will allow editing of the raw MathML.
Editing area
This is the main area for creating math. It begins empty, but math can be pasted directly in here from Connextions. The tutorials contain instructions on moving math from Connexions to the math editor and back. The editing area is the most important part of the editor and as several subsections, outlined below: