Use the Law of Sines to find angle and angle and then side Solving for we have the proportion
However, in the diagram, angle appears to be an obtuse angle and may be greater than 90°. How did we get an acute angle, and how do we find the measurement of Let's investigate further. Dropping a perpendicular from and viewing the triangle from a right angle perspective, we have [link] . It appears that there may be a second triangle that will fit the given criteria.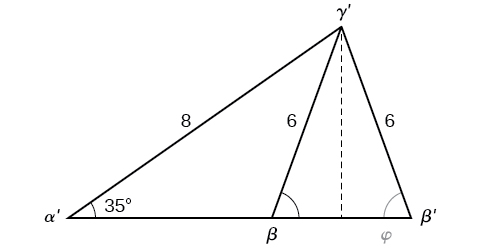 The angle supplementary to is approximately equal to 49.9°, which means that (Remember that the sine function is positive in both the first and second quadrants.) Solving for we have
We can then use these measurements to solve the other triangle. Since is supplementary to we have
Now we need to find and
We have
Finally,
To summarize, there are two triangles with an angle of 35°, an adjacent side of 8, and an opposite side of 6, as shown in [link] .

However, we were looking for the values for the triangle with an obtuse angle We can see them in the first triangle (a) in [link] .