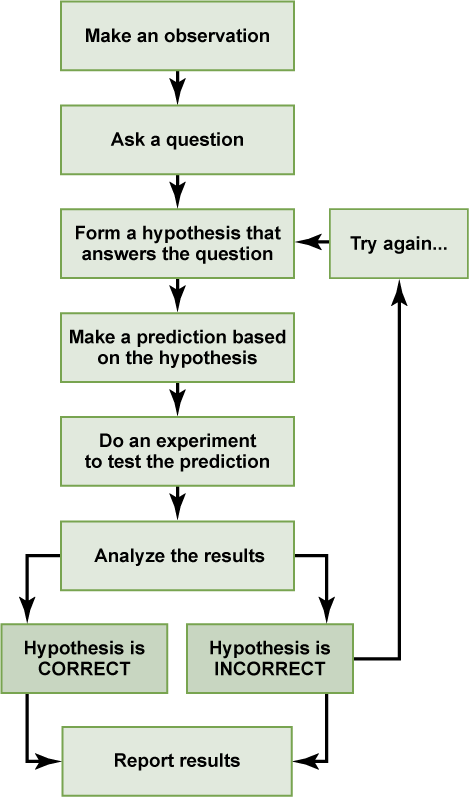 In the example below, the scientific method is used to solve an everyday problem. Order the scientific method steps (numbered items) with the process of solving the everyday problem (lettered items). Based on the results of the experiment, is the hypothesis correct? If it is incorrect, propose some alternative hypotheses.
Observation
Question
Hypothesis (answer)
Prediction
Experiment
Result
There is something wrong with the electrical outlet.
If something is wrong with the outlet, my coffeemaker also won't work when plugged into it.
My toaster doesn't toast my bread.
I plug my coffee maker into the outlet.
My coffeemaker works.
Why doesn't my toaster work?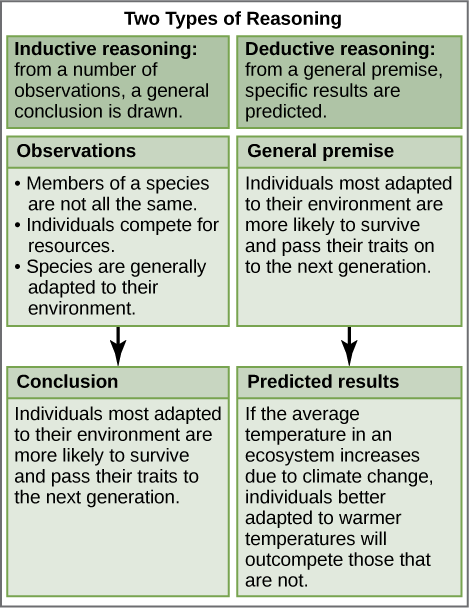 Decide if each of the following is an example of inductive or deductive reasoning.
All flying birds and insects have wings. Birds and insects flap their wings as they move through the air. Therefore, wings enable flight.
Insects generally survive mild winters better than harsh ones. Therefore, insect pests will become more problematic if global temperatures increase.
Chromosomes, the carriers of DNA, separate into daughter cells during cell division. Therefore, DNA is the genetic material.
Animals as diverse as humans, insects, and wolves all exhibit social behavior. Therefore, social behavior must have an evolutionary advantage.
The scientific method may seem too rigid and structured. It is important to keep in mind that, although scientists often follow this sequence, there is flexibility. Sometimes an experiment leads to conclusions that favor a change in approach; often, an experiment brings entirely new scientific questions to the puzzle. Many times, science does not operate in a linear fashion; instead, scientists continually draw inferences and make generalizations, finding patterns as their research proceeds. Scientific reasoning is more complex than the scientific method alone suggests. Notice, too, that the scientific method can be applied to solving problems that aren't necessarily scientific in nature.
Two types of science: basic science and applied science
The scientific community has been debating for the last few decades about the value of different types of science. Is it valuable to pursue science for the sake of simply gaining knowledge, or does scientific knowledge only have worth if we can apply it to solving a specific problem or to bettering our lives? This question focuses on the differences between two types of science: basic science and applied science.
Basic science or "pure" science seeks to expand knowledge regardless of the short-term application of that knowledge. It is not focused on developing a product or a service of immediate public or commercial value. The immediate goal of basic science is knowledge for knowledge's sake, though this does not mean that, in the end, it may not result in a practical application.