Plotting basics.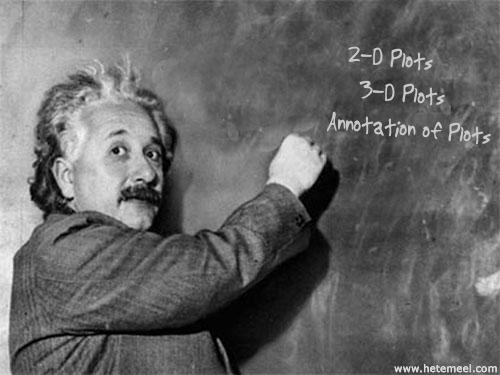 A picture is worth a thousand words, particularly visual representation of data in engineering is very useful. MATLAB has powerful graphics tools and there is a very helpful section devoted to graphics in MATLAB Help: Graphics. Students are encouraged to study that section; what follows is a brief summary of the main plotting features.
Two-dimensional plots
The plot Statement
Probably the most common method for creating a plot is by issuing plot(x, y) statement where function y is plotted against x.
Type in the following statement at the MATLAB prompt:
x=[-pi:.1:pi]; y=sin(x); plot(x,y);
After we executed the statement above, a plot named Figure1 is generated: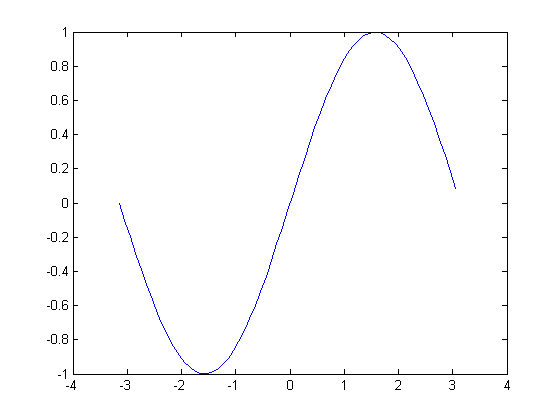 Having variables assigned in the Workspace, x and y=sin(x) in our case, we can also select x and y, and right click on the selected variables. This opens a menu from which we choose plot(x,y). See the figure below.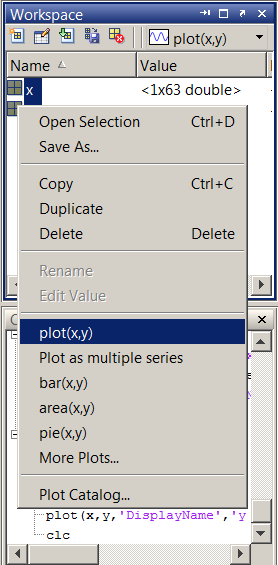 Annotating plots
Graphs without labels are incomplete and labeling elements such as plot title, labels for x and y axes, and legend should be included. Using up arrow, recall the statement above and add the annotation commands as shown below.
x=[-pi:.1:pi];y=sin(x);plot(x,y);title('Graph of y=sin(x)');xlabel('x');ylabel('sin(x)');grid on
Run the file and compare your result with the first one.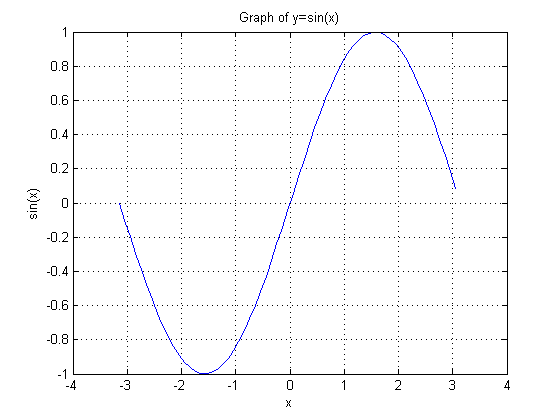 Type in the following at the MATLAB prompt and learn additional commands to annotate plots: help gtext help legendhelp zlabel
Superimposed plots
If you want to merge data from two graphs, rather than create a new graph from scratch, you can superimpose the two using a simple trick:
% This script generates sin(x) and cos(x) plot on the same graph % initialize variablesx=[-pi:.1:pi]; %create a row vector from -pi to +pi with .1 incrementsy0=sin(x); %calculate sine value for each x y1=cos(x); %calculate cosine value for each x% Plot sin(x) and cos(x) on the same graph plot(x,y0,x,y1);title('Graph of sin(x) and cos(x)'); %Title of graph xlabel('x'); %Label of x axisylabel('sin(x), cos(x)'); %Label of y axis legend('sin(x)','cos(x)'); %Insert legend in the same order as y0 and y1 calculatedgrid on %Graph grid is turned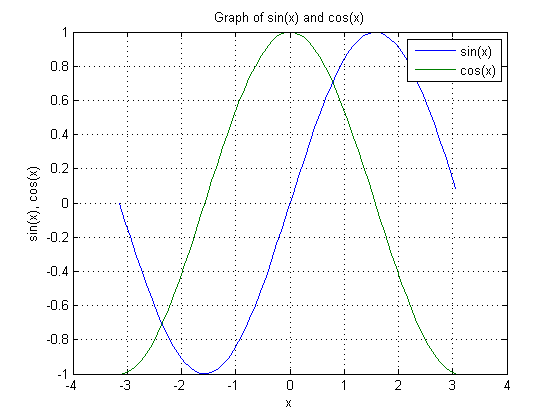 Multiple plots in a figure
Multiple plots in a single figure can be generated with subplot in the Command Window. However, this time we will use the built-in Plot Tools. Before we initialize that tool set, let us create the necessary variables using the following script:
% This script generates sin(x) and cos(x) variables clc %Clears command windowclear all %Clears the variable space close all %Closes all figuresX1=[-2*pi:.1:2*pi]; %Creates a row vector from -2*pi to 2*pi with .1 incrementsY1=sin(X1); %Calculates sine value for each x Y2=cos(X1); %Calculates cosine value for each xY3=Y1+Y2; %Calculates sin(x)+cos(x) Y4=Y1-Y2; %Calculates sin(x)-cos(x)