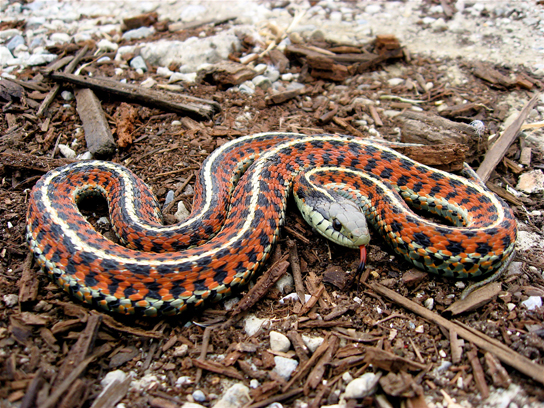 Turtles
Turtles are members of the clade Testudines ("having a shell") ( [link] ). Turtles are characterized by a bony or cartilaginous shell. The shell consists of the ventral surface called the plastron and the dorsal surface called the carapace, which develops from the ribs. The plastron is made of scutes or plates; the scutes can be used to differentiate species of turtles. The two clades of turtles are most easily recognized by how they retract their necks. The dominant group, which includes all North American species, retracts its neck in a vertical S-curve. Turtles in the less speciose clade retract the neck with a horizontal curve.
Turtles arose approximately 200 million years ago, predating crocodiles, lizards, and snakes. Similar to other reptiles, turtles are ectotherms. They lay eggs on land, although many species live in or near water. None exhibit parental care. Turtles range in size from the speckled padloper tortoise at 8 centimeters (3.1 inches) to the leatherback sea turtle at 200 centimeters (over 6 feet). The term "turtle" is sometimes used to describe only those species of Testudines that live in the sea, with the terms "tortoise" and "terrapin" used to refer to species that live on land and in fresh water, respectively.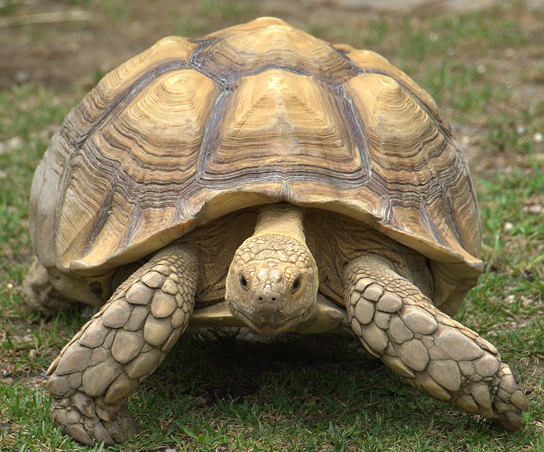 Birds
The most obvious characteristic that sets birds apart from other modern vertebrates is the presence of feathers, which are modified scales. While vertebrates like bats fly without feathers, birds rely on feathers and wings, along with other modifications of body structure and physiology, for flight.
Characteristics of birds
Birds are endothermic, and because they fly, they require large amounts of energy, necessitating a high metabolic rate. Like mammals, which are also endothermic, birds have an insulating covering that keeps heat in the body: feathers. Specialized feathers called down feathers are especially insulating, trapping air in spaces between each feather to decrease the rate of heat loss. Certain parts of a bird's body are covered in down feathers, and the base of other feathers have a downy portion, whereas newly hatched birds are covered in down.
Feathers not only act as insulation but also allow for flight, enabling the lift and thrust necessary to become airborne. The feathers on a wing are flexible, so the collective feathers move and separate as air moves through them, reducing the drag on the wing. Flight feathers are asymmetrical, which affects airflow over them and provides some of the lifting and thrusting force required for flight ( [link] ). Two types of flight feathers are found on the wings, primary feathers and secondary feathers. Primary feathers are located at the tip of the wing and provide thrust. Secondary feathers are located closer to the body, attach to the forearm portion of the wing and provide lift. Contour feathers are the feathers found on the body, and they help reduce drag produced by wind resistance during flight. They create a smooth, aerodynamic surface so that air moves smoothly over the bird's body, allowing for efficient flight.