By the end of this section, you will be able to:
Explain how people with psychological disorders have been treated throughout the ages
Discuss deinstitutionalization
Discuss the ways in which mental health services are delivered today
Distinguish between voluntary and involuntary treatment
Before we explore the various approaches to therapy used today, let's begin our study of therapy by looking at how many people experience mental illness and how many receive treatment. According to the U.S. Department of Health and Human Services (2013), 19% of U.S. adults experienced mental illness in 2012. For teens (ages 13–18), the rate is similar to that of adults, and for children ages 8–15, current estimates suggest that 13% experience mental illness in a given year (National Institute of Mental Health [NIMH], n.d.-a)
With many different treatment options available, approximately how many people receive mental health treatment per year? According to the Substance Abuse and Mental Health Services Administration (SAMHSA), in 2008, 13.4% of adults received treatment for a mental health issue (NIMH, n.d.-b).
Children and adolescents also receive mental health services. The Centers for Disease Control and Prevention's National Health and Nutrition Examination Survey (NHANES) found that approximately half (50.6%) of children with mental disorders had received treatment for their disorder within the past year (NIMH, n.d.-c). However, there were some differences between treatment rates by category of disorder ( [link] ). For example, children with anxiety disorders were least likely to have received treatment in the past year, while children with ADHD or a conduct disorder were more likely to receive treatment. Can you think of some possible reasons for these differences in receiving treatment?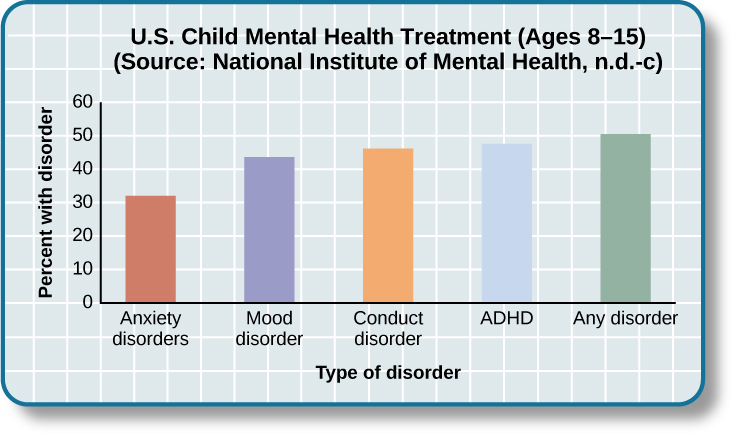 Considering the many forms of treatment for mental health disorders available today, how did these forms of treatment emerge? Let's take a look at the history of mental health treatment from the past (with some questionable approaches in light of modern understanding of mental illness) to where we are today.
Treatment in the past
For much of history, the mentally ill have been treated very poorly. It was believed that mental illness was caused by demonic possession, witchcraft, or an angry god (Szasz, 1960). For example, in medieval times, abnormal behaviors were viewed as a sign that a person was possessed by demons. If someone was considered to be possessed, there were several forms of treatment to release spirits from the individual. The most common treatment was exorcism, often conducted by priests or other religious figures: Incantations and prayers were said over the person's body, and she may have been given some medicinal drinks. Another form of treatment for extreme cases of mental illness was trephining: A small hole was made in the afflicted individual's skull to release spirits from the body. Most people treated in this manner died. In addition to exorcism and trephining, other practices involved execution or imprisonment of people with psychological disorders. Still others were left to be homeless beggars. Generally speaking, most people who exhibited strange behaviors were greatly misunderstood and treated cruelly. The prevailing theory of psychopathology in earlier history was the idea that mental illness was the result of demonic possession by either an evil spirit or an evil god because early beliefs incorrectly attributed all unexplainable phenomena to deities deemed either good or evil.