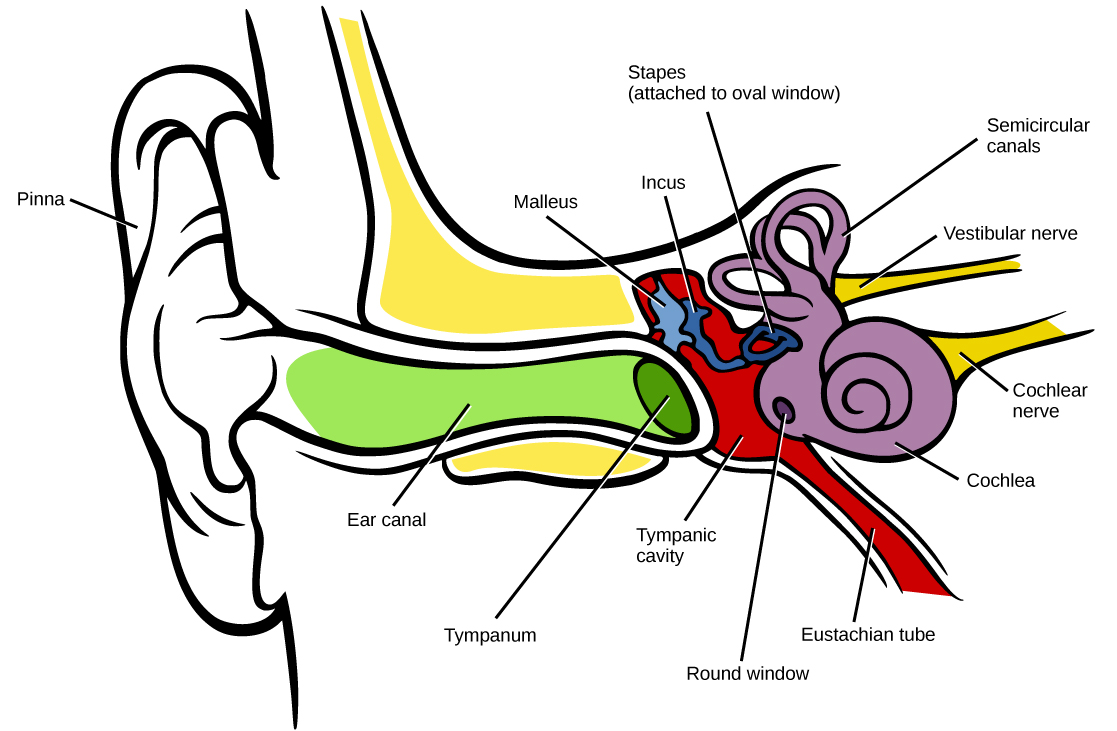 Transduction of sound
Vibrating objects, such as vocal cords, create sound waves or pressure waves in the air. When these pressure waves reach the ear, the ear transduces this mechanical stimulus (pressure wave) into a nerve impulse (electrical signal) that the brain perceives as sound. The pressure waves strike the tympanum, causing it to vibrate. The mechanical energy from the moving tympanum transmits the vibrations to the three bones of the middle ear. The stapes transmits the vibrations to a thin diaphragm called the oval window , which is the outermost structure of the inner ear . The structures of the inner ear are found in the labyrinth , a bony, hollow structure that is the most interior portion of the ear. Here, the energy from the sound wave is transferred from the stapes through the flexible oval window and to the fluid of the cochlea. The vibrations of the oval window create pressure waves in the fluid (perilymph) inside the cochlea. The cochlea is a whorled structure, like the shell of a snail, and it contains receptors for transduction of the mechanical wave into an electrical signal (as illustrated in [link] ). Inside the cochlea, the basilar membrane is a mechanical analyzer that runs the length of the cochlea, curling toward the cochlea's center.
The mechanical properties of the basilar membrane change along its length, such that it is thicker, tauter, and narrower at the outside of the whorl (where the cochlea is largest), and thinner, floppier, and broader toward the apex, or center, of the whorl (where the cochlea is smallest). Different regions of the basilar membrane vibrate according to the frequency of the sound wave conducted through the fluid in the cochlea. For these reasons, the fluid-filled cochlea detects different wave frequencies (pitches) at different regions of the membrane. When the sound waves in the cochlear fluid contact the basilar membrane, it flexes back and forth in a wave-like fashion. Above the basilar membrane is the tectorial membrane .
Art connection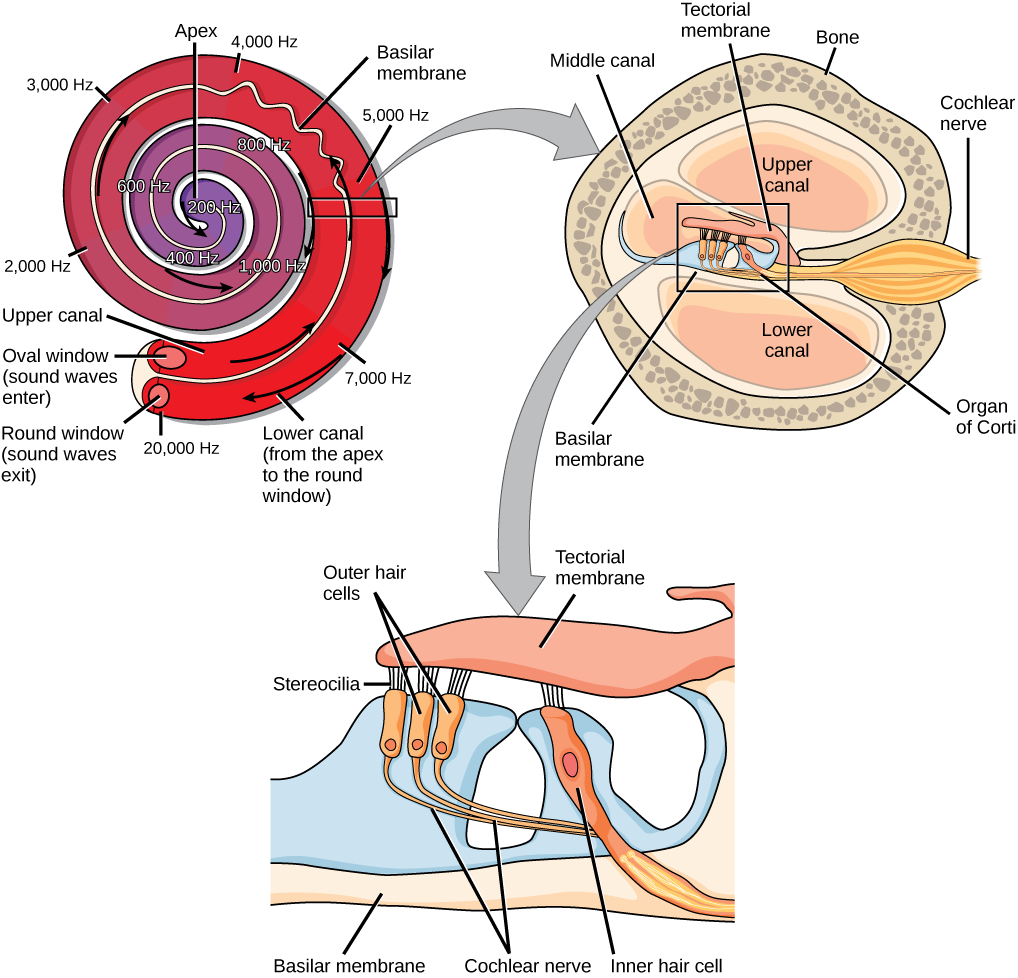 Cochlear implants can restore hearing in people who have a nonfunctional cochlear. The implant consists of a microphone that picks up sound. A speech processor selects sounds in the range of human speech, and a transmitter converts these sounds to electrical impulses, which are then sent to the auditory nerve. Which of the following types of hearing loss would not be restored by a cochlear implant?
Hearing loss resulting from absence or loss of hair cells in the organ of Corti.
Hearing loss resulting from an abnormal auditory nerve.
Hearing loss resulting from fracture of the cochlea.
Hearing loss resulting from damage to bones of the middle ear.