(c) He was caring and sensitive towards others.
(d) He was conceited and self-absorbed.
Why was Cheetah so upset?
(a) He was devastated that Tortoise was crying.
(b) He felt the race wouldn't be much fun because he would win.
(c) Cheetah realised he was the fastest animal in the world.
How was Hippo able to cheer Cheetah up?
(a) Hippo asked Cheetah to assist Tommy Tortoise.
(b) Cheetah's task was to begin the games and carry the torch.
(c) Cheetah was made team leader of the Olympics.
What do you think the moral of the story is?
(a) Treat others the way you like to be treated yourself.
(b) One good deed often follows another.
(c) Everyone's a winner.
0 - 1 2 - 3 4 - 5 6 - 8correct correct correct correct
Activity 3
To read clearly and fluently [lo 3.1.6]
Your teacher will request you to read 'The Animal Olympics' aloud. Pay special attention to read fluently and pronounce the words clearly.
Activity 4
To fill in suitable words [lo 4.4.1]
CLOZE PROCEDURE
We've had fun listening to the story of the Animal Olympics. Now read this passage and see if you can find the correct words from the box of clues to complete the story. Write the correct word in each space. (Take care with spelling ~ 'Dame Spell a what' is watching you!)
held; proudly; green; Australia; continents; Olympic; stronger; exciting; carrying; famous; remained; competition; five; runners; event; were; colourful; occasion; torch; began
The Games in Ancient Greece in
776 B.C. The first was a 200 m race, which was won by
'Coroibos', a cook. The contest was on one day!
The first modern Olympics held in Athens in 1896.
The Olympic Games were held in Sydney, (1) in 2000.
The host declared this (2) international (3)
open on 15 September. The (4) flag was raised and each
competitor (5) marched into the stadium. Adolf Hitler
started the custom of (6) a flaming Olympic torch from the
original site at Olympia to the venue of the games. The (7)
was carried by 10 000 torchbearers accompanied by 2 500 (8)
The (9) Olympic flame was lit in the stadium and
(10) burning until the end of this wonderful (11)
The (12) interlaced rings of the Olympic flag (red,
yellow, blue, black and (13) ) represent the world's five
(14) , The Olympic motto, 'Citrus, Altius, Fortius' means
'Faster, Higher, (15) '.
Rewritten by author. S.A.'s Top Ten : Helen Baardman Book
0 - 3 4 - 7 8 - 11 12 - 15correct correct correct correct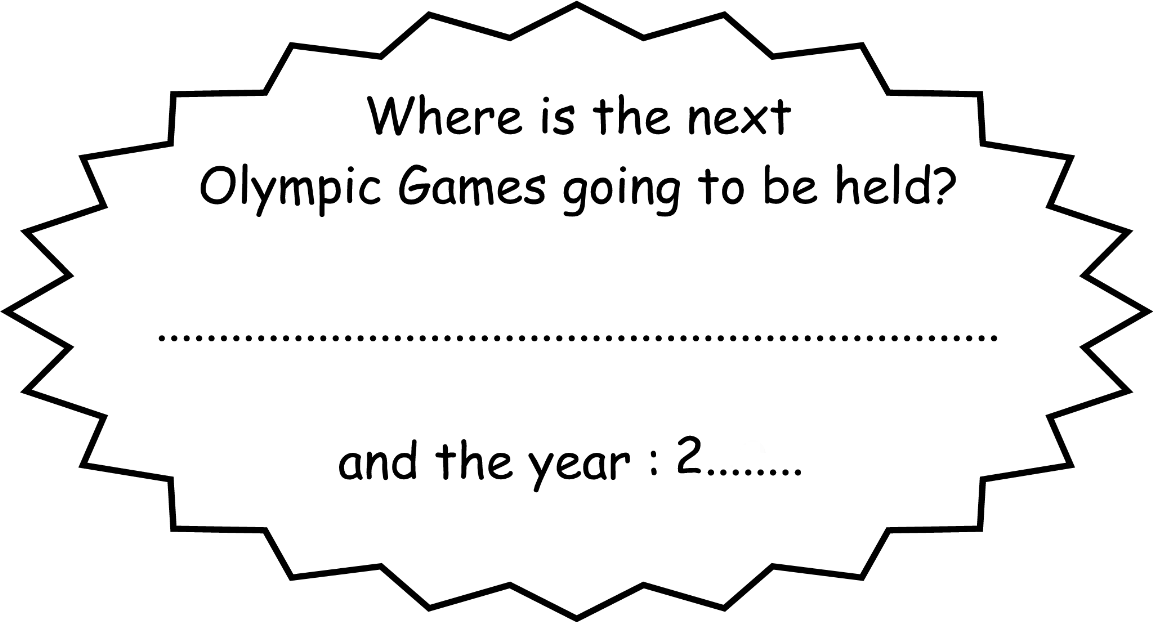 Assessment
LEARNING OUTCOME 1: LISTENING The learner is able to listen for information and enjoyment, and respond appropriately and critically in a wider range of situations.
Assessment Standard
We know this when the learner:
1.1 enjoys listening to different kinds of oral texts and responds appropriately (e.g. stories, fables, limericks, short reports).
LEARNING OUTCOME 2: SPEAKING The speaker is able to communicate effectively in spoken language in a wide range of situations.
Assessment Standard
We know this when the learner:
2.1 communicates experiences, ideas and information in different contexts for different audiences and purposes:
2.1.1 uses language with ease for interpersonal communication in everyday conversation;
2.1.2 uses language for imaginative self-expression (e.g. tells a story, recites a poem or role-plays a situation);
2.1.7 discusses and compares own and others' ideas and opinions.
LEARNING OUTCOME 3: READING AND VIEWING The learner is able to read and view for information and enjoyment, and to respond critically to the aesthetic, cultural and emotional values in texts.
Assessment Standard
We know this when the learner:
reads a variety of South African and international fiction and non-fiction texts for different purposes (e.g. poems, stories, myths, brochures, reference books and text-books);
3.1.6 reads aloud clearly and with expression.
LEARNING OUTCOME 4: WRITING The learner is able to write different kinds of factual and imaginative texts for a wide range of purposes.
Assessment Standard
We know this when the learner:
4.4 applies knowledge of language at various levels:
4.4.1 word level.
Memorandum
Activity 2 Olympics (Listening skill)
1. c
2. c
3. a
4. b
5. c
6. b
7. b
8. a
Activity 4
Cloze procedure
Olympic, began, competition, held, were
1. Australia 9. famous
2. exciting 10. remained
3. occasion 11. event
4. colourful 12. five
5. proudly 13. green
6. carrying 14. continents
7. torch 15. stronger
8. runners