English home language
Grade 4
Fears and phobias
Module 7
About creepy stories
We all have things that give us the creeps - things that make us get goose bumps or want to hide under our blankies. They could be sounds or spiders or smells or sights. We all have fears and phobias.
Activity 1
To listen for information and identify the main theme [lo 1.6]
Listen to the well-known poem by Allan Ahlberg, read to you by your educator, and then identify his three fears.
Listen again and then identify his plan of action in a brave effort to ward off each fear.
Activity 2
To learn to speak with ease [lo 2.1.2]
What scares you in the dark and what do you do to be brave? Prepare a 2-minute speech to present to the class.
Activity 3
To identify the correct words [lo 6.2.5]
Have you ever had a nightmare? I'm sure you have had many. Now read this one and see if you can find the correct words from the box of clues to complete the story. Write the correct word in each space.
disappear shriek terrified experience invisible
weird imagine impossible horrible coward
skeleton ghost peculiar haunted vanish
I do not consider myself to be a …………………………., but the night I had to
spend in the ………………………………..……. bedroom was the worst in my
………………………………………………... No sooner had I closed my eyes
than ……………………….... things began to happen. First there was a blood-
curdling……………………….! I opened my eyes only to see a ………………
flit across the room and …………………..……. into a cupboard. A moment
later a ………………………………. fell out. Then the whole cupboard began
to ……………………………. I was …………..…………………….. yet found it
……………………………………...…. to leap from my bed! A strange lack of
energy seemed to have invaded my very bones.
You can't begin to ………………………………..……. how awful I felt. It was a
…………………….………. feeling just to lie there at the mercy of the dreadful
events and frightening atmosphere. Then the most ……..…………………….
thing of all happened - I sat up in bed and peered at myself in my bedroom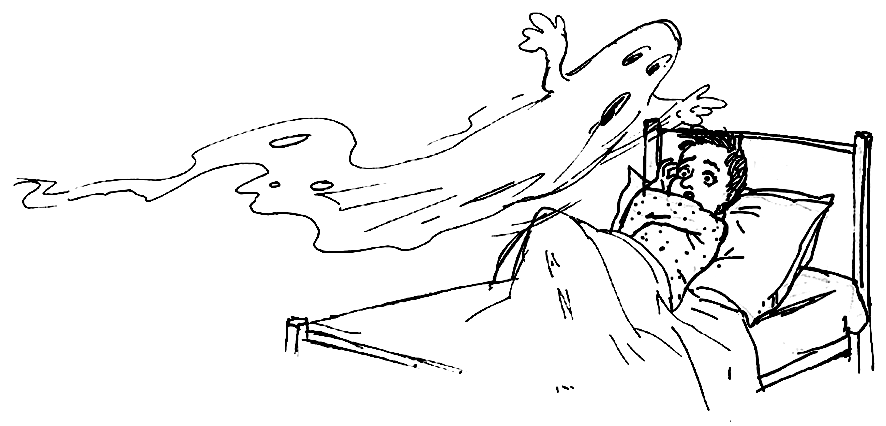 mirror. To my horror I realised that I had become …………………………..!!
Activity 4
To talk about sounds [lo 1.5]
WHICH WITCH IS WHICH?
Listen to the poem Eight Witches and make a list of the eight noises each one made. Why do you think the youngest made the scariest sound the best?
Activity 5
To use language with ease in conversation [lo 2.1.2]
Decide which witch you would like to be according to the sound you can imitate the best. Your teacher will help you here. Practise your chosen scary Now take a look at the poem Eight Witches . Each one made a scary noise. sound till your particular sound group has the correct sound and pitch (low/high).
Have your copy of the poem with you and your teacher will help you create a speech choir with stunning sound effects. Maybe you would like to SCARE the principal once you have perfected your performance.
Activity 6
To use language to think [lo 5.1.2]
Now take a careful look at these three witches. Complete the table below. Number one has been completed as an example.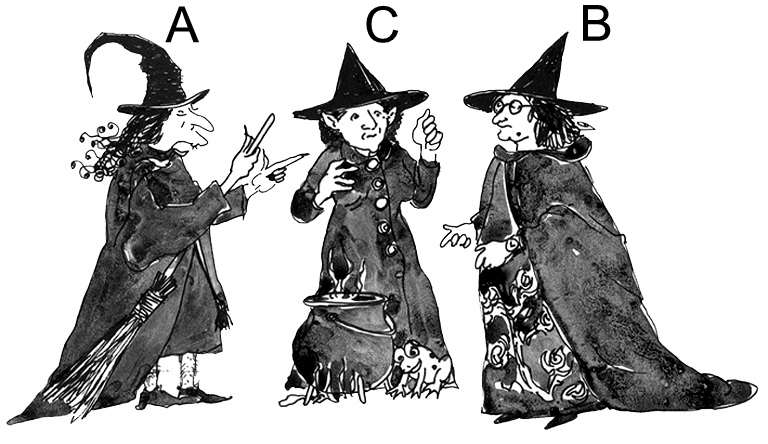 | | | | | | |
| --- | --- | --- | --- | --- | --- |
| | | Witch A | Witch B | Witch C | |
| 1. | a watch |  |  |  | |
| 2. | empty hands | | | | |
| 3. | a long nose | | | | |
| 4. | a broomstick | | | | |
| 5. | glasses | | | | |
| 6. | hairy legs | | | | |
| 7. | a dress with flowers | | | | |
| 8. | a cooking pot (cauldron) | | | | |
| 9. | a bent black hat | | | | |
| 10. | pointed ears | | | | |
| 11. | a frog | | | | |
| 12. | buttons | | | | |
| 13. | a broomstick and hairy legs | | | | |
| 14. | a pointed hat and pointed shoes | | | | |
| | | | | | |
You have listened to these poems. Now you may read them whenever you would like to enjoy them again.
BEDTIME
When I go upstairs to bed,
I usually give a loud cough.
This is to scare The Monster off.
When I come to my room,
I usually slam the door right back.
This is to squash The Man in Black
Who sometimes hides there.
Nor do I walk to the bed,
But usually run and jump instead.
This is to stop The Hand –
Which is under there all right -
From grabbing my ankles.
Allan Ahlberg
EIGHT WITCHES
Eight witches rode the midnight sky.
One wailed low, and one wailed high,
Another croaked, another sighed
Throughout the eerie midnight ride.
One witch's voice was cackly toned,
Another shrieked, another moaned.
The eighth, much younger than the rest,
Made a scary sound the best -
Yoooo -
Yoooo -
Yoooo -
Yoooo -
B.J. Lee
Assessment
LEARNING OUTCOME 1: LISTENING The learner is able to listen for information and enjoyment, and respond appropriately and critically in a wider range of situations.
Assessment Standard
We know this when the learner:
1.5 talks about the sound and word pictures in the language and comments on their effect on the listener;
1.6 listens for information in different kinds of texts (such as weather reports, school announcements, interviews), recalls main ideas or specific details, and responds appropriately.
LEARNING OUTCOME 2: SPEAKING The speaker is able to communicate effectively in spoken language in a wide range of situations.
Assessment Standard
We know this when the learner:
2.1 communicates experiences, ideas and information in different contexts for different audiences and purposes:
2.1.2 uses language with ease for interpersonal communication in everyday conversation.
LEARNING OUTCOME 5: THINKING AND REASONING The learner is able to use language to think and reason, as well as to access, process and use information for learning.
Assessment Standard
We know this when the learner:
5.1 uses language to think and reason:
5.1.2 identifies alternative options and why and how they are different.
LEARNING OUTCOME 6: LANGUAGE STRUCTURE AND USE The learner will know and be able to use the sounds, words and grammar of the language and interpret texts.
Assessment Standard
We know this when the learner:
6.2 works with sentences:
6.2.5 identifies and uses nouns, pronouns, verbs, adverbs, adjectives, prepositions.
Memorandum
Activity 1 (Bedtime: Listening Exercise)
1. Fear: The Monster
Plan: Gives a loud cough to scare him.
2. Fear: The Man in Black
Plan: Slams the door to squash him.
3. Fear: The Hand
Plan: Runs to bed and jumps onto it so that the Hand can't grab his ankles.
Activity 3 Activity 4
coward 1. wailed low
haunted 2. wailed high
experience 3. croaked
weird 4. sighed
shriek 5. cackled
disappear 6. shrieked
skeleton 7. moaned
vanish 8. scary sound: yoooo
terrified
impossible
imagine
horrible
peculiar
invisible
Activity 5
Own reason for 8, but probably the long oo sound.
| | | | |
| --- | --- | --- | --- |
| | Witch A | Witch B | Witch C |
| 1. | x | √ | x |
| 2. | √ | √ | √ |
| 3. | √ | x | x |
| 4. | √ | x | x |
| 5. | x | √ | x |
| 6. | √ | x | x |
| 7. | x | √ | x |
| 8. | x | x | √ |
| 9. | √ | x | x |
| 10. | x | x | √ |
| 11. | x | x | √ |
| 12. | x | x | √ |
| 13. | √ | x | x |
| 14. | x | x | x |