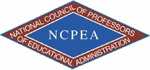 This module has been peer-reviewed, accepted, and sanctioned by the National Council of Professors of Educational Administration (NCPEA) as a significant contribution to the scholarship and practice of education administration. In addition to publication in the Connexions Content Commons, this is published in the
International Journal of Educational Leadership Preparation,
Volume 4, Number 1 (January - March 2009) at
(External Link)
, formatted and edited by Theodore Creighton, Virginia Tech.
A proposed program of study for preparing change leaders in education
Having validated standards for preparing change leaders in education is important, but insufficient. If the standards are to respond to the serious need for highly trained and competent change leaders in education, then state departments of education should develop a professional license (or certificate) for change leadership based on the standards. Then schools and colleges of education could use the standards to design graduate-level programs of study focusing on change leadership in education. Below, you will find an idealized mission, vision, and design for an innovative graduate-level program for preparing change leaders in education.
The institute for change leadership in education
In this section, I present an idealized design for a graduate-level program of study focusing on change leadership in education. While the design suggests that the program should lead to an education specialist degree, it could be modified to offer a doctor of education or doctor of philosophy degree in change leadership in education.
The mission of the institute
The Institute for Change Leadership in Education prepares teams of district-based change leaders to create and sustain systemic transformational change in their respective school systems.
The vison for the institute
V isualize community leaders, parents, students, and teachers working together in a large-group framing and defining their dreams, aspirations, and strategic goals for their school district. See all these participants energized by their productive collaboration and developing feelings of ownership for the dreams, aspirations, and goals. Where there is a need, envision participants becoming inspired to fill that need. Where there is an opportunity, hear others defining the goals for those opportunities.
I magine the excitement in the air as school administrators, principals, teachers, and support personnel use the outcomes of the earlier community gathering to redesign their district. Feel the palpable energy of school system transformation fueled by grassroots involvement, unleashed creativity and, most of all, commitment from all the key players that contribute to a school system's success. Taste the sweetness of success as dreams, aspirations, and goals are realized as never before.
S ense the power of a school system in which teachers come together often in "communities of practice" to create more effective strategies for teaching and learning; where teachers, parents, and administrators collaborate on teams to find creative solutions to help students become more proficient in their learning; where students pool their learning to present knowledgeable presentations and documents on various topics.