Does a male ever really present himself to be eaten? In fact, such complicity is blatantly displayed in Australian redback spider mating, wherein the male grabs the female and somersaults directly into her mouthparts (move this up to the non compliance section). Without halting his acrobatics, the redback transfers his sperm into female storage organs by inserting one or both emboli into her (Andrade 1996). As a result, 65% of redback mating interactions end in sexual cannibalism (Andrade 2003). The male Australian redback's biomass is miniscule, so his sacrifice has no apparent impact on the female spider's reproductive output.
Discussion question:
Why could males have evolved such exaggerated willingness for self-sacrifice?
The tradeoffs: economic models for sexual cannibalism
In an attempt to develop an adaptionist description of sexual cannibalism, several researchers have devised mathematical cost-benefit models that address both the foraging strategy hypothesis and observations of redback self-sacrifice.
The male perspective
Male complicity in sexual cannibalism is interpreted by the economic model of Buskirk et al. Buskirk posits that a male should permit himself to be eaten only if he increases his inclusive fitness more in that manner than by surviving to inseminate other females (Buskirk et al. 1984). Two factors impact the male's inclusive fitness in sexual cannibalism: the number of times a male may be expected to mate during his lifetime and the proportional increase in the male's offspring resulting from self-sacrifice. The first factor is based on several conditions, including the ability of males to locate other females (often through the use of pheromones), as well as the time and effort required to court and defend the female. Other constraints are posed by male morphology, such as the length of reproductive lifetime, the time and energy needed to produce sperm, and (in spiders) the detrimental loss of pedipalpal tips to previous mates (Schneider and Lubin 1998). The second factor, offspring increase, is dependent on the female's food supply and the male's confidence of paternity . In turn, confidence of paternity is contingent on the extent of a female's polyandrous behavior, as well as copulation duration, sperm storage methods, and the nearness of copulation to oviposition ( [link] ) (Buskirk et al. 1984).

Based on these parameters, the adaptive value of cannibalism for males can be mathematically modeled ( [link] ).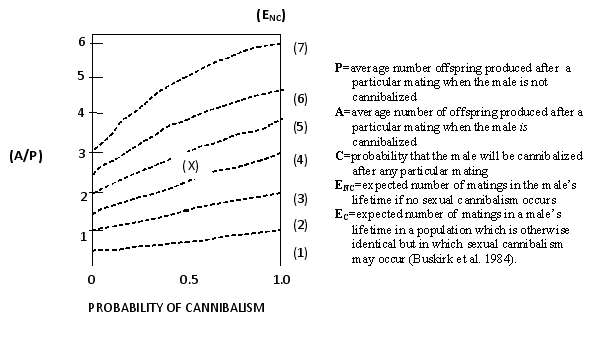 This theoretical graph shows the relationship of A/P to C for different values ENC. For organism X, C=0.5 and A/P=2.5, and ENC=4. That is, if a male has a 50% chance of being cannibalized and can produce 2.5 times more offspring by being cannibalized than not, then self-sacrifice is advantageous until the male's expected number of lifetime matings exceeds four (in other words, until being cannibalized causes him to forgo three or more matings). The graph suggests that, as the number of expected matings increases, male self-sacrifice must greatly enhance his mate's fecundity in order to offset his cost of neglecting future mates (Buskirk et al. 1984).