English home language
Willy goes fishing
Educator section
Memorandum
For the educator:
This module, "Willy goes fishing", gives learners the opportunity to discuss different kinds of sport. Learners discuss sporting activities in which they take part and collect photos, news items and posters that they bring to school.
The educator can tape a variety of comments of matches. Learners listen and identify which sport is being played. Learners therefore listen without seeing the speaker, to develop auditory perception. Tapes of stories should be a regular activity to listen to in the Foundation Phase classroom. (LO/AS 1.7,)
To correlate with the theme, the educator can design a "fishing game" to test the vocabulary learnt in previous modules. The words can be written on cards, a paper-clip attached to each card, a fishing rod made with an open paper-clip on the end and learners can take turns to "catch a fish" and read the word on the card.
In the previous module the "nd" and "mp" sounds at the end of words were introduced. In this module these words are revised and the "ck" sound is introduced.
Write these words on flash cards and teach them as sight words to the learners: sport; cricket; tennis; hockey; rugby; soccer; netball and fishing.
Integration of themes
The topic of this module revolves around sport. learners realize all children should be able to take part in sport – human rights. there should be amenities for everybody. sports facilities provide a safe playing area for everybody, provide healthy recreational opportunities and keep children off the street – a healthy environment
Leaner section
Content
Listen.
Listen again, then sing the song with Willy and Licky.
Read the words.
It is such a lovely day. Willy and Licky are singing this song.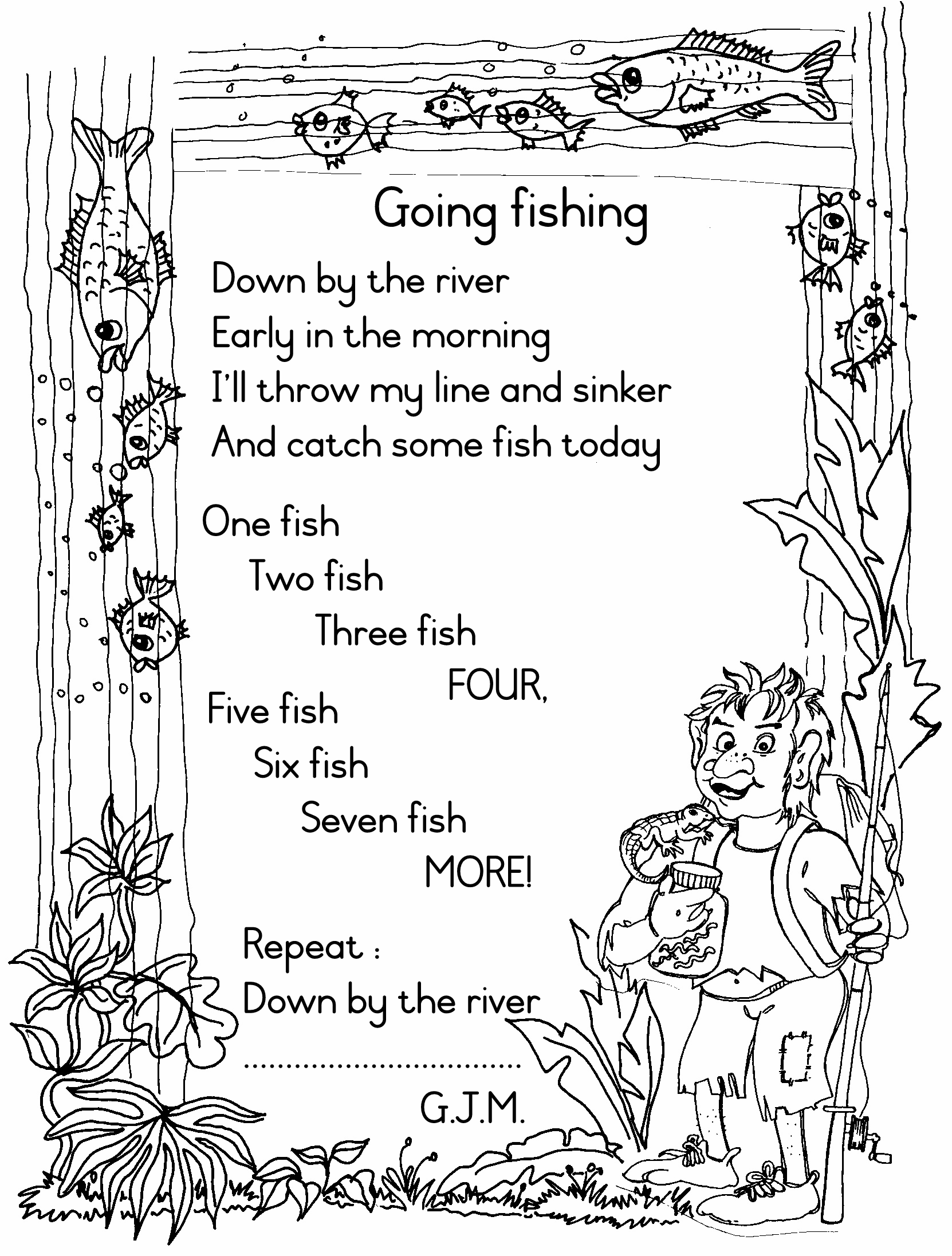 Join hands and sing the song again.
Perhaps you can dance to the song you are singing.
Try making up your own song about Willy.
Listen to the story of ………………
Willy goes fishing
Today Willy is going fishing in the river nearby. He has his backpack on his back and his fishing rod in his hand. His dad made the fishing rod when Willy was very small. Willy has used it before. He has already caught three big fishes and eight little ones.
It is a lovely, sunny day. Willy has found a number of worms that he will use for bait. His dad has taught him where to find the worms and how to fix them onto the hook. He has also taught Willy only to catch as many fish as he needs.
Licky is sitting on Willy's shoulder. He loves to go down to the river with Willy. There are so many gnats and dragonflies to catch.
Willy tells Licky not to make a noise. He might frighten the fish away!
Willy gets everything ready and settles down on a round stone. They wait and wait but there don't seem to be any fish nearby today. Walter comes along too. He's looking for roots and bulbs to eat. He scratches around in the long grass.
Suddenly Willy feels something tugging at his line. He jumps up to hold the rod more firmly. Could it be a fish? What do you think?