For each frame the counter correspondent to the loudest channel is incremented. When a channel counter equals a threshold , the correspondent channel is selected.
For Each 64 samples frame the following algorithm is implemented:
Output channel selection procedure

Find Maximum Input Level
Increment Counter correspondent to the "loudest" channel
If the Counter value =10 THEN:
Broadcast correspondent input channel to all outputs
Reset Counter
The simulink algorithm implementation
This section will describe the process of generating a real-time application using Simulink blocks for the algorithm itself and the driver introduced in the previous chapter. The Simulink model is shown in Figure 21 .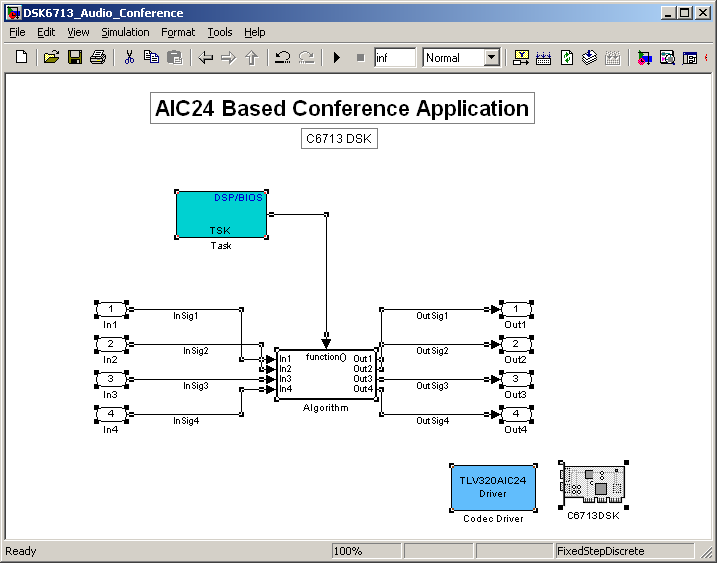 The block diagram shown in Figure 20 is translated to the model shown in the following figures.
The conference algorithm routes a selected channel to the 4 outputs: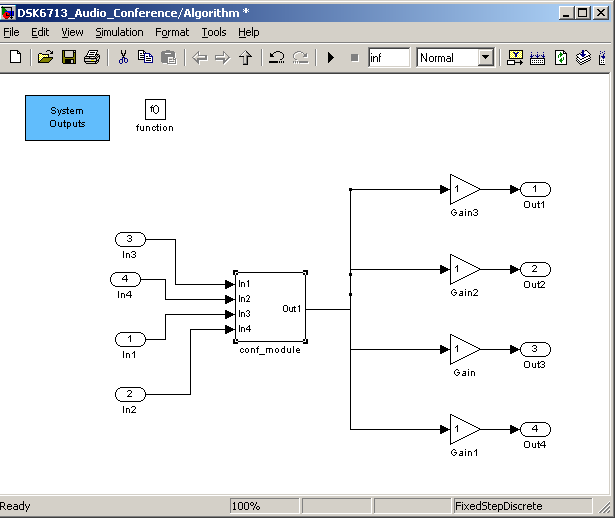 The input level is measured for 4 channels: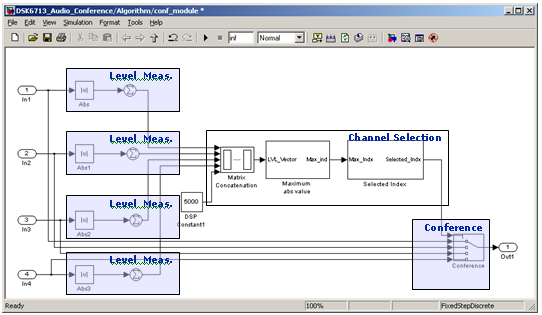 The 4 level values compose a 4 element vector. This vector is fed to the "Max abs value" block:

The index of the Maximum level enters the index selection block. The correspondent channel is incremented and compared to the threshold.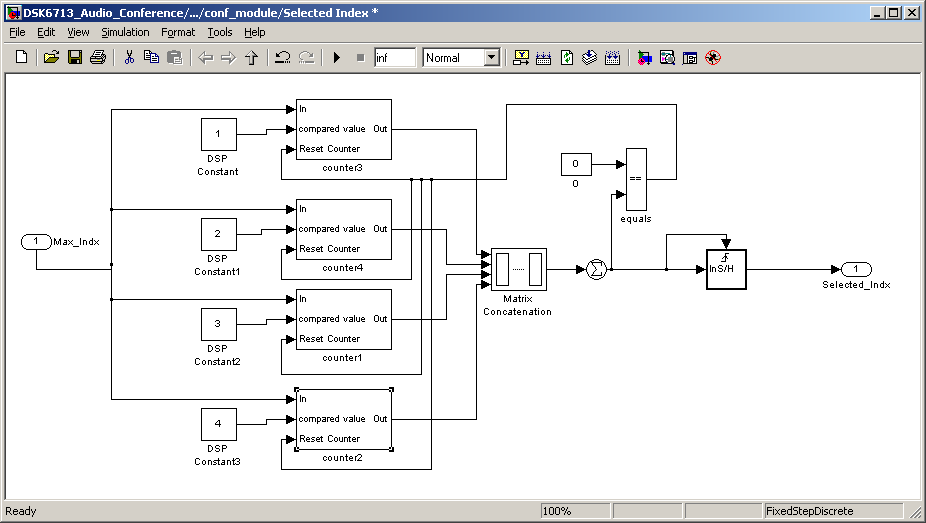 If the counter value equals the threshold, the index is selected as input to the conference block
The real-time model can be found in the file C67_Simulink_conference.rar.
References
"TLV320AIC20K/24KEVM User's Guide ", TI Document SLAU088A, April 2005 ( (External Link) )
"DSP−CODEC Development Platform User's Guide", TI Document SLAU090, September 2002 ( (External Link) )
"Low Power Highly-Integrated Programmable 16-Bit 26-KSPS Dual Channel CODEC (Rev. D)" TI Document SLAS363D, March 2002 –Revised April 2005 ( (External Link) )
MATLAB and Simulink are registered trademarks of The MathWorks, Inc. See www.mathworks.com/trademarks for a list of additional trademarks. Other product or brand names may be trademarks or registered trademarks of their respective holders.
Appendix a – configuration
Tlv320aic24k&Codec development platform
Analog ports
The following table is based on the one the Codec's EVM Datasheet.
It matches the board connectors with the inputs and outputs.
(Notice, this table includes corrections and elaborations in compare to the one in the Datasheet).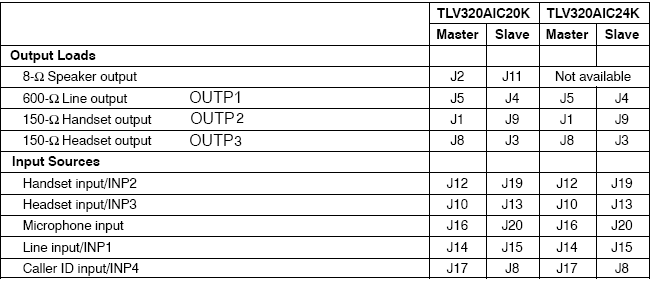 We are using the TLV320AIC24KEVM is 24K.
The Inputs and Outputs of a certain channel are set by its 6a and 6b registers.
Those registers can be set, like before, between the initialization of the Handle and its activation.
If, for example, the input samples of channel 0 in the CODEC should be received from INP3 . The configuration should be as follows: