The role of blood in the body
Blood, like the human blood illustrated in [link] is important for regulation of the body's systems and homeostasis. Blood helps maintain homeostasis by stabilizing pH, temperature, osmotic pressure, and by eliminating excess heat. Blood supports growth by distributing nutrients and hormones, and by removing waste. Blood plays a protective role by transporting clotting factors and platelets to prevent blood loss and transporting the disease-fighting agents or white blood cells to sites of infection.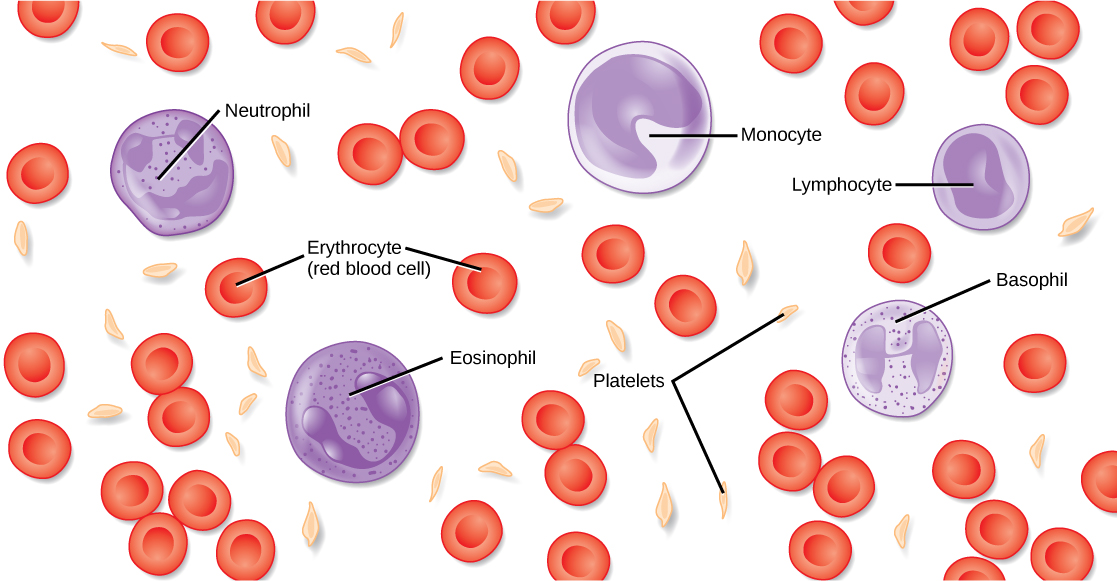 Red blood cells
Red blood cells , or erythrocytes (erythro- = "red"; -cyte = "cell"), are specialized cells that circulate through the body delivering oxygen to cells; they are generated by division of stem cells in the bone marrow. In mammals, red blood cells are small biconcave cells that at maturity do not contain a nucleus or mitochondria and are only 7–8 µm in size. In birds and reptiles, erythrocytes have nuclie and mitochondria.
The red coloring of human blood comes from the iron-containing protein hemoglobin, illustrated in [link] a . The principal job of these proteins is to carry oxygen, but they also transports carbon dioxide as well. Hemoglobin is packed into human red blood cells at a rate of about 250 million molecules of hemoglobin per cell. Each hemoglobin molecule binds four oxygen molecules so that each red blood cell carries one billion molecules of oxygen. There are approximately 25 trillion red blood cells in the five liters of blood in the human body, which could carry up to 25 sextillion (25 × 10 21 ) molecules of oxygen in the body at any time. In mammals, the lack of organelles in erythrocytes leaves more room for the hemoglobin molecules, and the lack of mitochondria also prevents use of the oxygen for metabolic respiration.
Not all organisms use hemoglobin as the method of oxygen transport. Invertebrates that utilize hemolymph rather than blood use different pigments to bind to the oxygen. These pigments use copper or iron to the oxygen. Invertebrates have a variety of other respiratory pigments. Hemocyanin, a blue-green, copper-containing protein, illustrated in [link] b is found in mollusks, crustaceans, and some of the arthropods. Chlorocruorin, a green-colored, iron-containing pigment is found in four families of polychaete tubeworms. Hemerythrin, a red, iron-containing protein is found in some polychaete worms and annelids and is illustrated in [link] c . Despite the name, hemerythrin does not contain a heme group and its oxygen-carrying capacity is poor compared to hemoglobin.