Interactions among the organisms that populate a biofilm, together with their protective exopolysaccharidic (EPS) environment, make these communities more robust than free-living, or planktonic, prokaryotes. The sticky substance that holds bacteria together also excludes most antibiotics and disinfectants, making biofilm bacteria hardier than their planktonic counterparts. Overall, biofilms are very difficult to destroy because they are resistant to many common forms of sterilization.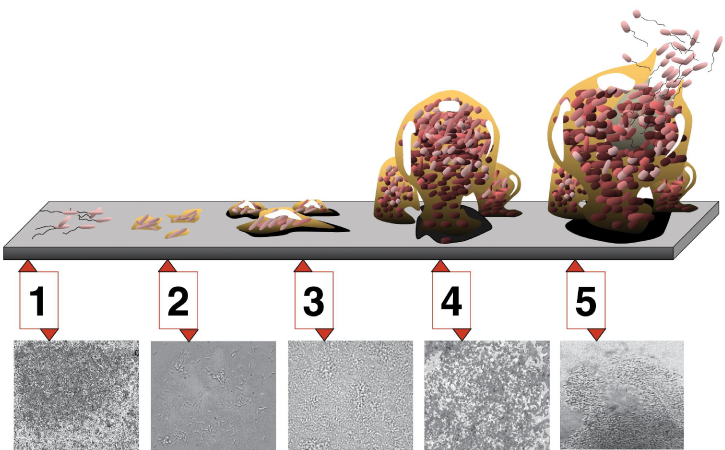 Structure of prokaryotes
There are many differences between prokaryotic and eukaryotic cells. However, all cells have four common structures: the plasma membrane, which functions as a barrier for the cell and separates the cell from its environment; the cytoplasm, a jelly-like substance inside the cell; nucleic acids, the genetic material of the cell; and ribosomes, where protein synthesis takes place. Prokaryotes come in various shapes, but many fall into three categories: cocci (spherical), bacilli (rod-shaped), and spirilli (spiral-shaped) ( [link] ).

The prokaryotic cell
Recall that prokaryotes ( [link] ) are unicellular organisms that lack organelles or other internal membrane-bound structures. Therefore, they do not have a nucleus but instead generally have a single chromosome—a piece of circular, double-stranded DNA located in an area of the cell called the nucleoid. Most prokaryotes have a cell wall outside the plasma membrane.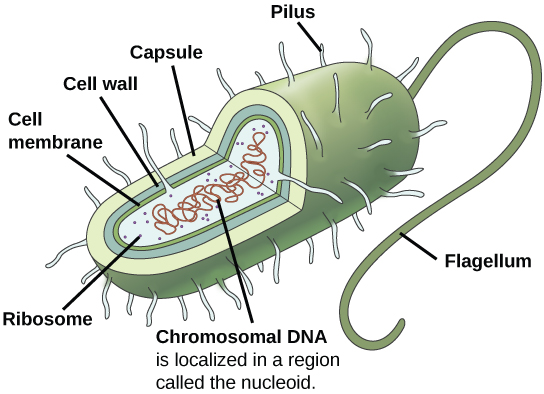 Recall that prokaryotes are divided into two different domains, Bacteria and Archaea, which together with Eukarya, comprise the three domains of life ( [link] ).