Bile salts act as emulsifying agents, so they are also important for the absorption of digested lipids. While most constituents of bile are eliminated in feces, bile salts are reclaimed by the enterohepatic circulation . Once bile salts reach the ileum, they are absorbed and returned to the liver in the hepatic portal blood. The hepatocytes then excrete the bile salts into newly formed bile. Thus, this precious resource is recycled.
Bilirubin , the main bile pigment, is a waste product produced when the spleen removes old or damaged red blood cells from the circulation. These breakdown products, including proteins, iron, and toxic bilirubin, are transported to the liver via the splenic vein of the hepatic portal system. In the liver, proteins and iron are recycled, whereas bilirubin is excreted in the bile. It accounts for the green color of bile. Bilirubin is eventually transformed by intestinal bacteria into stercobilin, a brown pigment that gives your stool its characteristic color! In some disease states, bile does not enter the intestine, resulting in white ('acholic') stool with a high fat content, since virtually no fats are broken down or absorbed.
Hepatocytes work non-stop, but bile production increases when fatty chyme enters the duodenum and stimulates the secretion of the gut hormone secretin. Between meals, bile is produced but conserved. The valve-like hepatopancreatic ampulla closes, allowing bile to divert to the gallbladder, where it is concentrated and stored until the next meal.
Watch this video to see the structure of the liver and how this structure supports the functions of the liver, including the processing of nutrients, toxins, and wastes. At rest, about 1500 mL of blood per minute flow through the liver. What percentage of this blood flow comes from the hepatic portal system?
The pancreas
The soft, oblong, glandular pancreas lies transversely in the retroperitoneum behind the stomach. Its head is nestled into the "c-shaped" curvature of the duodenum with the body extending to the left about 15.2 cm (6 in) and ending as a tapering tail in the hilum of the spleen. It is a curious mix of exocrine (secreting digestive enzymes) and endocrine (releasing hormones into the blood) functions ( [link] ).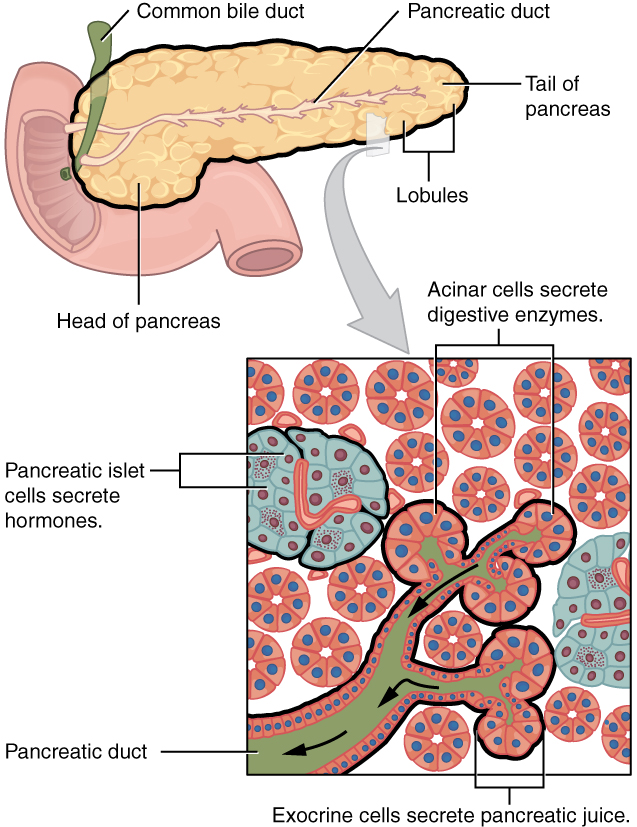 The exocrine part of the pancreas arises as little grape-like cell clusters, each called an acinus (plural = acini), located at the terminal ends of pancreatic ducts. These acinar cells secrete enzyme-rich pancreatic juice into tiny merging ducts that form two dominant ducts. The larger duct fuses with the common bile duct (carrying bile from the liver and gallbladder) just before entering the duodenum via a common opening (the hepatopancreatic ampulla). The smooth muscle sphincter of the hepatopancreatic ampulla controls the release of pancreatic juice and bile into the small intestine. The second and smaller pancreatic duct, the accessory duct (duct of Santorini), runs from the pancreas directly into the duodenum, approximately 1 inch above the hepatopancreatic ampulla. When present, it is a persistent remnant of pancreatic development.