The ovary comprises an outer covering called the tunica albuginea. Beneath the tunica albuginea is the cortex, or outer portion, of the organ. The ovarian stroma forms the bulk of the adult ovary. Oocytes develop within the outer layer of this stroma, each surrounded by supporting cells. This grouping of an oocyte and its supporting cells is called a follicle .
The ovarian cycle
Oogenesis
Gametogenesis (making of gametes or sex cells) in females is called oogenesis . The process begins with the ovarian stem cells, or oogonia ( [link] ). Oogonia are formed during fetal development, and divide via mitosis, much like spermatogonia in the testis. Unlike spermatogonia, however, oogonia form primary oocytes in the fetal ovary prior to birth. These primary oocytes are then arrested in this stage of meiosis I, only to resume it years later, beginning at puberty and continuing until the woman is near menopause (the cessation of a woman's reproductive functions). The number of primary oocytes present in the ovaries declines from one to two million in an infant, to approximately 400,000 at puberty, to zero by the end of menopause.
The start of ovulation —the release of an oocyte from the ovary—marks the transition from puberty into reproductive maturity for women. From then on, throughout a woman's reproductive years, ovulation occurs approximately once every 28 days. Just prior to ovulation, a surge of luteinizing hormone (LH) triggers the resumption of meiosis in a primary oocyte . This causes a primary oocyte to change into a secondary oocyte . However, as you can see in [link] , this cell division does not result in two identical cells. Instead, the cytoplasm is divided unequally, and one daughter cell is much larger than the other. This larger cell, the secondary oocyte, eventually leaves the ovary during ovulation. The smaller cell, called the first polar body , may or may not complete meiosis and produce second polar bodies; in either case, it eventually disintegrates. Therefore, even though oogenesis produces up to four cells, only one survives.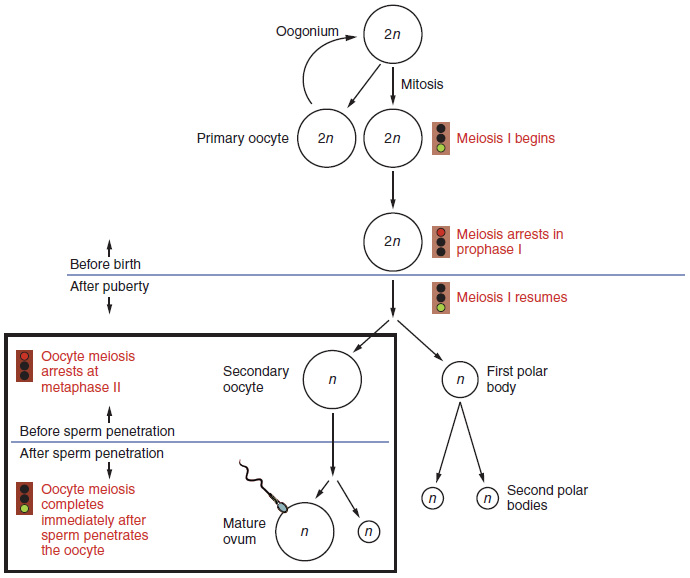 How does the diploid (2 copies of chromosomes) secondary oocyte become an ovum —the haploid (1 copy of chromosomes) female gamete? Meiosis of a secondary oocyte is completed only if a sperm succeeds in penetrating the egg. Cell division resumes, producing one haploid ovum that, at the instant of fertilization by a sperm, becomes the first diploid cell of the new offspring (a zygote).
Folliculogenesis
Again, ovarian follicles are oocytes and their supporting cells. They grow and develop which typically leads to ovulation of one follicle approximately every 28 days. As you'll see next, follicles progress from primordial, to primary, to secondary and tertiary stages prior to ovulation—with the oocyte inside the follicle remaining as a primary oocyte until right before ovulation. Follicles begins in a resting state. These small primordial follicles are present in newborn females and are the prevailing follicle type in the adult ovary ( [link] ).