Many other ligands coordinate to the metal in more complex fashions. Bidentate ligands are those in which two atoms coordinate to the metal center. For example, ethylenediamine (en, H 2 NCH 2 CH 2 NH 2 ) contains two nitrogen atoms, each of which has a lone pair and can serve as a Lewis base ( [link] ). Both of the atoms can coordinate to a single metal center. In the complex [Co(en) 3 ] 3+ , there are three bidentate en ligands, and the coordination number of the cobalt(III) ion is six. The most common coordination numbers are two, four, and six, but examples of all coordination numbers from 1 to 15 are known.

Any ligand that bonds to a central metal ion by more than one donor atom is a polydentate ligand (or "many teeth") because it can bite into the metal center with more than one bond. The term chelate (pronounced "KEY-late") from the Greek for "claw" is also used to describe this type of interaction. Many polydentate ligands are chelating ligands , and a complex consisting of one or more of these ligands and a central metal is a chelate. A chelating ligand is also known as a chelating agent. A chelating ligand holds the metal ion rather like a crab's claw would hold a marble. [link] showed one example of a chelate. The heme complex in hemoglobin is another important example ( [link] ). It contains a polydentate ligand with four donor atoms that coordinate to iron.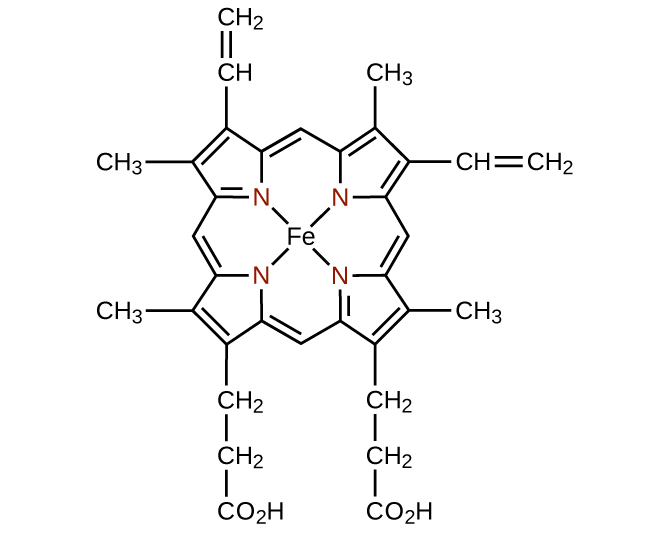 Polydentate ligands are sometimes identified with prefixes that indicate the number of donor atoms in the ligand. As we have seen, ligands with one donor atom, such as NH 3 , Cl − , and H 2 O, are monodentate ligands. Ligands with two donor groups are bidentate ligands. Ethylenediamine, H 2 NCH 2 CH 2 NH 2 , and the anion of the acid glycine, ( [link] ) are examples of bidentate ligands. Tridentate ligands, tetradentate ligands, pentadentate ligands, and hexadentate ligands contain three, four, five, and six donor atoms, respectively. The ligand in heme ( [link] ) is a tetradentate ligand.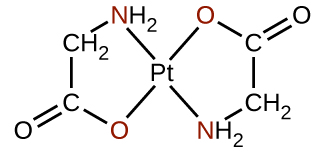 The naming of complexes
The nomenclature of the complexes is patterned after a system suggested by Alfred Werner, a Swiss chemist and Nobel laureate, whose outstanding work more than 100 years ago laid the foundation for a clearer understanding of these compounds. The following five rules are used for naming complexes: