Trumpet and cornet are closely-related high-pitched brass aerophones commonly found in bands and orchestras.
Introduction
The trumpet is the smallest, highest-sounding instrument in the brass section of the Western orchestra . It is a cylindrical aerophone with a direct, brassy timbre . The cornet is very similar to the trumpet, but has a more conical bore, giving it a slightly gentler, mellower sound. Both trumpets and cornets are common in bands and wind ensembles of all kinds (jazz, classical, pop, military, instructional, etc.). In some groups, they are treated as interchangeable instruments; in other groups, trumpets and cornets have distinct and separate parts.

The instruments
Both instruments are made of metal tubing (usually brass, but sometimes a silver alloy) with a detachable mouthpiece at one end and a flaring bell at the other end. Three valves are used to open extra sections of tubing, making the instrument slightly longer, and allowing it to get a different set of notes. (See Harmonic Series for more information on how this works.) The trumpet has a narrower, more cylindrical bore ; the cornet has more gradually flared, conical bore . Also, the way a trumpet is wrapped (that is, the way the tubing is bent and arranged) usually gives it a longer, thinner profile than a cornet. Either one may be a non-transposing C instrument, or may be a slightly longer B flat transposing instrument .
There is also a smaller D trumpet for playing high parts, and an even smaller B flat piccolo trumpet , pitched an octave above the regular B flat trumpet. These are considered specialty instruments, however, and are not nearly as common as the B flat and C instruments.
Another slightly unusual instrument, the flugelhorn , has an even wider, more conical bore than the cornet, and an even gentler, mellower sound. It is mostly heard in jazz.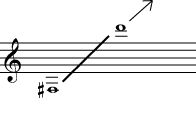 History
Trumpet-like instruments have been around for at least 4000 years. Early trumpets, like the modern bugle , had no valves. Thus, a single trumpet could only get the notes of a single harmonic series . The higher you go in a harmonic series, the closer together the notes get. This makes it possible to play many more types of melodies (rather than just "bugle call"-type melodies), but also makes playing trickier. Since the notes are closer together, it's much easier to hit the wrong note! So trumpet players specialized: principal players played in the lower register, and clarino players played in the high register.
In the fifteenth century, there were trumpet-player's guilds, which registered clarino and principal trumpet players and which, like other guilds of the time, ensured that only their members would be allowed to do certain types of work (in this case, playing at feasts, processions, and other official musical events).
As late as the Baroque period, composers such as Bach were still specifying some parts for clarino trumpet. But after the Baroque, the clarino tradition vanished so completely, that modern scholars have been unable to discover exactly what type of instrument Baroque clarino parts were played on.