This is a culture reading passage that provides information on Mexico's Great Pyramid of Cholula. It includes study questions and suggestions for projects that further evaluation the students' understanding. It is geared toward the introductory Spanish language classrooms.
Before you read
Have you heard of any famous pyramids? Where are they located?
Why did ancient civilizations built pyramids?
What do you think "Cholula" means?
Where do you think Cholula is located?
What do you think happened to native temples and pyramids in Latin America during the Spanish Conquest?
Look at the photo below of the Great Pyramid of Cholula. Is there anything that you think is out of the ordinary?
How is this pyramid look different from the Egyptian pyramids?
Jot down any other observations or questions you may have.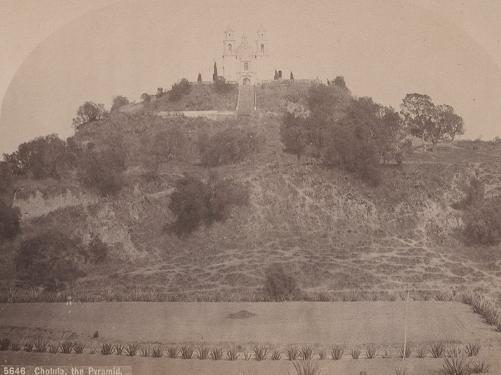 The great pyramid
The Great Pyramid of Cholula is located in the Mexican city of Cholula, near Puebla, Puebla in central Mexico. This pyramid is known by three names: Tullan, Tlachiuatepetl, and Cholullam. Tullan refers to its Toltec roots; Tlachiualtepetl means "handmade mountain." Cholullam has more than one meaning: "place of the fugitives" or "place where the water runs" (Ashwell 29). Tollan Cholollan could, therefore, signify the place to which the Toltec fled after Tula's fall between 1125 and 1156 (Ashwell 40).
Construction of the Great Pyramid began around 200 BC and the different indigenous peoples who later inhabited the region (the Olmecs, the Tolteca-Chichimeca, and the Aztecs) later added to the pyramid (Rincón del Vago). As a result, the Great Pyramid is composed of seven smaller, superimposed pyramids. It was dedicated to the god of rain, Chiconahui Quiáhuitl (Zona Arqueológica).
The pyramid was covered with adobe at the start of every new generation to allow for the building of a new pyramid over the last one. By the time the Spaniards arrived, the pyramid's covering was overgrown and most likely already looked like a hill (Rincón del Vago). Legend holds, however, that the Cholulans covered the pyramid on purpose to prevent its destruction after hearing news of the Spaniards' destruction of other temples in Mexico.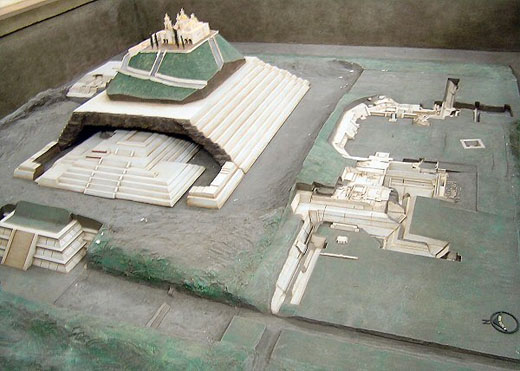 Cortés described the city itself in his second letter to King Charles V , praising its fertile soil and beauty. He wrote:
the city is more beautiful than any is Spain, as it contains many towers, and is situated upon a plain. And I assure your Majesty, that I have counted from a mosque or temple four hundred mosques and as many towers, all of which are of mosques in this city. This city is more suitable for the Spaniards to inhabit than any of the towns we have yet seen, as it has unoccupied lands and water for cattle, which none of the others have that we have seen; and the multitude of people who dwell in the other places is so great, that there is not a hand's-breadth of land which is not cultivated... (Cortés 17).