The dangers of misimprinting
Imprinting is an irreversible sort of learning that is commonly seen between nestlings and their mothers. Mallard drakes will take this farther, choosing to mate with females that resemble their mother when they become of breeding age (Kruijt et al. 1982). Problems may arise even in such situations, such as imprinting on the incorrect organism. If a mallard drake imprinted on a different species of female, he would be unable to produce offspring later on. Similarly, imprinting can be a harmful strategy for birds that imprint on their own eggs since there is always the chance of misimprinting , or falsely recognizing parasitic eggs as own.
Imprinting as a defense has different implications due to the different strategies adopted by the common cuckoo and brown-headed cowbird. Strausberger and Rothstein (2009) investigated the frequency at which parasitic species took advantage of imprinting by parasitizing early on before naïve birds had learned the appearance of their own eggs. Both the gray catbird ( Dumetella carolinensis ) and brown thrasher ( Toxostoma rufum ) accepted more parasitic cowbird eggs when the eggs were placed early in laying or incubation stages in areas where cowbirds were more abundant, which would also increase the frequency at which naïve birds are parasitized, suggesting that hosts were induced to misimprint. However, misimprinting increasing with parasite frequency is not observed in cuckoo hosts. Since cuckoos are host-specific rather than generalistic like cowbirds, their eggs more closely resemble host eggs and therefore select for finer tuning of recognition and rejection behavior rather than a short period of imprinting. Many cowbird eggs, on the other hand, do not resemble host eggs at all, so a short period of imprinting is sufficient to distinguish between one's own eggs and parasitic eggs (See [link] ).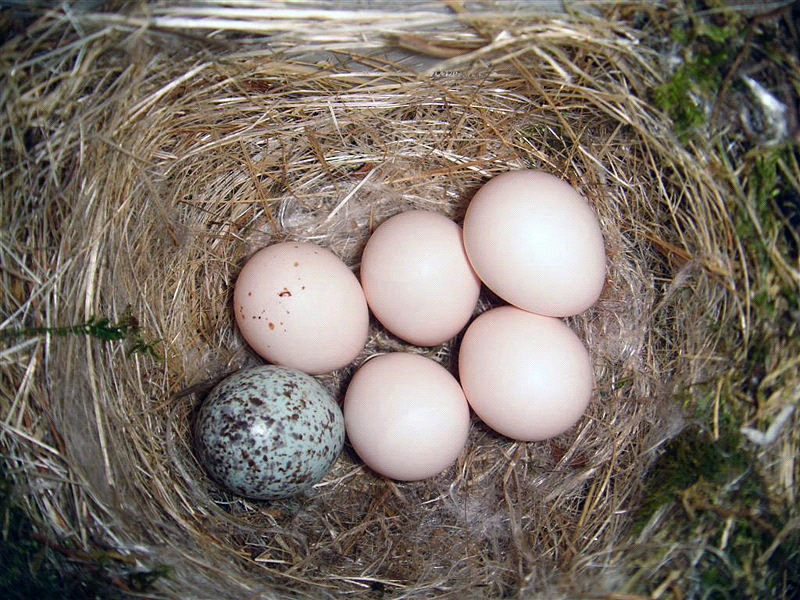 Genetic and environmental components to learning
While it is assumed that recognition behavior among hosts of brood parasites is related to genes, there is evidence that recognition has both a genetic and a learning component. Soler et al. (1999) performed a study on magpie rejection rates of cuckoo eggs and found evidence for flow of genes regulating rejection behavior between populations. Magpies living in areas where they were not parasitized by cuckoos were still able to reject cuckoo eggs, suggesting that there is some innate genetic component to host recognition that did not rely on previous exposure to selection by parasitism. However, the rejection of mimetic eggs was found to be strongly correlated with the geographic component, which would result from exposure to selective pressures. The authors concluded that while all magpies with genes for recognizing eggs could reject nonmimetic eggs, a learning process for fine-tuning was needed to explain the ability for magpies to reject mimetic eggs.
Not all egg rejection is explainable by learning
While authors have found evidence that experience affects the ability of host birds to reject eggs, there are other systems where learning is not a sufficient explanation for how birds reject eggs. Amundsen et al. dispute the finding that breeder age affects egg rejection rates in another species, the bluethroat ( Luscinia svecica ). Through egg replacement and return experiments, no evidence was found suggesting that that age of breeder played any role in egg rejection rates (2002). Instead, the authors postulated that differences in acceptance or rejection are better explained by the evolutionary lag hypothesis rather than learning. This hypothesis states that rejection is adaptive but the behavior may not yet have spread to all members of the species, which is why some will still accept parasitic eggs. Although learning may be a method that some species use to defend against parasitism, it is certainly not the only explanation for differences among individuals within a species.