In photosynthetic bacteria, such as Cyanobacteria, and purple non-sulfur bacteria, as well as and plants the energy (ATP) and reducing power (NADPH) obtained from photophosphorylation is coupled to " Carbon Fixation ", the incorporation of inorganic carbon (CO 2 ) into organic molecules, glyceraldehyde-3-phosphate (G3P) and eventually into glucose. Organisms that can obtain all of their required carbon from an inorganic source (CO 2 )are refereed to as autotrophs , while those organisms that require organic forms of carbon, such as glucose or protein, are refereed to as heterotrophs . The the biological pathway that leads to carbon fixation is called the Calvin Cycle and is a reductive pathway (consumes energy) which leads to the reduction of CO 2 to G3P.
The calvin cycle
In plants, carbon dioxide (CO 2 ) enters the leaves through stomata, where it diffuses over short distances through intercellular spaces until it reaches the mesophyll cells. Once in the mesophyll cells, CO 2 diffuses into the stroma of the chloroplast—the site of light-independent reactions of photosynthesis. These reactions actually have several names associated with them. Another term, the Calvin cycle , is named for the man who discovered it, and because these reactions function as a cycle. Others call it the Calvin-Benson cycle to include the name of another scientist involved in its discovery. The most outdated name is dark reactions, because light is not directly required ( [link] ). However, the term dark reaction can be misleading because it implies incorrectly that the reaction only occurs at night or is independent of light, which is why most scientists and instructors no longer use it.
While the process is similar in bacteria, there are no specific organelles that house the Calvin Cycle genes and the reactions occur in the cytoplasm around a complex membrane system derived from the plasma membrane. This intracellular membrane system can be quite complex and highly regulated. In fact, there is strong evidence that supports the hypothesis that the origin of chloroplasts comes from a symbiosis between cyanobacteria and early plant cells.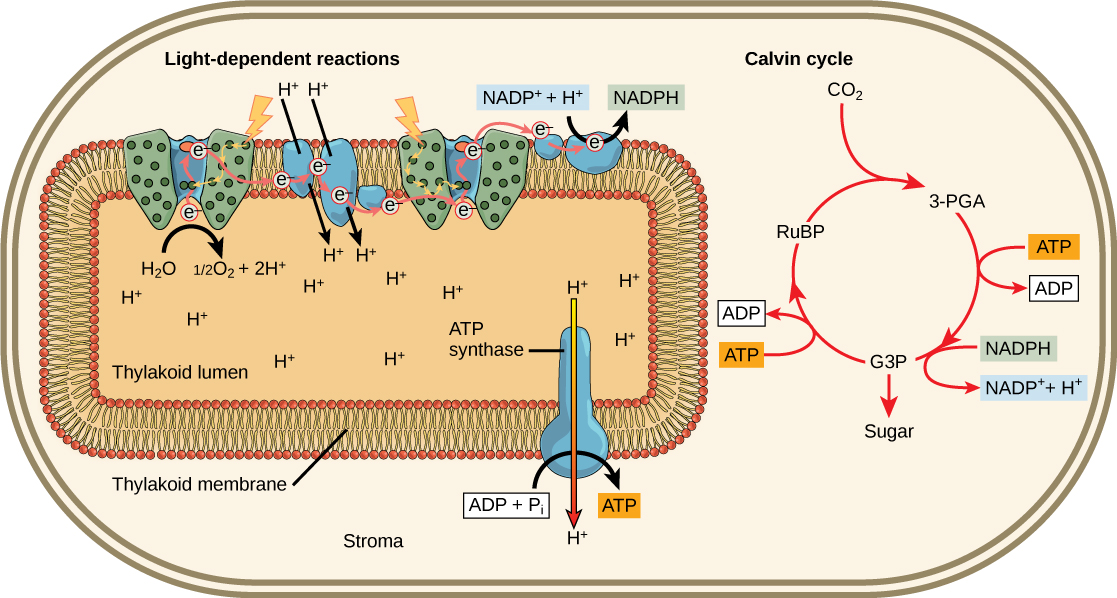 The light-independent reactions of the Calvin cycle can be organized into three basic stages: fixation, reduction, and regeneration.
Stage 1: fixation
In the stroma of plant chloroplasts, in addition to CO 2 , two other components are present to initiate the light-independent reactions: an enzyme called ribulose-1,5-bisphosphate carboxylase/oxygenase (RuBisCO), and three molecules of ribulose bisphosphate (RuBP), as shown in [link] . RuBP has five atoms of carbon, flanked by two phosphates.
Art connection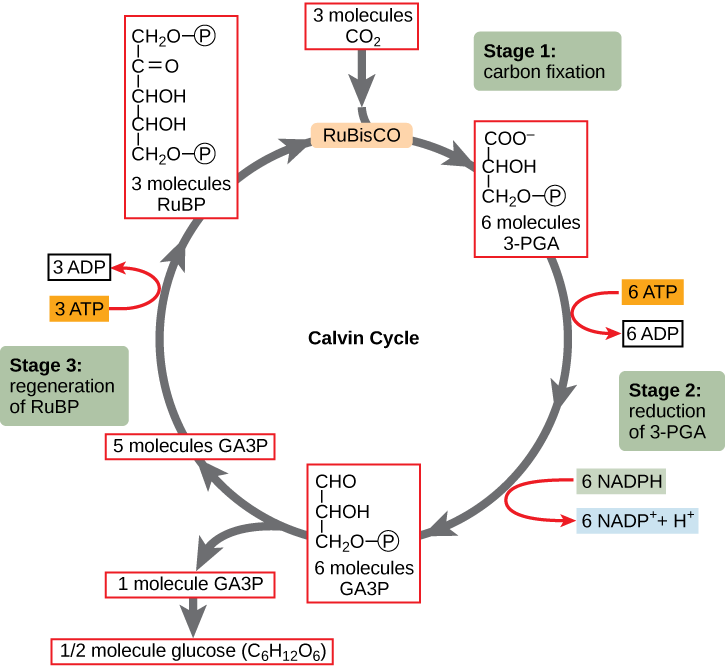 Which of the following statements is true?
In photosynthesis, oxygen, carbon dioxide, ATP, and NADPH are reactants. GA3P and water are products.
In photosynthesis, chlorophyll, water, and carbon dioxide are reactants. GA3P and oxygen are products.
In photosynthesis, water, carbon dioxide, ATP, and NADPH are reactants. RuBP and oxygen are products.
In photosynthesis, water and carbon dioxide are reactants. GA3P and oxygen are products.