By the end of this section, you will be able to:
Describe the structure and function of the organs of the male reproductive system
Describe the structure and function of the sperm cell
Explain the events during spermatogenesis that produce haploid sperm from diploid cells
Identify the importance of testosterone in male reproductive function
Unique for its role in human reproduction, a gamete is a specialized sex cell carrying 23 chromosomes—one half the number in body cells. At fertilization, the chromosomes in one male gamete, called a sperm (or spermatozoon), combine with the chromosomes in one female gamete, called an oocyte . The function of the male reproductive system ( [link] ) is to produce sperm and transfer them to the female reproductive tract. The paired testes are a crucial component in this process, as they produce both sperm and androgens , the hormones that support male reproductive physiology. In humans, the most important male androgen is testosterone. Several accessory organs and ducts aid the process of sperm maturation and transport the sperm and other seminal components to the penis, which delivers sperm to the female reproductive tract. In this section, we examine each of these different structures, and discuss the process of sperm production and transport.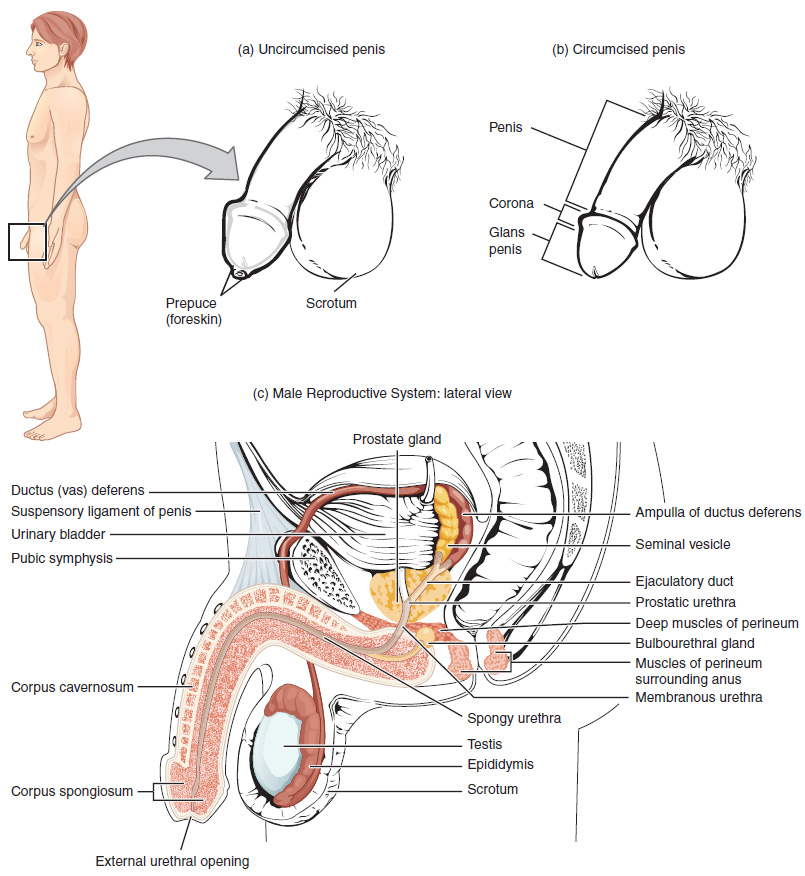 Scrotum
The testes are located in a skin-covered, highly pigmented, muscular sack called the scrotum that extends from the body behind the penis (see [link] ). This location is important in sperm production, which occurs within the testes, and proceeds more efficiently when the testes are kept 2 to 4°C below core body temperature . The dartos muscle and cremaster muscles make up the muscle layers of the scrotum. These muscles also form the scrotal septum, a wall that divides the scrotum into two compartments, each housing one testis. The dartos and cremaster muscles can elevate the testes in cold weather (or water), moving the testes closer to the body to retain heat. Alternatively, as the environmental temperature increases, the scrotum relaxes, moving the testes farther from the body.
Testes
The testes (singular = testis) are the male gonads —that is, the male reproductive organs. They produce both sperm and androgens, such as testosterone, and are active throughout the reproductive lifespan of the male. Paired ovals, the testes are housed within the scrotum (see [link] ).Within the testis are septa (small compartments) that divide the testis into 300 to 400 structures called lobules. Within the lobules, sperm develop in structures called seminiferous tubules . A male fetus the testes develop within the abdomen. During the seventh month of development each testis moves through the abdominal musculature to descend into the scrotal cavity. This is called the "descent of the testis." Cryptorchidism is the clinical term used when one or both of the testes fail to descend into the scrotum prior to birth.