Tegnologie
Graad 5
Tekstiele van toeka tot nou
Module 12
Ontdek tekstielstof
Agtergrond
Van die vroegste tye gedurende die Steentydperk (± 12 000 v.C.) het die eerste mense reeds klere gedra om hulle teen die natuurelemente soos hitte en koue te beskerm. Die oermense het klere van dierevelle en dele van plante gemaak, dit wil sê, dinge wat hulle uit hul natuurlike omgewing kon verkry en gebruik. Diervelle is met senings en beennaalde aanmekaar gelas om eenvoudige kledingstukke te verkry. Sade, vere en doppe is in senings geryg om as versiering te dien.
Opdrag 1
[LU 3.1]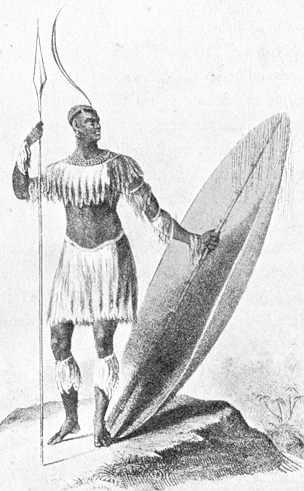 Hier is 'n skets van Shaka, die Zoeloe-koning wat in 1825 geleef het. Raadpleeg 'n betroubare bron en beskryf die tradisionele kleredrag van 'n Zoeloe-kryger en waarvan elke deel van sy uitrusting gemaak is.
Opdrag 2
[LU 3.2]
Sal jy vandag 'n baadjie dra wat van die vel van 'n luiperd gemaak is? Skryf redes neer vir jou antwoord.
Agtergrond
Soos die tegnologie ontwikkel het, is baie ander vesels en materiale gebruik om tekstielstof van te maak. tekstielstof word van die vesels van diere (sy, wol) of plante (linne, katoen) gemaak en word gebruik om bedekkings en versierings soos klere, matte, komberse, gordyne, ens. te maak. so het die antieke egiptenare gedurende die bronstydperk (3000 v.c.) begin om die eerste lap te weef. vandag word tekstielstof van stowwe wat uit die natuur (plante of diere) verkry word, gemaak of van stowwe wat deur die mens gemaak is (verkry van hout, olie en steenkool). dus kry ons natuurlike en mensgemaakte (sintetiese) tekstielstowwe. die eerste tekstielstowwe van plastiek (rayon, poliëster, nylon, viskose) is rondom 1850 in engeland vervaardig. plastiek word in fabrieke van olie of steenkool gemaak deurdat die chemikalieë in die stowwe onttrek word en na plastiek verander word.

Opdrag 3
Sorteer elk van die volgende voorwerpe onder natuurlike of mensgemaakte stowwe ('n plastieksak, 'n baadjie van pels, 'n houtbak, 'n glasbottel, 'n polistireenhouer, 'n houttafel). Gebruik die volgende opskrifte:
| | |
| --- | --- |
| NATUURLIKE STOWWE | MENSGEMAAKTE STOWWE |
| | |
| | |
| | |
| | |
[LU 3.1]
Agtergrond
Die voordele van plastiek:
Dit is goedkoop om te vervaardig.
Dit kan verwerk word in baie verskillende vorme.
Dit is maklik kleurbaar.
Dit is baie sterk.
Dit hou baie lank.
Die nadele van plastiek:
Dit is moeilik herwinbaar.
Natuurlike stowwe
Natuurlike stowwe kan dierlik of plantaardig wees. voorbeelde van diere wat stowwe verskaf, is skape, bokke, hase, kamele, sywurms, lamas, konyne en perde. plantaardige stowwe word weer verkry van die bas, blare, sade en vrugte van sekere plante soos klapper van klapperdoppe, katoen, sisal en vlas.
Wol word van skape verkry deurdat die skape eenkeer 'n jaar geskeer word. Een skaap lewer ongeveer 4 kg wol per jaar. Daar is verskillende skaaprasse wat verskillende soorte wol verskaf. Die wol van die merino-ras is die fynste en van die beste gehalte. Die merino-ras word veral in Australië en Suid-Afrika geteel omdat hulle baie goed aard in 'n warm, droë klimaat. Australië is een van die bekendste wolproduserende lande in die wêreld.