Learn how to use nested for loops to process pixels on a row and column basis.
Revised: Sun Apr 03 10:54:26 CDT 2016
This page is included in the following Books:
Table of contents
Preface
This module is one of a series of modules designed to teach you about Object-Oriented Programming (OOP) using Java.
The program described in this module requires the use of the Guzdial-Ericson multimedia class library. You will find download, installation, and usageinstructions for the library at Java OOP: The Guzdial-Ericson Multimedia Class Library .
Viewing tip
I recommend that you open another copy of this document in a separate browser window and use the following links to easily find and view the Figures and Listings while you are reading about them.
Figures
Listings
Preview
In this module, you will learn how to use nested for loops to process pixels on a row and column basis.
Program specifications
Write a program named Prob01 that uses the class definition shown in Listing 1 along with Ericson's media library and the image file named Prob01.jpg to produce the graphic output images shown in Figure 1 and Figure 2 .
Figure 1 - Raw image.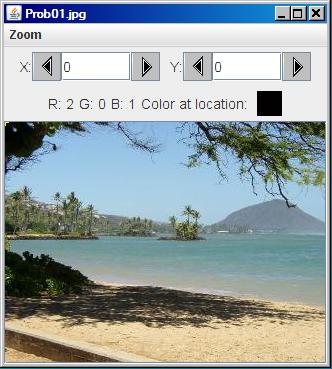 Figure 2 - Modified image.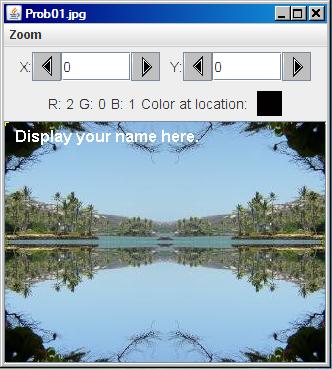 Define new classes
You may define new classes as necessary to cause your program to behave as required, but you may not modify the class definition for the class named Prob01 given in Listing 1 .
Required text output
In addition to the two output images mentioned above, your program must display your name and the other line of text shown in Figure 3 on the command-line screen.
Figure 3 . Required text output.
Display your name here. Picture, filename Prob01.jpg height 240 width 320
General background information
This program mirrors an image in such a way that the image in each quadrant is a mirror image of the image in the two adjacent quadrants as shown in Figure 2 .
The top left quadrant is mirrored into the top right quadrant, and then the top half is mirrored into the bottom half.
Major evaluation areas
In order to successfully write this program, the student must be able to:
Examine the input and output images and determine how the input image has been modified to produce the output image.
Manipulate the individual pixels in the image to perform the required modifications.
Discussion and sample code
Will discuss in fragments