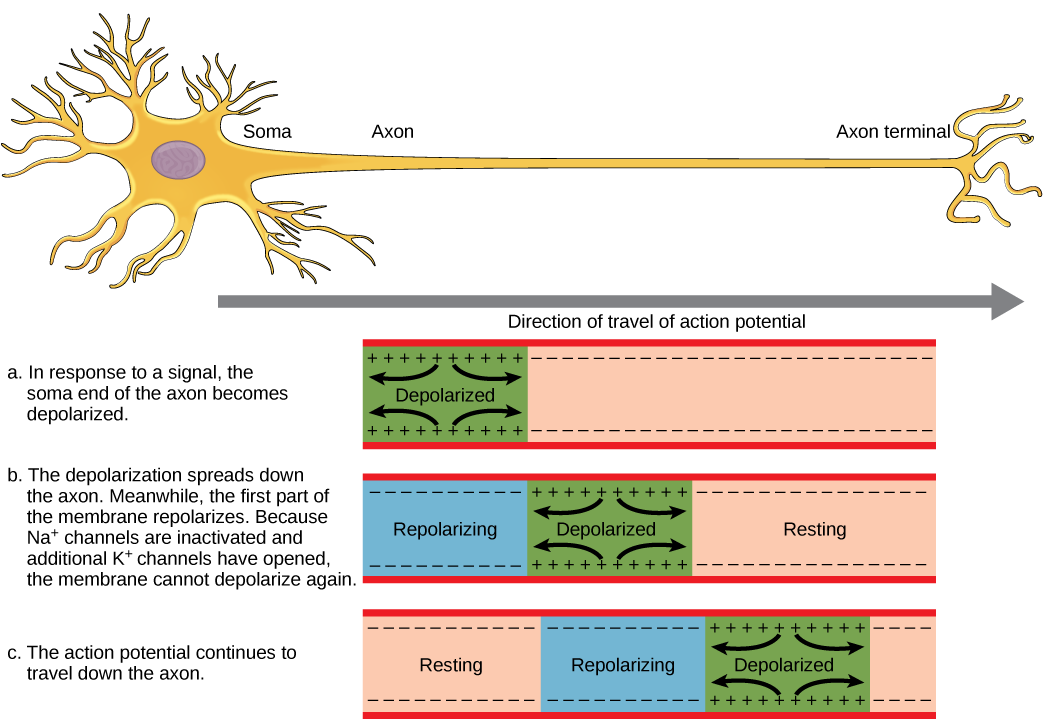 Synaptic transmission
The synapse or "gap" is the place where information is transmitted from one neuron to another. Synapses usually form between axon terminals and dendritic spines, but this is not universally true. There are also axon-to-axon, dendrite-to-dendrite, and axon-to-cell body synapses. The neuron transmitting the signal is called the presynaptic neuron, and the neuron receiving the signal is called the postsynaptic neuron. Note that these designations are relative to a particular synapse—most neurons are both presynaptic and postsynaptic. There are two types of synapses: chemical and electrical.
Chemical synapse
When an action potential reaches the axon terminal it depolarizes the membrane and opens voltage-gated Na + channels. Na + ions enter the cell, further depolarizing the presynaptic membrane. This depolarization causes voltage-gated Ca 2+ channels to open. Calcium ions entering the cell initiate a signaling cascade that causes small membrane-bound vesicles, called synaptic vesicles , containing neurotransmitter molecules to fuse with the presynaptic membrane. Synaptic vesicles are shown in [link] , which is an image from a scanning electron microscope.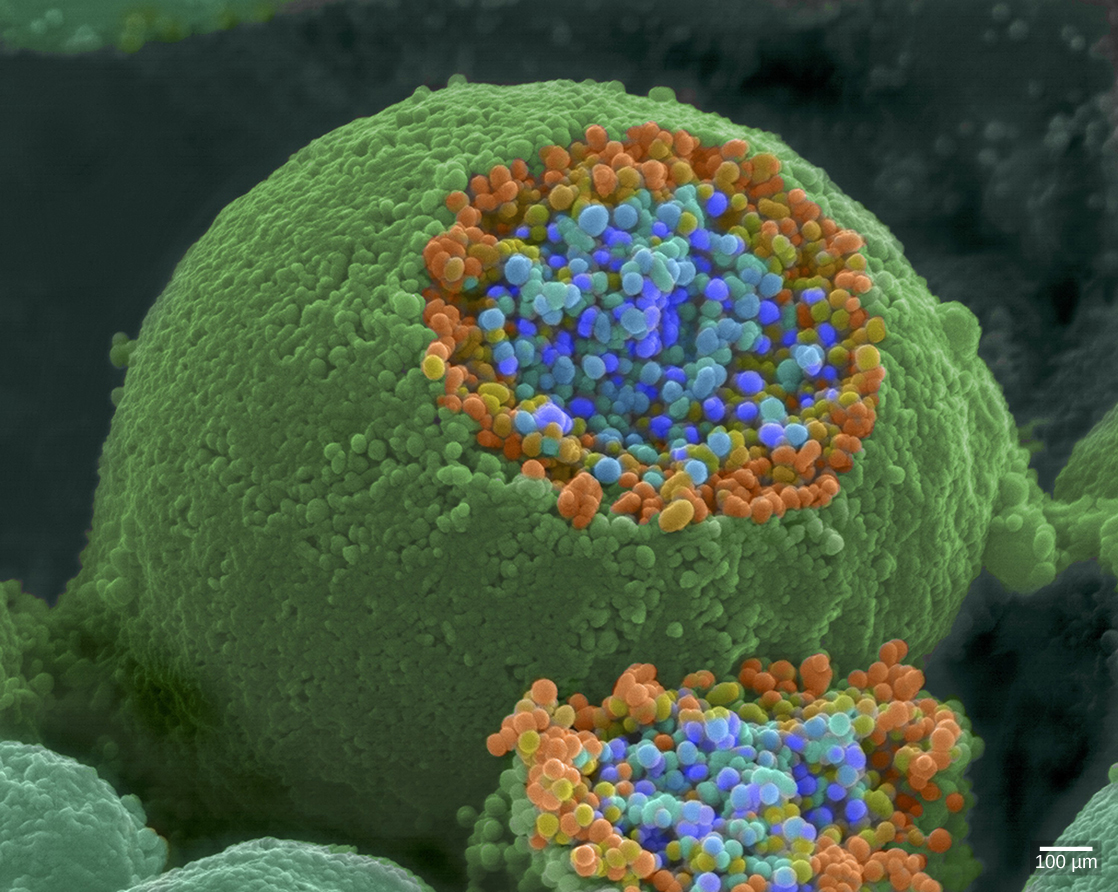 Fusion of a vesicle with the presynaptic neuronal plasma membrane causes neurotransmitter to be released into the synaptic cleft , the extracellular space between the presynaptic and postsynaptic cells, as illustrated in [link] . The neurotransmitter diffuses across the synaptic cleft and binds to receptor proteins on the postsynaptic cell's plasma membrane.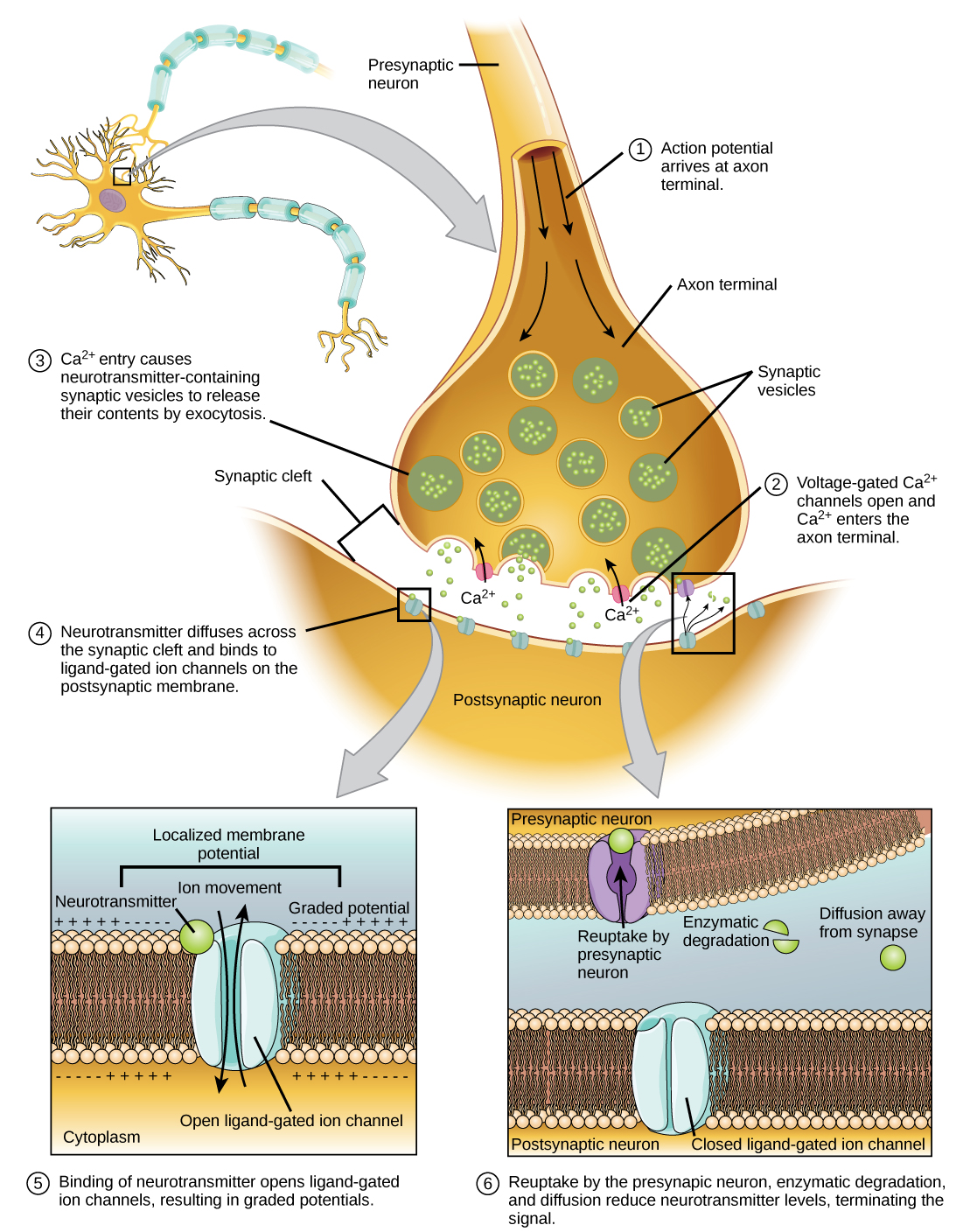 The binding of a specific neurotransmitter causes particular ion channels on the postsynaptic membrane to open. Unlike the sodium channels which respond to a change in the membrane voltage (i.e., voltage-gated channels), these ion channels are classified as ligand-gated , since they open the gates in response to binding of the ligand (neurotransmitter). Neurotransmitters can either have excitatory or inhibitory effects on the postsynaptic membrane, as detailed in [link] . For example, when acetylcholine is released at the synapse between a nerve and muscle (called the neuromuscular junction) by a presynaptic neuron, it causes postsynaptic Na + channels to open. Na + enters the postsynaptic cell and causes the postsynaptic membrane to depolarize.