Misuse of statistics
In many cases groups can gain an advantage by misleading people with the misuse of statistics.
Common techniques used include:
Three dimensional graphs.
Axes that do not start at zero.
Axes without scales.
Graphic images that convey a negative or positive mood.
Assumption that a correlation shows a necessary causality.
Using statistics that are not truly representative of the entire population.
Using misconceptions of mathematical concepts
For example, the following pairs of graphs show identical information but look very different. Explain why.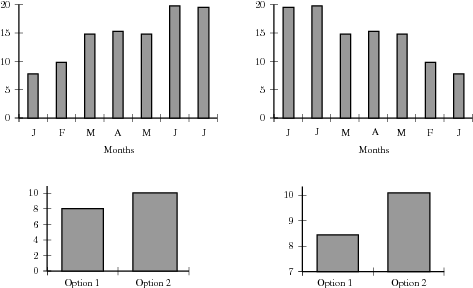 Exercises - misuse of statistics
Summary of definitions
The mean of a data set, , denoted by , is the average of the data values, and is calculated as:

The median is the centre data value in a data set that has been ordered from lowest to highest
The mode is the data value that occurs most often in a data set.
The following presentation summarises what you have learnt in this chapter. Ignore the chapter number and any exercise numbers in the presentation.
Summary
Data types
Collecting data
Samples and populations
Grouping data TallyFrequency bins
Graphing data Bar and compound bar graphsHistograms and frequency polygons Pie chartsLine and broken line graphs
Summarising data
Central tendency MeanMedian ModeDispersion RangeQuartiles Inter-quartile rangePercentiles
Misuse of stats
Exercises
Questions & Answers
Receive real-time job alerts and never miss the right job again
Source:  OpenStax, Siyavula textbooks: grade 10 maths [ncs]. OpenStax CNX. Aug 05, 2011 Download for free at http://cnx.org/content/col11239/1.2
Google Play and the Google Play logo are trademarks of Google Inc.
Notification Switch
Would you like to follow the 'Siyavula textbooks: grade 10 maths [ncs]' conversation and receive update notifications?