Management of IP raises many issues before embarking upon the patent application process and searching for potential licensees. The appropriateness of patent protection and to what extent is important considerations along with ensuring freedom to operate. 70% of R&D in the U.S. infringes IPR of another party (WAG 2004), which can place substantial obstacles in the path of continued the development, let alone eventual commercialisation. The importance of the right of freedom to operate in the university case has been highlighted by high-profile cases such as Madey versus Duke University (Guttag 2003) in the U.S. and has led to much discussion about the legal position of educational institutions.
Historically Welsh Higher Education Institutions (HEIs) have engaged in a limited amount of licensing activity with more focus given to development of spin-out companies. However, there have been instances where inventions have been licensed for significant sums. The most notable example concerns a life science technology relating to fluorescence technology used in genetic research, which was licensed by the University of Wales, College of Medicine for £710,000 (WAG 2004).
While licensing activity has been modest other mechanisms such as consultancy have been growing consistently since the mid 1990's as shown in [link] .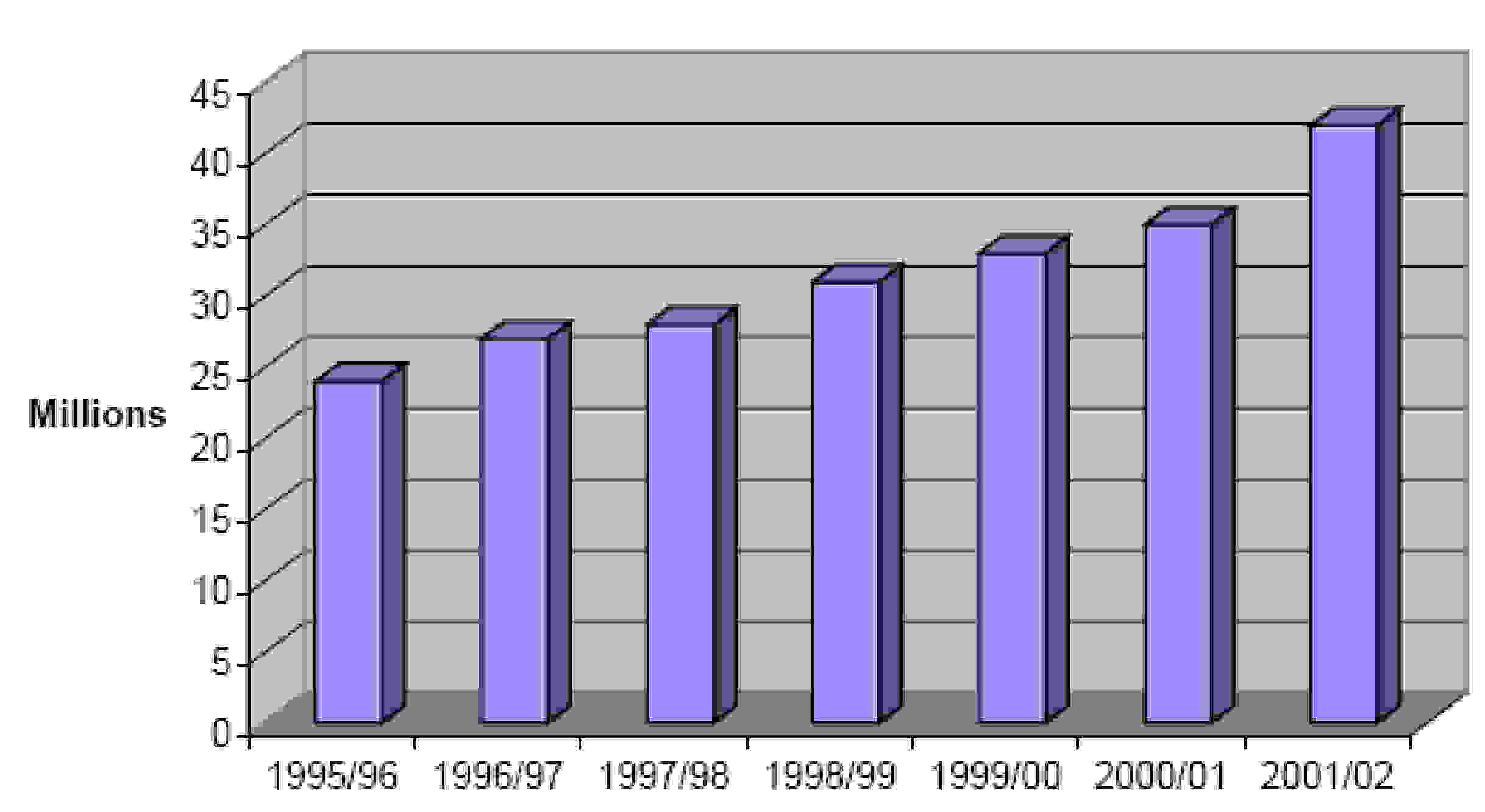 Spin-out companies
Furthermore companies located in university incubators have been found to be more productive (Siegel et al. 2003) along with the sense of vibrancy and catalysing effect they have for associated companies. This can assist in long-term economic development supporting the establishment and growth of successful clusters (Tornatzky 2000).
Welsh HEIs have been performing well in terms of creating spin-out companies. During 2001/02, supported by the Wales Spin-out Programme, 22 spin-outs were produced (10% of the UK total) together with a further 64 businesses started by graduates (19% of the UK total). This performance is particularly encouraging considering Wales represents 6% of the UK population.
The rate of spin-out development in Wales stuttered following this period, as it did across the whole of the UK, following changes in capital gains tax rules in 2003. These rules saw academics being liable for immediate taxation at a rate of 40% on the value of their share of equity in a spin-out company. This issue is now being addressed by the Treasury together with professional bodies representing academic commercial activity such as The University Companies Association, UNICO (2004).
Sustainable Innovation System Components
Previously we have explored the concepts of economic development, regional cluster theory and innovation. The concept of sustainable innovation has also been introduced considering the cyclical nature of economies and technologies, and how this impacts upon economic and firm development. Sustainability is also a topic of significant current interest due to the environmental and societal challenges faced across the world such as climate change and aging populations. This has drive governments and other organisations to consider how sustainable development in economic societal and environmental contexts can be effectively combined. The work of Jorna (2006) is a prime example of how this broader consideration of sustainability in innovation can be applied her work dovetails the concepts of Schumpeter's creative destruction and economic cycles with technology cycles and the central role of knowledge creation and dissemination. Also demonstrated earlier in previous sections is how the ethos of open, collaborative, multidisciplinary and global working is critical in developing and sustaining vibrant knowledge economy clusters, this thinking was recently articulated by Nick Donofrio ( [link] ).