Mathematics
Grade 4
Space and shape, patterns, data handling
Module 13
Investigate and compare two-dimensional shapes
Activity:
To investigate and compare two-dimensional shapes by making them and drawing them on a grid [LO 3.3]
To make two-dimensional shapes with a focus on tessellation [LO 3.5]
HANDS ON: PRACTICAL WORK.
You may work in pairs or in small groups. Use an old cornflake box (or other box) to make strips of cardboard. They must be wide enough for you to be able to punch a hole at both ends. Punch a hole at each end of each strip. Keep all your strips in an old envelope and bring them to the lesson. Also bring a packet of split pins to the lesson.
MAKING 2-DIMENSIONAL SHAPES: revision of properties and to test rigidity.
1. Each group/pair of learners must complete the following and record their findings on the dotted lines provided.
1.1 Triangles.
a) Make a three-sided figure by joining the ends of three strips of equal length by using split pins. Place your triangle on a table or on the floor and hold the corners. Is it possible to change the shape of the figure by pulling the corners (gently)?
b) Make another 3-sided shape with two strips of equal length and one strip of a different length. Pin it with the split pins. Again, place it on the table, hold the corners and try to change the shape by pulling one or more corners. Can the shape be changed?
c) Now make a 3-sided shape with three strips of different lengths. Pin it and place it on the table. Gently try to change its shape by pulling the corners. Can the shape be changed?
d) Pin two short strips of different lengths and make a square corner with them. Use them and one more strip to make a 3-sided shape with one square corner. (If you need to cut the third side to do this, do so.) Once you have pinned it, can the shape be changed?
1.2 Your group should now have four triangles, all of different shapes, but all with three sides. Use them to decorate the walls of your classroom. Make a neat, large label: TRIANGLES.
How many sides does any triangle have?
Are the sides straight or curved?
Is a triangle rigid , or can its shape be changed by pulling the corners?
A shape that cannot be changed is said to be rigid. This is why triangles are used in the construction of the frame on which the roof of a house is built. A triangle is strong. Triangles may also be seen in the steel framework of bridges.
Any triangle has three straight sides and is rigid.
2. Quadrilaterals.
2.1 Use four strips of equal length to pin a 4-sided shape. Can it be moved to have square corners and be a square?
2.2 Can the corners be pulled so that they are not square corners, but the shape is still a 4-sided shape with all the sides equal in length?
2.3 Use two long strips and two short strips and see what different quadrilaterals you can make. See if each shape can be changed by gently pulling the corners. Your shapes should include the following shapes: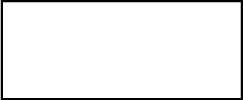 a) the _______________________

b) a parallelogram

c) the trapezium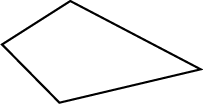 d) the ____________________