Social sciences
Grade 8
Geography: settlements
Module 3
Purposes for land use
The lay-out of a town or city plan shows that different areas are allocated for differerent purposes. The lay-out of any town or city must be well-planned. It would for instance be disastrous to allow an industry releasing toxic substances in a residential area. For this reason townplanners work years ahead to regulate each area regarding its functions, transport and land usage. It may however happen that the function of certain buildings change.
In Port Elizabeth for instance, many houses are now used for business purposes. The central business district has since been relocated. Close to Greenacres we are already beginning to see the head offices of banks and insurance companies. What once used to be part of the Mill Park residential area, is gradually becoming business premises.
1. Functions of land usage in South African cities
When we consider land use in an urban area, we find that certain basic functions are usually found in all cities. The total urban area usually consists of a number of developed areas, while others are still undeveloped.
The developed area usually consists of two types of areas, on for private and the other for public development.
Areas for private development
The area for private development usually includes three types of land use functions:
a) Residential – e.g. private homes, terraced houses, flats and townhouse complexes.
b) Industries – e.g. storage, light industries and heavy industries.
c) Commerce – e.g. retail, wholesale, financial and professional enterprises.
Areas for public development
The areas for public development serve four types of land functions:
a) streets
b) recreation – such as parks, sports grounds and culture
c) public services – such as hospitals, airports, cemeteries and sewerage
d) education – primary and high school
Undeveloped areas
The undeveloped areas can usually be classified under two headings:
a) unused, open areas
b) agricultural land
Activity 1:
To describe the role and function of land use
[lo 2.2]
Study this illustration of an urban area and answer the questions: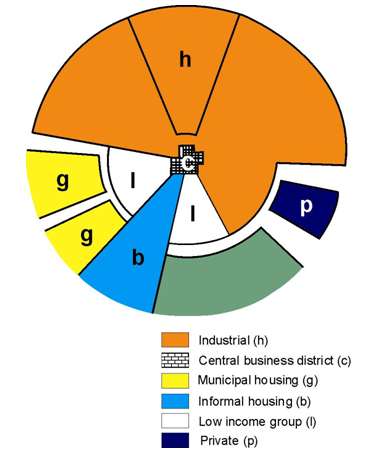 1. Where is the business district of the urban area situated?
2. Would you describe b as a high-income or a lower-income residential area? Give a reason for your answer.
3. What natural obstruction could prevent possible future expansion of the city in a northerly direction (see c )?
4. Are there adequate sporting facilities to provide in the needs of the city-dwellers?
Activity 2:
To discuss the function of land in any given environment
[lo 2.2]
nb: Teachers should note that this activity is a practical assignment that can be executed in groups of two.
2 The function of the land in my environment
Study the table and additional information and follow the teacher's instructions to determine the use of land in your own environment.
| | | |
| --- | --- | --- |
| Land use category | description | Plot No. |
| Residential | | |
| Factories/Industries | | |
| Wholesalers | | |
| Commerce | | |
| Development | | |
| Public Services | e.g. churches, hospitals, airports, etc. | |
| Education | e.g. schools, universities, etc. | |
| Open unused areas | | |
| Agricultural land | | |
| Streets | | |