Social sciences
Geography
Grade 8
Mapwork
Module 13
Designation of topographic maps
Topographic maps of the RSA are drawn according to degree square .
Each degree square is indicated by means of a number that consists of four figures. These figures are assembled from the values of the latitudinal and longitudinal degrees shown at the northwesterly corner of the map.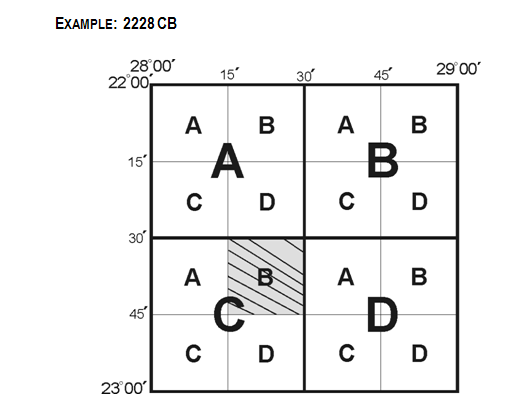 The shaded square is the map sheet with which we are working at present.
What information does it provide?
2228 CD represents the following:
22 = 22º latitudinal line (South)
28 = 28º longitudinal line (East)
C = square divided into four squares that represent 30' of a degree and are always named in the sequence AB.
CD
B = the larger square C is also divided into four squares, each representing 15' of a degree. The sequence in which they are named also is AB.
CD
Each squared degree is therefore spread out over sixteen 1:50 000 topographic map sheets.
ACTIVITY 1:
[LO 1.2]
1. Indicate the location of the following 1:50 000 map sheets by making use of a representation.
2822 DA
3528 BC
2. Which map sheet lies immediately to the North of 2822 DA?
3. Which map sheet lies immediately to the East of 3528 BC?
4. Which map sheet west of 2822 DA?
5. Which map sheet lies South of 3528 BC?
Assessment
Learning Outcomes(LOs)
LO 1
Geographical EnquiryThe learner will be able to use enquiry skills to investigate geographical and environmental concepts and processes.
Assessment Standards(ASs)
We know this when the learner:
identifies and selects a variety of
geographical and environmental sourcesthat are relevant to the research;
interprets information from maps and
atlases, as well as graphic and statisticalsources;
calculates distance from maps and
compares it to real distance;
identifies physical features and features
created by people and aerial photographsand maps.
Memorandum
ACTIVITY: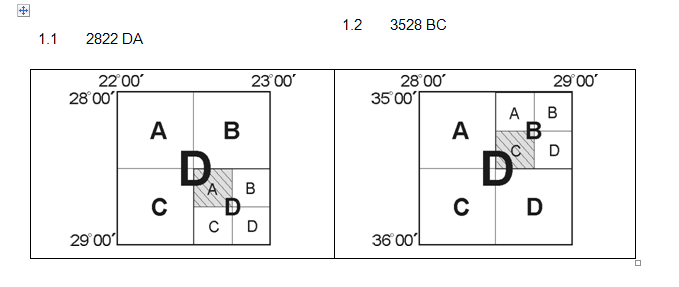 2822 BC.
3528 BD.
2822 CB.
3528 DA.