Social sciences
Geography
Grade 9
Development issues
Module 3
Political background
Approach to development in the rsa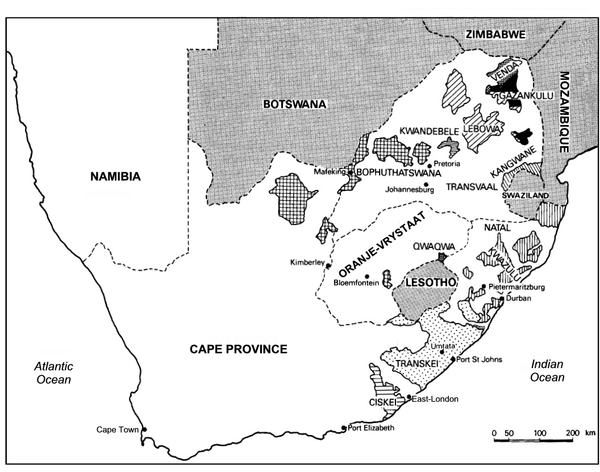 Map of the RSA with former tbvc countries
First step: Development areas
Before we start discussing the issue of development, it is best to get a total picture by looking at the map. Where would you expect to find the most and the least development, and why? Have you ever visited any highly developed as well as totally undeveloped areas? Tell the other learners about it, or write it down, and compare notes.
Now we can broadly divide the country into DEVELOPMENT AREAS or areas where a lot of development has already taken place. By including the former TBVC countries (find out what the latter means), the areas will to a large extent agree with the present nine provinces , i.e.
Western Cape (the present Western Cape and parts of the
Northern Cape) [Western Cape]
Northern Cape (parts of the Western Transvaal and
Bophuthatswana) [Northern Cape]
Orange Free State (Qwaqwa and Bophuthatswana) [Free State]
Eastern Cape (Ciskei/Transkei) [Eastern Cape]
Natal/Kwazulu/Transkei [Kwazulu-Natal]
Mpumalanga (KaNgwane/Lebowa/Gazankulu) [Mpumalanga]
Limpopo (Venda/Lebowa) [Northern Province]
PWV (Bophuthatswana/KwaNdebele) [Gauteng]
Development in Regions 4, 5 and 7 was important, as UNEMPLOYMENT figures were very high. To ensure development, job opportunities were needed and workers needed to be employed to improve their quality of life and earn money to buy the most basic provisions. (What do you regard as vital steps in creating new job opportunities? Why does the government not simply hand out money to the poor? A sensible answer is needed if you intend to take part in planning the future).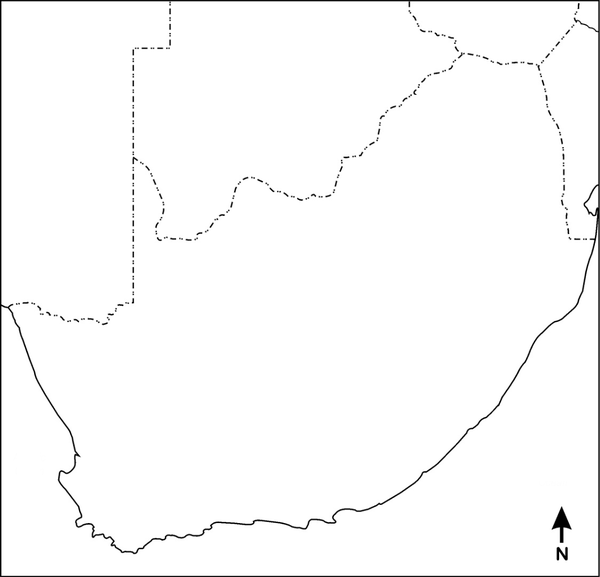 Map of the RSA with development centres
Second step: Development of regions/towns
Specific centres of development already exist.
It is important to know where these regions are and to realise that development contributes to the lifestyle and quality of life of the inhabitants of those particular regions. (Give examples.)
Now start your research on the development and activities in regions/towns that are regarded as centres of a specific area. Include the following:
Large urban areas, e.g. four main industrial areas. First decide which areas you would like to study, and why. Then collect information on the locality, history, climate, natural resources, industries, farming, business enterprises, tourism and social development or services (educational institutions, hospitals, organisations, sporting and other activities) in these particular areas. How would you recognise a typical developed landscape? What type of lifestyle do the inhabitants enjoy, and what would they not be familiar with at all? Why? Would you prefer to live in an urban and developed area yourself? Why?
Deconcentration points, e.g. Atlantis (Cape Town); Imbali (Durban); Babelegi (North of Pretoria). "Deconcentration" means that the centres of activity are moving outwards, so that centres of development are no longer concentrated in the urban areas only. "Concentration" happens when everything evolves around a single point, while "deconcentration" means spreading out from one point. In language studies we would call them "opposites". You should be able to apply this grammatical term to Geography. (Think about other forms of "opposites" or "contrasts" occurring in other countries or regions. You could even try to write a poem on geographical contrasts, or illustrate it in a work of art. It could also serve as a topic for an oral discussion or essay in any of the official languages.)
Discuss the large centralised industrial development areas, e.g. George; Vredenburg-Saldanha; Mafikeng; Queenstown; Richards Bay; etc.
Find out which other industrial centres have potential, but have not yet been fully developed. What do you regard as the possibilities or potential of these particular areas? What type of initiatives would serve to speed up development in such areas? Think of cheaper railway transport, lower electricity tariffs, housing, financial aid, private initiatives by entrepreneurs, etc.